Marc Hall illegally jailed for speaking out
Marc was placed in the Liberty County Jail Friday for simply voicing objections to his commander. Call the jail and protest to his captain.
Eric Jasinski AWOL for PTSD care
"What I saw and what I did in Iraq caused my PTSD," explains Eric to journalist Da hr Jam ail.
Send holiday postcards to jailed objectors
Both Travis Bishop and Cliff Cornell are imprisoned for refusing to fight. Your holiday greetings will mean a lot.
Leo Church released from stockade
Sentenced to eight months for being AWOL while trying to prevent his wife and children from becoming homeless.
Update: Alexis Hutchinson continues to face court martial for choosing her infant Kamani over deployment. She is currently under restriction near Savannah, Georgia, while her family attempts to care for her child in Oakland, California. More info coming soon.
---
Spc Marc Hall illegally jailed for voicing objections
By Jason Hurd, IVAW and Courage to Resist. December 12, 2009
Iraq War vet Army Specialist Marc Hall was placed in the Liberty County Jail yesterday for simply speaking to his Ft Stewart, Georgia commander Captain Cross about not wanting to redeploy. Call the jail at 912-876-6411 to demand an end to this illegal confinement. Also send letters of protest to: CPT Cross, Commander, B 2-7 INF BN, Fort Stewart GA 31314. Marc is being represented by civilian Washington DC lawyer Jim Klimaski.
---
Eric Jasinski forced to go AWOL for PTSD care
By Dahr Jamail, IPS News. December 11, 2009
MARFA, Texas - With a military health care system over-stretched by two ongoing wars in Afghanistan and Iraq, more soldiers are deciding to go absent without leave (AWOL) in order to find treatment for post-traumatic stress disorder (PTSD).
Eric Jasinski enlisted in the military in 2005, and deployed to Iraq in October 2006 as an intelligence analyst with the U.S. Army. He collected intelligence in order to put together strike packets - where air strikes would take place.
Upon his return to the U.S. after his tour, Jasinski was suffering from severe PTSD from what he did and saw in Iraq, remorse and guilt for the work he did that he knows contributed to the loss of life in Iraq.
"What I saw and what I did in Iraq caused my PTSD," Jasinski, 23-years-old, told IPS during a phone interview, "Also, I went through a divorce - she left right before I deployed - and my grandmother passed away when I was over there, so it was all super rough on me."
---
Send holiday greeting cards to jailed objectors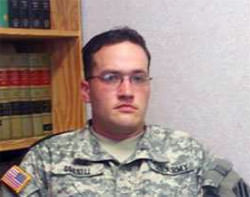 Cliff Cornell
Bldg 1041
PSC Box #20140
Camp Lejeune NC 28542
Cliff traveled to Canada in 2005 to resist Iraq deployment. "I don't want to be killing innocent people," he explained at the time. He was deported from Canada in February 2009 and was convicted of desertion at Ft. Steward, Georgia in May. Expected release: March 2010.
David Travis Bishop
Box 339536
Fort Lewis, WA 98433
It is important to send Travis a postcard instead of a letter. Unless you are already on his approved mailing list, the brig will reject it--but they are supposed to at least show it to him.
If you send a letter, the Army will reject your first letter, and maybe your second also. Please keep trying to send Travis mail as he really wants to hear from you.
Travis, with the Army's 57th Expeditionary Signal Battalion, was sentenced to 12 months in the stockade for resisting deployment to Afghanistan. Travis explained that he had serious doubts about his views on war for a long time, but was unaware of his right to file for a conscience objector discharge until just before he was scheduled to deploy. Amnesty International has declared him to be a "prisoner of conscience". Expected release: July 2010.
---
Leo Church released from Ft Lewis stockade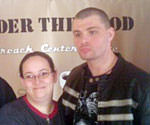 By Courage to Resist. December 11, 2009
Two days ago, Leo Church was finally released from the Ft. Lewis stockade, an hour south of Seattle, Washington. Leo was sentenced to eight months in imprisonment for having gone AWOL, which he did in order to prevent his wife and children from becoming homeless. He tried to get help from his unit, but was denied. He and his wife Amanda (photo right) were eventually forced by this ordeal to give up their newborn son for adoption. On their way home, Amanda and Leo stopped by the Under the Hood cafe today in Killeen, Texas (photo right).
Leo recently told journalist Dahr Jamail, "With everything that was going on, from me leaving, even though it was to care for my family, because I could find no support from the Army, Amanda and I had to place our son, Austin in a loving home through adoption. We did not want him enduring the strife that we had endured and for him to end up being fatherless, because I would be living in prison."
For individuals interested to contributing directly to Leo in order to help him and his family get back on their feet, please contact Courage to Resist for more information.
Statement by Leo Church from the Ft. Lewis stockade. September 1, 2009
---