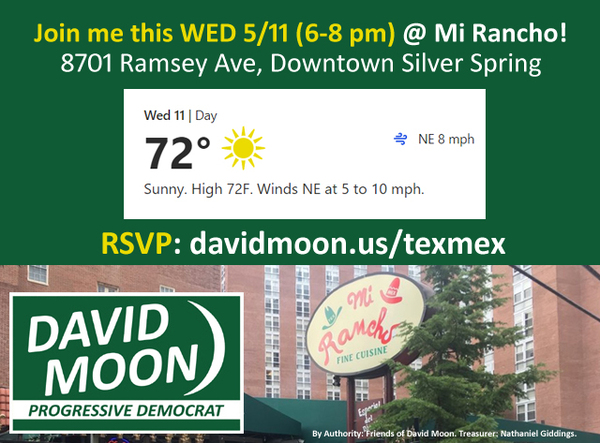 Please join me & House Speaker Adrienne Jones for a tex-mex party at Mi Rancho's open-air patio! I've got a challenger & voluntarily reject corporate donations, so I'm relying on the grassroots to get re-elected. Enjoy tasty snacks & beverages and chat with newly appointed committee leaders. Donate what you can afford, nobody will be turned away!
---
UPDATE ON MARYLAND ABORTION POLICY
With the recent Supreme Court earthquake, many have asked about abortion policy in Maryland. NOTE: I'm pro-choice & found myself protesting at the Supreme Court midnight after the opinion leaked. But whatever your views on abortion, h
ere are a few things worth noting about Maryland: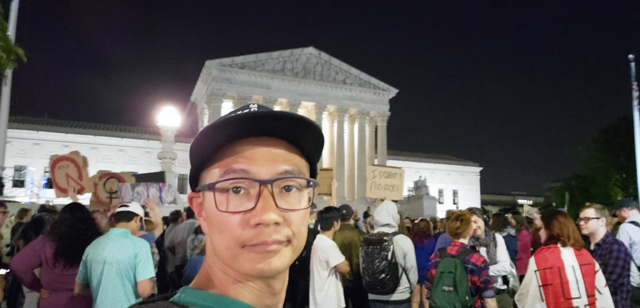 MARYLAND LAW PROTECTS ABORTION EVEN IF THE SUPREME COURT OVERTURNS ROE V. WADE - In the early 90's the Maryland General Assembly voted to write abortion rights into state law. There was an effort to repeal this law at the ballot in 1992, but the voters of Maryland upheld these abortion rights with a roughly 62%-38% vote:
Maryland Code (Health General 20-209) - "...the State may not interfere with the decision of a woman to terminate a pregnancy: (1) Before the fetus is viable; or (2) At any time during the woman's pregnancy, if: (i) The termination procedure is necessary to protect the life or health of the woman; or (ii) The fetus is affected by genetic defect or serious deformity or abnormality."
MARYLAND PASSED A LAW TO EXPAND PRACTICAL ACCESS TO ABORTION SERVICES THIS YEAR - In anticipation of federal judges rolling back abortion rights, I was proud to vote "YES" for Del. Ariana Kelly's bill (HB 937) to expand practical access to services through Medicaid & insurance coverage and by increasing the number of service providers. Planned Parenthood noted the impact of these reforms (see letter below):
Planned Parenthood: "Even in states like Maryland, access to abortion has not been equitable.... Maryland is now at the forefront of abortion access in the country, making abortion more affordable and catching up to the other 14 states that allow qualified providers to perform abortions."
GOVERNOR HOGAN OBSTRUCTING ABORTION ACCESS LAW - Governor Hogan actually vetoed the abortion services access bill described in the letter below, but we successfully voted to override his veto (I voted "YES" to keep the expanded services). NOTE: Even though we preserved the law, Hogan is now blocking funding to train medical professionals, which could delay that aspect of the law a year (until after Hogan is out of office). I joined 85 of my colleagues to call on Hogan to release these funds now, especially if we might see more out-of-state residents using services. Hogan is refusing.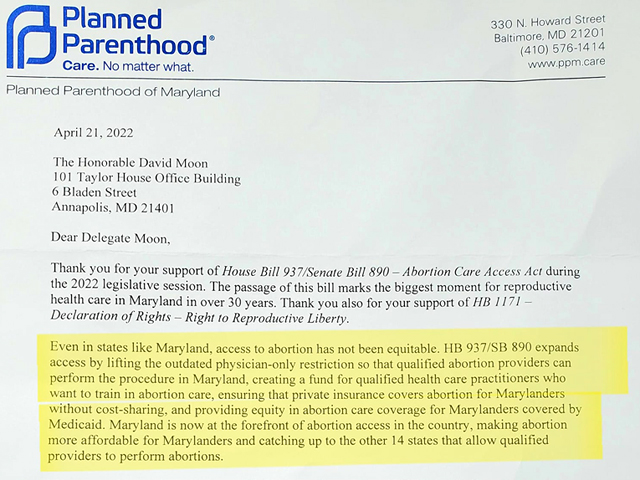 MARYLAND ABORTION CONSTITUTIONAL AMENDMENT STALLED - To combat possible court rulings, House Speaker Adrienne Jones also introduced a bill (HB 1171) to enshrine abortion rights in the Maryland state constitution (alongside existing protections in state law). This would've required approval by the voters, and it would've had the effect of making it much harder for future legislatures to change their mind (requiring a 2/3 vote of legislators and voter approval, rather than a simple legislative majority to repeal abortion rights). The House of Delegates passed this state constitutional amendment 93-42 (I voted "YES"), but the bill stalled in the State Senate.
There will obviously be further activism and policy debates surrounding reproductive rights and privacy in Maryland & nationally in coming weeks and months. Stay tuned!
I voluntarily reject corporate donations & rely on grassroots support
---
LONG BRANCH NEIGHBORHOOD PARK UPGRADES
There are a wave of coming upgrades to parks in Silver Spring's Long Branch neighborhood. Your District 20 legislative team (me, Will Smith, Lorig Charkoudian & Jheanelle Wilkins) managed to bring home millions in state funds this year to help Montgomery Parks complete improvements:
SOURCE OF THE SPRING:
Long Branch-Arliss Neighborhood Park at 8810 Garland Ave. will see the largest amenity with the addition of a skate park. Other parks that will receive improvements such as trail renovations, court conversions, water quality enhancements, and Americans with Disabilities Act improvements include:
Long Branch Local Park, 8700 Piney Branch Rd....
According to officials, the Long Branch parks will undergo "a comprehensive approach to park improvements [including] new amenities, updating aging infrastructure, playground renovations, court upgrades, new plazas, and seating areas."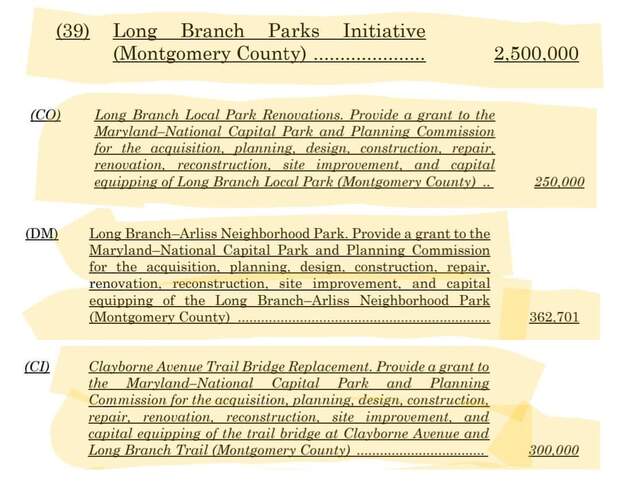 MAKE A PLAN TO VOTE
You have a few options to vote in Maryland's Primary Elections this summer. Some of them require planning:
VOTE AT AN EARLY VOTE CENTER IN YOUR COUNTY: You can vote at any early vote center in the county where you are registered to vote. Early voting is open Thursday 7/7/22 to Thursday 7/14/22 (7am-8pm).
VOTE AT YOUR NEIGHBORHOOD POLL: Local polls will be open 7am-8pm on Tuesday, July 19th.