Muslim objector facing deployment
Army PFC Nasser Abdo is seeking a conscientious objector discharge, but the military may attempt to force him to deploy to Afghanistan as soon as this weekend. See below, or freenasserabdo.org for updates.
UXO Tour needs our help
The free anti-war, pro-GI, and pro-GI resistance concert series dedicated to reaching military service members faces financial challenges in staging an important September 10th concert in Washington DC. See below, or uxotour.com.
Bradley Manning actions Sept 16-18
Now is the time to start planning your own local event in support of alleged Wikileaks whistle-blower Army PFC Bradley Manning. Blowing the whistle on war crimes is not a crime! Also, donate to his defense, or get "Free Bradley Manning!" shirts, buttons, and posters.
---
Muslim objector facing forced deployment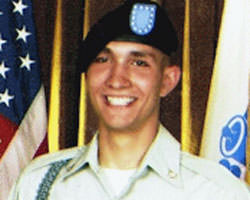 Friends of PFC Nasser Abdo.
August 20, 2010
US Army Private First Class Nasser Abdo is seeking a discharge from the military, because he deeply believes that his religious belief as a Muslim forbids him from fighting in any war as a member of the U.S. Military. The 20-year-old applied for conscientious objector status on June 7, 2010, and if granted would be discharged from the military according to the provisions of AR 600-43. Despite PFC Abdo's good faith efforts to seek C.O. status, his unit has decided to deploy him from Fort Campbell, KY to Afghanistan, possibly as soon as August 23, 2010.
If deployed, PFC Abdo will be at danger of harassment and even death from his fellow soldiers, many of whom will be resentful of PFC Abdo's religious beliefs and his desire to be discharged from the military. PFC Abdo will continue to do all he can to persuade his unit to cancel his deployment, but if he is unsuccessful in this, he likely will refuse to deploy.
PFC Abdo is willing to take this stand of conscience but he shouldn't have to do it alone. We are asking people of conscience to join us in standing with PFC Abdo. A website dedicated to his situation, www.freenasserabdo.org, explains PFC Abdo's case in more detail, and how you can help PFC Abdo in his fight against military religious discrimination.
---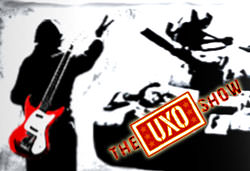 By the UXO Collective.
August 20, 2010
The UXO Tour is modeled after the traditional USO Shows offering free concerts and entertainment for troops, yet they are specifically designed to reach out to active-duty personnel who, after nine years of war, are looking for a way to express their disillusionment with the top brass and to resist misguided foreign policy that puts their lives at direct risk. The UXO Tour looks to provide the resources to this ever growing population of soldiers. To support the tour, and specifically the September 10 free concert in Washington DC, please visit uxotour.com
UXO is a military acronym for unexploded ordnance that has been deployed, not yet detonated, and still poses a risk. This is an astonishingly accurate description of the GI resistance and anti-war movement. It's there, it's growing, and it poses a risk to the war-makers in Washington, but has yet to reach its full potential.
The upcoming UXO Show in Washington, DC will continue this message while providing a rallying point for active-duty personnel, veterans, and allies, to effectively support PFC Bradley Manning. Featuring nationally known acts Anti-Flag, State Radio, and Flobots, and co-sponsored by Iraq Veterans Against the War, the Bradley Manning Support Network, World Can't Wait, and Courage to Resist, the concert and following action will provide draw for the media and public to see the swelling support of troops and regular Americans that has been growing behind Bradley Manning.
---
Bradley Manning actions Sept 16-18
Courage to Resist and the Bradley Manning Support Network are calling on individuals and organizations around the world to take action in support of accused Wikileaks whistle-blower Army PFC Bradley Manning September 16-18. With dozens of local actions taking place during the same time frame, we hope to take the next step in building an international movement to free Bradley. Events will include public events, film screenings, discussion meetings, house party fundraisers, vigils and rallies.
For example, in the San Francisco Bay Area, Courage to Resist is hosting:
Afghanistan: Occupation, Wikileaks, and Accused Whistle-blower Army Pfc. Bradley Manning
Thursday September 16, 7pm
Humanist Hall, 390 27th Street, Oakland, California
Featuring:
* Daniel Ellsberg, Pentagon Papers whistle-blower
* Tom Hayden, author and activist
* Aimee Allison, author and KPFA Morning Show Host
* Carl Davison, US Marine/Army vet of Guantanamo Bay, Africa, and Asia
* Wikileaks "Collateral Murder" video screening

Presented by Courage to Resist, with the help of Veterans for Peace-Bay Area Chapter, National Lawyers Guild Bay Area Military Law Panel, CodePink, War Resisters League-West, Iraq Veterans Against the War-Bay Area, Asian Americans for Peace and Justice, and BAY-Peace.
---
Please click here to forward this to a friend who might
also be interested in supporting GI resisters.