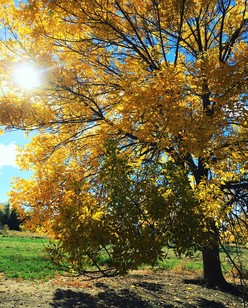 Hello CSA Members,
  Today, Wednesday October 19th is the first pick-up for the 2016 Winter Share.  Your share will be available for pick up from 3-6:30pm at the Cure Organic Farm Store
. Please remember that parking is available in the lower lot facing Valmont as well as at the farm store.
Just a reminder that payment for Winter Shares are due in full today. You can pay by check or credit card in the farm store.

Looking forward to seeing you this evening,
Farmer Anne
Delicata Squash
Red Potatoes
Spinach
Brussel Sprouts
Turnips
Beets
Leeks
Apples
Egg Share: pick-up every week
Bread Share: next week!
Wine & Cheese share: next week!
Coming next week: Winter Squash, kale, carrots, watermelon radish, apples and more!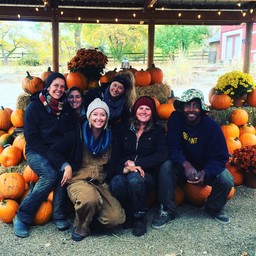 Welcome to Winter CSA!
We're so glad you'll be joining us for the next 8 weeks of fall and winter's bounty.
     Winter CSA begins with us still pulling food from the fields as the weather permits, and ends with produce from the hoop house and lots of storage crops to take you through the winter months. In the field we are cleaning up  irrigation, mowing down summer crops and planting both cover crops as well as vegetables that will over winter in the field and be ready for harvesting in early spring.
    We look forward to sharing the end of the season with you, and helping to fill your holiday tables.
Fall Rotini Pasta
1 lb Rotini pasta
Extra Virgin Olive Oil
10 oz frozen and cubed butternut squash
1 lb brussels sprouts, trimmed, and halved
Salt and pepper
1 tsp ground cinnamon
½ tsp ground nutmeg
6 oz spinach
1 cup chopped parsley
6 oz goat cheese, crumbled or cut into small pieces, more if you like
¼ cup toasted pine nuts
For the Sauce
4 tbsp unsalted butter
2 large shallots, sliced into half moons
4 garlic cloves, minced
2 tbsp fresh chopped marjoram leaves, stems removed
½ cup Extra Virgin Olive Oil
Juice of ½ lemon
Zest of 1 lemon
Salt
Directions
Cook the Rotini pasta in boiling water according to the package instructions. When ready, drain and rinse the pasta under cold water. Set aside.
While the pasta is cooking, heat 1 tbsp extra virgin olive oil in a large cast iron. Add the butternut squash. Cook on medium-high heat, stirring occasionally, until the butternut squash is cooked through. Season with a little salt. Transfer the butternut squash to a dish and set aside for now.
Now, if needed, add 1 tbsp extra virgin olive oil to the same cast iron skillet. Make sure the oil is hot. Now add the brussels sprouts, cut side down, and cook on medium-high heat for 3-4 minutes. Turn the burssels spourts over on the other side and cook for another 5 minutes until nicely browned and tender. Sprinkle with salt. Transfer to the same dish with the butternut squash for the moment.
Now make the sauce in the same cast iron skillet. Melt the butter over medium-high heat, swirling occasionally, until the butter is browned and releases a nice nutty aroma. Remove the skillet from heat briefly and add the shallots, marjarom, and garlic. Stir until fragrant (less than 1 minute). Return to medium heat and add the olive oil and lemon juice. Stir in the lemon zest and a pinch of salt. Keep the sauce in the cast iron skillet on medium heat.
Now add the cooked pasta to the sauce and stir until the pasta is well coated. Season with a little more salt, black pepper, ground cinnamon, and nutmeg. Stir in the baby spinach and parsley. Then add the cooked butternut squash and brussels sprouts. Cook everything together on medium heat, stirring regularly, until warmed through. Taste and adjust the salt and seasoning to your liking.
Transfer the warm rotini pasta salad to a large bowl. Drizzle with a little more extra virgin olive oil, if you like. Top with goat cheese and toasted pine nuts. Serve warm or at room temperature with extra goat cheese on the side! Enjoy!
Beetroot Curry
1 onion chopped
2 cloves garlic smashed and chopped
1 teaspoon freshly grated ginger (powdered ginger just isn't the same in this curry)
2 beets - washed, peeled and cubed into small chunks
1 1/4 cups full fat coconut milk
1/4 up water
1 7 oz can (small) of tomato paste
2 teaspoons garam masala
1 teaspoon chili powder (2 teaspoons if you want a bit of a kick)
1/4 teaspoon each salt and pepper (or to taste)
2 tablespoons Olive oil
Cilantro and pepper flakes to garnish
Directions
Add olive oil to coat the bottom of a pan
Add onion and saute till slightly caramelized - this took about 10 minutes for me. Add garlic and ginger and stir, then add in the cubed beets.
Pour in the coconut milk and water, and spoon in the tomato paste as well as the garam masala, and chili powder
Stir till all ingredients are well incorporated and cover and let simmer over a low-medium flame for about 15-16 minutes till beetroot is tender
Garnish and serve with white rice, naan, or (for a Halloween Twist) - fried black rice!
French Beef Stew
For the Marinade:
2 pounds beef chuck, cut into 1-inch cubes
2 medium carrots, peeled and chopped
2 medium yellow onions, chopped
3 cups full-bodied red wine (eg, Bordeaux like cabernet sauvignon or merlot)
¾ cup red wine vinegar
1 bouquet garni
For the Stew:
3 tablespoons oil or lard
1 medium yellow onion, chopped
3 cloves garlic, minced
1 14.5 ounce can plain tomato sauce
4 whole cloves
2 medium carrots, cut into bite-sized chunks
3 turnips, cut into bite-sized chunks
2 medium rutabagas, cut into bite-sized chunks
2 medium parsnips, cut into bite-sized chunks
2 medium Yukon gold potatoes, cut into bite-sized chunks
2 teaspoons salt
½ teaspoon freshly ground black pepper
Directions
Cut up the meat into 1-inch chunks. The meat is going to simmer for two hours, so that will enough to tenderize it anyway, but generally you want to cut it against the grains for optimal tenderness.
Place the beef in the dutch oven with the onions and carrots and and bouquet garni.
Add the red wine and the red wine vinegar. Cover and let marinate in the fridge for 24 hours.
After it has fully marinated, remove the beef and pat it with paper towels to remove the excess moisture. This will enable it to brown properly and get that brown crust that is essential for the flavor of the stew.
Heat the oil in the dutch oven over medium-high heat once the oil is very hot add the beef, a few pieces at a time. Be sure not to overcrowd the pot otherwise the beef won't brown, it will simply steam. Generously brown the pieces on all sides. Transfer them to a plate and set aside.
The browned crust that develops on the bottom of you pot - keep it! Don't throw it out, that's going to make your stew taste heavenly. Later when you add the liquid your going to do what's known as "deglazing" the pot. That's when you scrape up those luscious browned bits and incorporate them into the stew.
Add the onions and cook until golden brown. Add the garlic and cook for another minute.
Strain the contents of the marinade into a sieve over the dutch oven. You want all of the original marinade in the dutch oven. Discard the onions and carrots from the marinade but keep the bouquet garni.
Return the beef to the Dutch oven with the bouquet garni and the whole cloves. (Note: You can choose to wrap the cloves in a bit of cheesecloth or muslin so that you don't have to fish them out later from the serving on your plate.) Bring to a boil, reduce the heat to low, cover and simmer for 1 hour.
Towards the end of the hour, chop up the vegetables. For contrast and variety, I like to chop each of the vegetables into different shapes and sizes.
Add the vegetables along with the tomato sauce, salt and pepper. Stir a bit to combine.
Return everything to a boil, reduce the heat to low, cover and simmer for another hour or until the vegetables are soft. Add salt and pepper to taste. *If you think the beef can handle further cooking without falling apart, go ahead and simmer it for another 30 or more minutes, it will only get better!
Serve with some crusty bread.
This stew is even better the next day after the flavors have had time to meld.
Delicata Squash Salad
1/2 - 1 # spinach
1 medium sized delicata squash
¼ cup pecans (I used Trader Joe's sweet and spicy)
1 small apple
2 tbsp honey
2 tbsp red wine vinegar
2 tbsp olive oil
Salt and pepper
Olive oil spray
Directions
Preheat the oven to 375 degrees F
Slice the delicata squash lengthwise, and remove the seeds. Then slice width-wise into ½ inch pieces. Coat the delicata squash with a little olive oil spray, salt and pepper. Place on a baking sheet and bake for 25-30 minutes, or until golden brown. I flipped once through.
Remove the core of the apple, and then slice the remaining parts into thin pieces
In a small bowl, whisk the money, olive oil, and red wine vinegar
In a large salad bowl, place the kale and pour the dressing over. With clean hands, massage the dressing into the kale. Add the pecans and the apples.
Remove the delicata squash from the oven, and add to the salad and toss.
Serve immediate, at room temperature, or store in the fridge for tasty leftovers all week!
Brussel Sprouts are Here!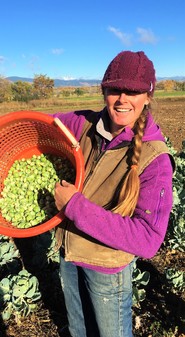 They're back - brussel sprouts! Delicious, crisp, and a staple of the fall and winter season. We were so excited to harvest our first round of these little beauties this morning for our first Winter Share distribution this week!
     Now when you see these brussel sprouts at pick-up tonight, the first thing you'll probably notice is that they are much small in size compared to the ones you find in the mesh bags at your local Whole Foods. Why are ours so small in comparison? Well, to start, most brussel sprouts are a slow-growing plant. Most are grown in California, where they have a much longer growing season with ample temperatures and sun which allow them to grow larger. Because our growing season here in Boulder is shorter, our brussel sprouts just don't have the luxury of time to get as big as they possibily can, which is why you also see them so late in the season.
     Another reason they're small? Water. Brussel sprouts love to soak up as much water as they can get, and as we all know, water is a precious commodity here in Colorado (and everywhere really!).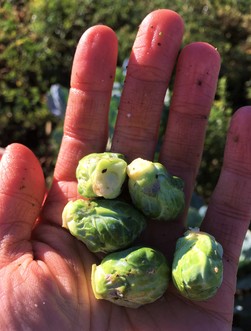 So although the sprouts you receive in your share tonight may be tiny in size, they're definately mighty in flavor! Try roasting them whole with some bacon (yum!), or shredding them to make a great addition to a fall salad, or test out the Fall Rotini Pasta Recipe we've included this week. We hope you enjoy - we know we will!
Eastern Plains co-op has been raising beautiful heritage turkeys for us again this fall.  The turkey's are raised with non-gmo feed, no antibiotics and are free range. Dallas estimates that there will be a nice size range again this year from 10 to 18 pounds.  Cost will be $7.50/pound.
Turkeys will come frozen and will need to be picked up the week before Thanksgiving, on Wednesday, November 16th at the farm store. Final registration for turkeys will be next Wednesday, October 26, so make sure to get your orders in now!
Reserve your turkey here!

     Don't forget to mark these dates on the calendar for the upcoming months!
Wednesday, October 19: First Winter Share pick-up
Wednesday, October 26: First Wine and Cheese and Bread pick-up (and then will continue every other week.)
Saturday, November 19: Final Boulder County Farmer's Market
December 1st: Registration opens for renewing members for 2017 CSA season!
December 3-4: Winter Market at the Longmont Fair Grounds
     For members interesting signing up for the 2017 season, please mark your calendars for December 1, 2016. We will be sending out registration information on that date and will leave registration open through early January.
     Each season we grow for 200 families.  Any available shares remaining after early January will become available to new members. We hope you will join us for another season!
Flatirons Food Film Festival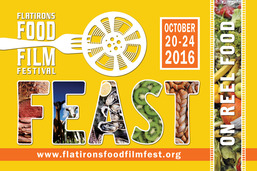 Opening night for the Flatirons Food Film Festival is this Thursday (tomorrow!).
The event will start with a free edibles event at Savory Spice Shop - Boulder and continue with a screening of 
DOUGH
at the Boulder Public Library. There will be baked goods from Izzio's, Moxie Bread Bakery, and Rosenberg's Bagels and Delicatessen.
For more details on the other events happening this weekend check out the website here:
Nothing Gold Can Stay
Nature's first green is gold,
Her hardest hue to hold.
Her early leaf's a flower;
But only so an hour.
Then leaf subsides to leaf.
So Eden sank to grief,
So dawn goes down to day.
Nothing gold can stay.



Cure Organic Farm

7416 Valmont Rd.
Boulder, CO 80301
cureorganicfarm@yahoo.com
www.cureorganicfarm.com