Welcome to CMCA(UK)
This is your last CMCA(UK) newsletter of 2015 and we're pleased to report that we're finishing off the year with a bang!
CMCA(UK) Delivers its First Codification Training Course in Partnership with ESG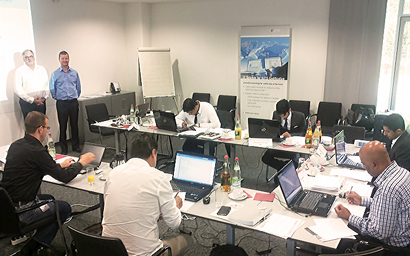 CMCA(UK)'s Gary Harman delivering Codification Training with Herbert Klein at ESG's Headquarters in Munich.
October saw the delivery of our first Codification Training course as part of our ongoing partnership with ESG. The five day course, which utilises the ESG N-CORE software as a mechanism for the codification and maintenance of NATO inventory items, was held at ESG's Headquarters in Munich and was delivered by CMCA(UK)'s Codification Services Manager, Gary Harman. Gary has over 30 years of experience in NATO Codification and is internationally recognised as a subject matter expert. Gary was supported throughout by our ESG colleagues Traian Iosub and Herbert Klein who proved to be excellent hosts.
The five day course is designed to enhance the skills and practical knowledge of National Codification Bureau (NCB) and industry staff who are involved in the day-to-day activities of item codification at desk level. October's event was attended by six codifiers and NCS specialists from three countries and, judging by the feedback, all of the training objectives were met in full. To address the increased interest, two further Codification courses are planned for 2016; please contacted
Gary
or
Traian
directly for further details or to register your interest.
CMCA(UK) Implement Cyber Essentials Scheme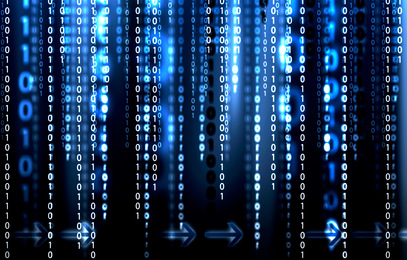 Earlier this year Central Management Catalogue Agency (UK) Limited became fully certified to the Cyber Essentials Scheme, helping us to execute appropriate protection against cyber-attack and demonstrating to our customers that we take cyber security very seriously. Developed by Government and industry to provide a clear statement of the basic controls all organisations should implement to mitigate the risk from common internet based threats. The scheme also provides an Assurance Framework which offers a mechanism for organisations to demonstrate to customers, investors, insurers and others that they have taken these essential precautions. In short the Cyber Essential Scheme offers 'a sound foundation of basic hygiene measures that all types of organisations can implement and potentially build upon.' By implementing the scheme businesses will protect their information assets from almost 80% of Cyber threats.
Since 1 October 2014, Cyber Essentials became a minimum requirement for bidding on certain government contracts. CMCA(UK) are therefore very pleased to be able to confirm that we can provide a secure facility relating to our scope of supply. As CMCA(UK) are the only UK Contractor able to provide Codification services associated with UK NCB for the MoD, and as a business providing extensive experience and knowledge regarding our Obsolescence Monitoring support and specialist Procurement Service activities, we take security very seriously and are very proud of the fact that we can provide this certified assurance to all of our customers.
Managing Machine Life for Tobacco Journal International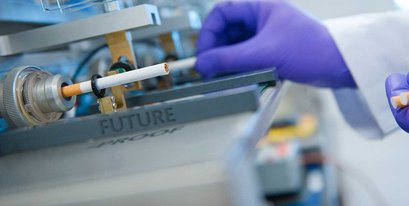 Managing obsolescence is a challenge in almost every business sector, but is especially true in the tobacco industry. The four global leaders, British American Tobacco, Japan Tobacco International, Imperial Tobacco and Philip Morris International employ a wide range of manufacturing equipment in the primary and secondary production of their tobacco products.
For the last 18 months CMCA(UK) has been working with the four key players to help overcome many of the major obsolescence hurdles. Last month the Tobacco Journal International published an informative article about Obsolescence best practice, interviewing CMCA(UK)'s Darren Topley covering the various issues faced by the four companies and how CMCA(UK) helped overcome these issues.
"The Tobacco industry relies on a vast array of different manufacturing and processing equipment in primary and secondary production of tobacco products. The equipment is expected to have a long service life of between 10 and 40 years, providing value for money and efficient operation. Any sooner and it's not cost effective, so obsolescence must be guarded against. The technology of today is changing so rapidly that system design and design engineers encounter problems keeping pace with combinations of components that are compatible with supported versions of their equipment, both legacy and new build."
Continue reading…
TRANSEC Triumph for CMCA(UK)'s V-Guard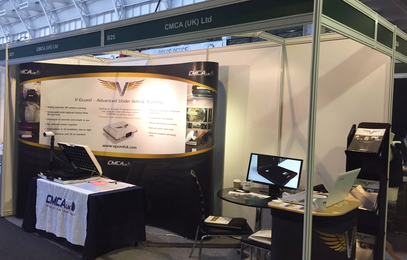 CMCA(UK) Ltd were one of over 200 leading global transport security manufacturers, systems integrators and SME's exhibiting at The Transport Security Expo (TRANSEC) held in early December at Olympia London and proved to be a great stage to exhibit V-Guard Advanced Under Vehicle Inspection System.
CMCA(UK) were on-hand to demonstrate the
V-Guard
our first security product offering. Developed in just under a year by our specialist engineers after spotting a gap in the market for a highly portable, briefcase sized system. V-Guard is a mobile checkpoint that gives users high-definition images from the underside of vehicles, supplied as standard with a fully integrated license plate recognition package and optional day/night IR overview camera to help identify vehicles and their occupants. "We saw a consistent and healthy footfall at TRANSEC with visitors expressing a lot of interest in the product, which is great news for us as it confirms we've found a gap in the UVIS market" comments V-Guard Project Manager Andy Johnson.
With the strong interest and enquiries we've already received regarding V-Guard we're looking forward to the official product launch in 2016, watch this space for the next update.
To find out where you can see V-Guard in action next year, check back soon.
We'd like to take this opportunity to wish all of our customers and suppliers a Merry Christmas and Happy New Year. CMCA(UK) will be closing for the festive period on Wednesday 23rd December at 5pm, with the office's opening again on Monday 4th January 2016.

We look forward to doing business with you in 2016.

CMCA(UK) are pleased to report that we are now members of UKCeB, the organisation whose mission is to transform secure information sharing for through-life collaboration in defence acquisition and support.

Across the Team Defence Supply Chain and Support Network the ability to share information securely is essential for organisations to be able to work efficiently and effectively. The focus of UKCeB is on improving collaboration 'across the boundaries' between organisations in defence, including the UK MoD. We look forward to maximising the membership and the opportunities it unveils.

In early 2016 UKNCB and CMCA(UK) will be embarking on a series of educational activities at Abbey Wood that will run throughout the year. Events that are planned will include a Codification roadshow exhibition that will be deployed to each neighborhood to enable DE&S staff to learn more about NATO Codification, Codification presentations in the lecture theatre, and weekly Codification clinics to encourage Project Teams to conveniently meet with subject matter experts who will be able to assist with all technical and administrative queries relating to Codification.

To receive updates on the Codification Roadshow follow us on Twitter and LinkedIn.

CMCA(UK) continues to support the local and wider community through its commitment to CSR and back in November we were proud to sponsor Drybrook Rugby Club's home fixture versus Camborne. On a bitterly cold day, the home side put up a brave display but ultimately went down 7-20 to the league leaders. Despite the defeat and the near freezing temperature, the hospitality extended to CMCA(UK) by Drybrook was first-class and all those who attended from CMCA(UK) had a very enjoyable day, pitchside and in the clubhouse.

As an active member of the community, CMCA(UK) are always looking to sponsor events, teams or individuals. Please contact Emily Price, CMCA(UK) Marketing Communications Executive for more information.

CMCA(UK) Organisation and Management Restructure

Following months of planning, CMCA(UK) Ltd has recently been undergoing an internal organisation and management restructure in order to increase our capabilities following a period of significant growth. The restructure will come into effect as of 4th January 2016 and will be aligned to enable the company to deliver its continued growth aspirations.

For full details of the restructure check back soon.

May we take this opportunity to thank you for your time and for reading our newsletter, Please don't hesitate to contact us regarding any of our services or to see how we can help you. Contact our Business Development Manager Antony Elliott on;

+44 (0)1905 458 307 or

Antony.Elliott@cmcauk.co.uk

.