Greetings and Blessings to all,
We hope this edition finds you and yours in good health, good spirits and good company! As for ourselves - or should we say Herself - the fun and frivolity continued thanks to the generosity of two long-time girl friends who flew her to Boston and then took her on a a five day sailing trip on a yacht owned by the son of one of the friends. To say the trio had a good time would be a total understatement! Himself did a grand job of holding down the fort and now, he can also look forward to some fun as we will be heading to NJ for a family reunion in a couple of weeks. Since we can't afford to fly, the train takes too long and we don't want to drive, we're taking the bus! It doesn't take much longer than driving and because we're old fogies, it's really cheap. We're looking at it as another great senior adventure - we'll let you know how we get on next time we write.
Meanwhile, can you believe they are already running ads for back to school supplies? Where did the summer go? Which reminds us that last month we mentioned our granddaughter was looking at colleges. She wants to get a degree in business so she is very interested in High Point University in North Carolina which she toured and liked a lot. If any of our readers knows anything about it, we would really appreciate hearing from you. Many thanks in advance!
Onwards:
Is this your first issue? Many thanks for joining us and we hope you enjoy our musings and meanderings. If you do, please feel free to share them with your family and friends.
Search Function Not Working
We recently discovered that our Google search function on the web site isn't working. We don't know how long it's been that way. Apparently Google changed something in the code which is what caused the malfunction. Himself is trying to fix it and we're sorry for any inconvenience it may have caused you.
Russ' Book
What we thought was going to be a sequel has actually turned out to be more of a second edition with an ending that should have been in the first book. There are other significant additions which even for readers of the first book should make it different enough to warrant a re-visit. Currently, the work is undergoing the tedious task of editing and revising, but it's very close to being finished. We will let you know as soon as it is.
Other books
We are still working on the Irish Culture & Customs Book of Blessings and hope to follow that one up with a book of Irish jokes. Our goal is to have at least one finished in time for the Christmas shopping season. Many of you have asked what the price will be. It's hard to say until we know exactly how long the books will be. But they won't be more than US$10 each .
Enough of the blather, on with the update!
IN THIS ISSUE:
LINKS
QUOTE
BIT OF THE WIT
DID YOU KNOW
JOKE
RIDDLE
THE WEEK THAT IS
LEAVE THEM LAUGHING
SPONSOR: Please visit our friends at the Celtic Attic
Would you like to get 5.00 off your order at the Celtic Attic? Place an order between now and August 15 and use code 5off on orders of $25.00 or more; to get 10% off any size order use code tenp. We will send you a link to a survey when your order is completed so you can give us your thoughts on our new shopping cart and our web site in general
http://www.celticattic.com or http://www.acelticcalling.com/ ;
Also, we are giving away a Celtic Summer Basket. You only need to enter once and you are automatically entered in this contest as well as our normal monthly contest for 2 Irish Pendants.
http://www.celticattic.com/contact_us/free_giveaway
For phone Orders, please call: (360) 531-1107 10am to 5pm PST Week Days
LINKS
Our Lady of Knock hymn
Rosemary Scallon, perhaps better known as Dana, sings this beautiful hymn which is accompanied by relevant details.
https://www.youtube.com/watch?v=Fm6ss1PBC1Q
If you would like to sing along, the lyrics are here:
http://www.irishcultureandcustoms.com/ACalend/NovenaKnock.html
,
Daughter stumps dad with riddle
https://www.youtube.com/watch?v=G9CV9j0EPlQ
Caution - the F bomb is dropped a lot but if you can overlook that, it's very funny.
Irish People Attempt North American Accents
https://www.youtube.com/watch?v=JVjL0i74Drw
On-Going: Mrs Brown's Boys
She's our favorite Irish mammy and if you like her as much as we do, you will want to find out how you can buy a 12-disc box set that's playable in the USA & Canada.
http://www.mrsbrownsboysonline.com
On-Going: Facebook page
Each day, we try to post something of interest about Ireland and the Irish. Have you visited yet? We hope you will visit us often!
https://www.facebook.com/pages/Irish-Culture-and-Customs/327211532200?fref=ts&ref=br_tf
SPONSOR: Please visit our good friends, Lollysmith
Find the perfect gift for every occasion at Lollysmith! Anne Jacobs from California says: "LollySmith is my favorite place to shop online. Every order has come in a timely manner. I love the selection and the quality is excellent. I will continue to shop at LollySmith and recommend this store to my friends." See what Anne is talking about here: http://www.lollysmith.com/
QUOTE
"I'm only a beer teetotaller, not a champagne teetotaller."
George Bernard Shaw
A BIT OF THE WIT
For those who drink to forget, please pay in advance,
Sign at The Hibernian Bar, Cork City
A FAVORITE JOKE
Is that the Ballycashel Echo?" asks Mick. "How much would it be to put an ad in your paper?"
"Five pounds an inch," a woman replies. "Why? What are you selling?"
"A ten-foot ladder," said Mick before slamming the phone down.
Just one from a list of Irish jokes compiled by the Irish Mirror. If you'd like to take a gander at the rest, here's the link:
http://www.irishmirror.ie/news/irish-news/15-best-irish-jokes-time-3259755
1.Muckanaghederdauhaulia, Co. Galway, is believed to be the longest town name in Ireland? A small village in the Connemara Gaeltacht area between Camus and Carraroe, it is also thought to be the longest name for a port in the world.
2. Carrauntoohil is the highest peak on the island of Ireland? Located in County Kerry, Ireland it is 1,038 metres (3,406 ft) high and is the central peak of the Macgillycuddy's Reeks range.
3. county Louth is the smallest county in Ireland? It is 9 times smaller than county Cork.
SPONSOR: Please visit our good friends at the Irish Lottery
In operation since 1988, it's one of the oldest online sites in the world. With subscribers in 89 countries it is also among the most reliable. Jackpots are never lower than US $1,500,000 and are frequently worth in excess of US$5,000,000 Here's the best part - you don't have to live in Ireland to play and all winnings are Tax Free! Play from the comfort of home here:
http://www.irishlotto.net/AD300/
RIDDLE
First off, the answer to our last Cranium Cruncher
Q. What letter comes next in the following sequence? S, N, E, P, O, H, C?
A. E
Why?
Each group of four consecutive letters, when read in reverse, form a word: SNEP - pens NEPO - open EPOH - hope POHC - chop OHCE - echo
As always, our Riddle People didn't let us down; we had a slew of correct answers, but first in was Tom McGuire. Well done Tom!
And now for our next Skull Scrambler:
Q. What comes once in a minute, twice in a moment and never in a thousand years?
Please send your answers to Bridget:
bhaggerty@irishcultureandcustoms.com
It would be helpful if you put Riddle in the subject line. Thanks!
If you'd like to take the quiz, here's the link:
http://www.breakingnews.ie/discover/quiz-can-you-answer-these-trick-questions-684121.html
THE WEEK THAT IS - OR WILL BE
1. Article: Lughnasa - Celebrating the Harvest
http://www.irishcultureandcustoms.com/ACustom/Harvest.html
2. Article: Putting out the hare, putting on the harvest knots
http://www.irishcultureandcustoms.com/ACustom/AfterHarvest.html
3. Article: Season of the Corn
http://www.irishcultureandcustoms.com/ACustom/SeasonCorn.html
4. Emblems of Ireland:The Book of Kells
http://www.irishcultureandcustoms.com/AEmblem/BooKells.html
5. Our Lady of Knock Shrine - Place of Mystery and Miracles
http://www.irishcultureandcustoms.com/ALandmks/KnockShrine.html
6.
The Annual Novena at Our Lady of Knock
http://www.irishcultureandcustoms.com/ACalend/NovenaKnock.html
7. Irish Kitchen: Fraughan Fool with Sweet Biscuits
http://www.irishcultureandcustoms.com/2Kitch/rDessert1.html#FraughanFool
8 Basic Irish: When Irish Eyes are Smiling
It's common knowledge that Irish people, in general, are emotional. So we were surprised to see that we had done very little to cover "heart-scalded" occasions.
http://www.irishcultureandcustoms.com/3Focloir/IrishEyessmiling.html
9. Kids' Ireland: Leary's New House
http://www.irishcultureandcustoms.com/1Kids/LearyHouse.html
10. Music Review: Our resident reviewer William Ramoutar has promised us as new one very soon - so please keep checking back. Meanwhile, in case you missed it, the current review is about the Wolfetones
http://www.irishcultureandcustoms.com/AMusic/Ramoutar/Wolfetones.html
11. Headlines: We keep two weeks worth of headlines here:
http://www.irishcultureandcustoms.com/01News/Home.html
12. Irish Shops: A collection of our favorite places to shop for Irish products:
http://www.irishcultureandcustoms.com/Shop/1Shop2.html
So there you have it until we write again If you're celebrating a birthday, anniversary or other special event between now and then, we hope it's an occasion filled with love, joy and laughter.
Did you tie the knot in August? Here is your special verse:
Whoever wed in August be
Many a change is sure to see
Before we take our leave with our customary Irish blessing, we would like to wish all of our readers in Ireland a safe and happy Bank Holiday weekend - in spite of the weather forecast! And, before we forget it altogether, Pinch, Punch, First Day of the month, White Rabbit!
The love and affection of the angels be to you,
The love and affection of the saints be to you,
The love and affection of heaven be to you,
To guard and to cherish you.
May God shield you on every step,
May He aid you on every path,
And may He hold you safe on every slope,
On every hill and on every plain;
On earth and on sea until we meet again.
And, as they say in Ireland, mind yourself
Slan agus Beannacht,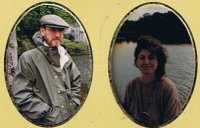 Bridget & Russ
Get down on your knees and thank God you're still on your feet.
Téigh ar do ghlúine is bí buíoch le Dia go bhfuil tú fós ar do chosa.
LEAVE 'EM LAUGHING
In this video, Irish children are quizzed by their mums about the origins of their cereal with hilarious results.
http://www.independent.ie/life/family/parenting/irish-kids-dish-out-funny-answers-over-breakfast-30401463.html
If you don't want to be bothered with going up on the internet, here's a list of things only Irish Mammies will say - some of them heard often from a Dublin born mother to Herself:
A letter came in the post for you, will I open it?" (She already has)
Take off your coat or it'll be no use to you when you go outside.
You're wearing that skirt? I can see what you had for breakfast!"
Oh, you're off gallivanting again I suppose!"
If you fall and break your two legs, don't come running to me!"
Don't make me get up!
If it had a mouth, it would have bitten you (trying to find something in plain sight)
A run a round the table and a duck underneath (when asked what's for dinner)
No word of a lie
That's it now, you're getting the wooden spoon
Lovely ( almost everything was. Had she been born a few decades later, the word might have been Brilliant)
Jesus Mary and Joseph (yes - she really did say that a lot! -I would give anything to hear her say it again)