OCHN Mission
 
Inspire Hope
Empower People
Strengthen Communities
Visit us on:



We want to hear from you. 
 
Email
comments to weinerts@oaklandchn.org

Annette shares
news about professional transition.   
Your Voice, Your Value conference 
Eleven people were recognized during OCHN's 2019 "Your Voice Your Value" conference with special Peer and Achievement Awards.  
Personal care room added to OCHN Troy location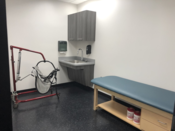 OCHN's Personal Assistance Room in its Troy office is finished. The room provides a private space for service providers to meet the personal care needs of individuals while out in the community.  
Three Oakland County residents
appointed to OCHN Board
Hadas Bernard, Sarah Guadalupe, and John Paul Torres were recently appointed to OCHN's Board of Directors by the Board of Commissioners. 
Recovery Celebration scheduled
More than 300 people are expected to
attend the 12th

Annual Oakland County Recovery Celebration on Friday, Sept. 20th.
Minority Mental Health Month observed in Oakland County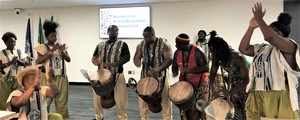 Food, dance, guest speakers, and music performed by groups, like Nanou Djiapo pictured above, are just a few examples of how OCHN and its community partners observed July as Minority Mental Health Month. 
Employment assistance for individuals in recovery
New OCHN program to help those in substance use recovery seek gainful employment. 
Mr. Geoffrey Deveraux, a U.S. Air

Force veteran, was recognized with OCHN's first "Comrade of the Year" award during the organization's "Got Your Six" event for military families.
Take 5 Steps | Suicide Prevention 

In recognition of Suicide Prevention Week / Month in September, OCHN is promoting resources from the National Action Alliance for Suicide Prevention. This incudes the "Take 5 Steps" effort. 
Free mileage reimbursement program introduced
OCHN grant funded rural transporation voucher program provides free mileage reimbursement for older adults, veterans, and people with disabilities.
OCHN discusses HIE with community
OCHN is leading community coversations
with people it

serves about Health Information Exchange (HIE) and its value in promoting integrated care coordination. This includes a special workshop recently given by its CIO, Diana Bundshcuh. 
Annual plan forum scheduled
Community input is needed to develop OCHN's upcoming 2020 service delivery plan. Individuals can atttend a forum scheduled on Aug. 27th or complete the online survey at www.oaklandchn.org under the
Survey Link.
Employee led workgroup supports community needs 

The Community Access Resources & Enrichment (CARE) Committee is an OCHN employee led initiative whose goal it is to enrich the lives of people through donations of up to $500. A donation request form is avaiable at
www.oaklandchn.org under the Events tab.
Understanding Supported Decision-Making
by Renee Uitto

Supported Decision-Making is an approach people developmental disabilities use to make their life decisions with the help of family, friends, and trusted allies.