SHOP HOURS
Monday: CLOSED
Tuesday: 12 - 6
Wednesday: 12 - 6
Thursday: 12 - 8
Friday: 12 - 6
Saturday: 10 - 6
Sunday: 12 - 4

 

 

 

There's a chill in the air that makes us want to cast on some chunky yarn and knit up a cowl to keep us toasty warm.  We have a shop full of great yarns, old and new, and are happy to help you select the perfect one for the project that's next on your list.
We got a big new shipment of luscious handspun from Knit Collage!  We have several new colors of Cast Away.  Cast Away is a thick and thin with 68 yds per 100g.  We couldn't resist pairing it with some hot pink Malabrigo Worsted to knit the 
Stra
nded Cowl
 from CocoKnits (shown above).  We also have several patterns free in the shop when you buy this yarn including 
Wavy Feather Scarf
, 
Snuggle Bear Mittens
, 
Perfect Slouch Hat
.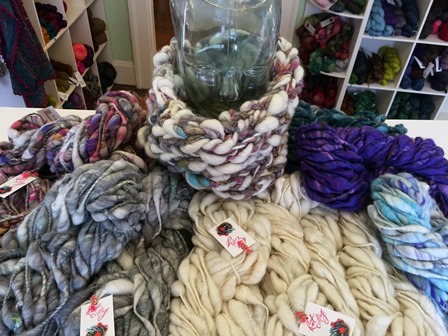 We also got some of Knit Collage's Pixie dust, which is like a bigger version of Cast Away.  We loved this chunky Marled Cowl (shown above) that uses one skein of Pixie Dust and one skein of Cast Away.  It knits up in a flash and makes a warm and fashionable accessory.  Pixie Dust also looks great by itself, we like the
Pixie Dust Earflap Hat
,
Mood Pillow
and
Pixie Dust Lap Blanket
.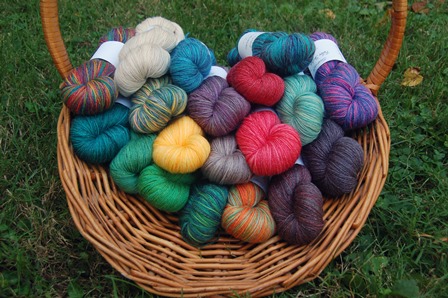 Sarah has dyed up some fresh colors of Sarah-Dyed Bamboo Sock!  This is a light fingering weight yarn that works great for both socks and shawls.  It's 65% Superwash Merino and 35% Bamboo and it has 492 yards per 100g skein.  It also comes in mini-skeins with 72 yards per 16g.  Mini-skeins are great for patterns that call for just a little bit of color work or a contrasting border.  You can also grab several and make a pair of
Blender Socks
or knit some hexi-puffs for your
Beekeeper
!
We got a big order of Malabrigo in!  We have 8 fresh colors of Rasta, 4 new Chunky colors and a few new Worsted and Mecha colors too.  We also want to let you Malabrigo nuts know that thanks to their new online ordering system it's now a bit easier to place a special order if you need something we don't have in the shop (we can at least tell you if they have it in stock).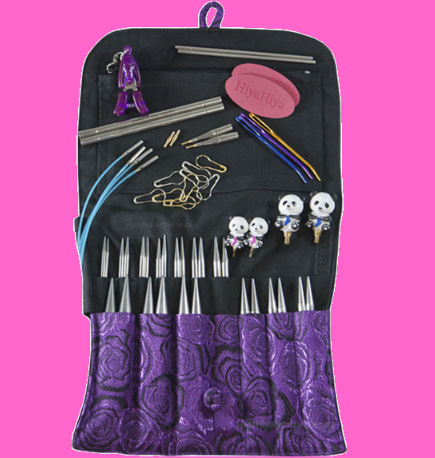 The limited edition Hiya Hiya interchangeable sets are back.  These kits contain 13 pairs of 5" sharp interchangeable tips rangeing from size 2 to 15, 4 cables (18", 26", 34" and 42"), cable connectors, panda stoppers, single point adapters, puppy snips, tapestry needles and safety-pin style stitch markers.  Plus a lovely fabric case to house all the tips with two pockets for cables and notions.  At $167, these sets are a bargain!  We've tried a lot of interchangeable sets and we think the ones from Hiya Hiya are the best with super smooth joins and flexible tips, this is a great way to have every size needle at your fingertips.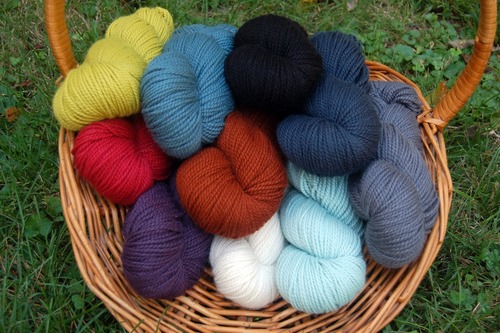 Last, but certainly not least, we have added all three of the new extra colors this year.  The light blue Mist, dark blue Deep Ocean and rusty Canyon were all too charming to pass up.  Extra is a fantastic Aran weight yarn, it's got 55% baby alpaca and 45% fine merino making it super soft, but also bouncy and lofty.  With Extra big 150g skeins of 218 yards, one skein goes a long way.  With the cool weather right now, I'm thinking it would make an especially fine blanket.  Try one skein out with the 
Sweet Sixteen Hat
or two skeins for the 
Cane Bay Wrap
or 
Adama
.  After that, you might be up for something super snuggly like the 
Reversible Cabled Blanket
or the 
Playful Stripes
afghan.
For October the yarn of the month is October Oddballs!  We've pulled the odd single and double skeins of yarn off the shelf and into a pile that we are discounting 20%.  What can you do with an oddball?  Many of them are big enough for an entire project, a pair of socks, a hat, mittens or a shawl.  There's also some great inspiration available in the many one-skein books, filled with patterns that use just a single skein of yarn! 
Featured Upcoming Classes
 

 

 

 

 

 

 

Goat Milk Soapmaking Workshop $25

 

 

Join Sarah and learn about different kinds of soap making! Resources will be provided and active participation encouraged. During the workshop we will make two cold processed soaps, one with goat's milk and one without. We will also explore adding colorants, essential oils and exfolliants to further enhance our soaps. Participants will have some input on the scent. Each participant will get a bar of each soap made during the workshop, and you'll have plenty of time to make soap before the holidays!

 

Sunday, October 11th. 4-6pm

 

 

 

 
 

In this class we will learn to make shapes and patterns using various shibori resist techniques. No previous experience is necessary for this class and the class price includes the wrap and the shibori materials as well as a space in the Indigo Dyeing workshop the next day. There is an additional discount if you take this class with the batik class in the afternoon- both classes plus indigo dyeing for $85.

 

 

Saturday, October 24th. 10am - 12 pm

 

Bundle with the Batik class for $85

 

 

 

 



 

Batik is a wax resist method that can be used to produce beautiful designs on fabric. Raellyn will demonstrate how to apply the wax with brushes, tools, and stamps to create different designs and effects. She will also have instructions on how you can remove the wax resist from the fabric after dyeing. No previous experience is necessary for this class and the class price includes two tea towels and the batik materials as well as a space in the Indigo Dyeing workshop the next day. There is an additional discount if you take this class with the shibori class in the morning- both classes plus indigo dyeing for $85.

 

Saturday, October 24th. 1-4pm

 

Bundle with the Shibori class for $85