---



2

February

2017
February Memory Verse
1 John 3:18
"My little children, let us not love in word, neither in tongue;
but in deed and in truth."
- A Ministry That's Been A Blessing -
I recently was in a meeting with Brother Larry Koontz of Neighborhood Bible Time Youth Crusades and he gave a good report as to how God is using NBT. We have used Bible Time here at Mountain Lake Independent Baptist Church for 23 years and it has been an outstanding blessing to our church and an extremely effective outreach into our community.
Our church loves Bible Time and having been associated with Bible Time since 1985, I would like for you to consider having a Bible Time rally at your church. As I said, we love it!!
Bible Time has become an international ministry with rallies each year in quite a few foreign countries. Below is a picture of last year's Evangelists and some of the statistics of last year's rallies. I would also like to ask you to consider supporting NBT financially to enable this great ministry to continue on for the next generation. NBT was started in the early 1950's by Brother and Mrs. Charles B. Homsher and has remained true to the faith and its evangelistic mission all these many years. I believe it is a ministry worthy of our prayers and support. Brother Koontz can be reached at 800-737-6613 or you can check out their web site at www.nbtime.org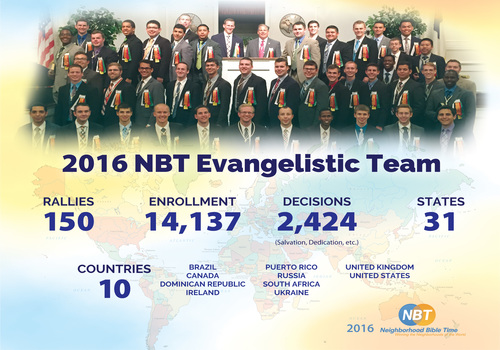 We have a number of big events coming up here at MLIBC in the coming weeks, along with our Neighborhood Bible Time rally, July 10-14.
Family Conference - This Sunday, Feb. 5, with Brother John Leatherman (no relation) preaching on the family in all our services.
Sportsmen's Wild Game Dinner - March 4 at 5:00 p.m. at the Pleasant Valley Community Center. Bring your favorite wild game dish. We have lot's of door prizes. Pastor Jason Myers will be speaking.
Men's Steak Out - March 25 at 5:00 p.m. here at our Fellowship Hall.
Spring Revival - March 26-29 with Dr. Dan Hummel
Tract Month - Kicking off April 2 (contact me if you are interested in a "Tract Month Manual."
As you can see, there's a lot of exciting events coming up, so please be a part of all that's going on and be much in prayer for God's blessings upon these endeavors. We sincerely want to glorify our Lord and reach the lost with the Gospel of Jesus Christ.
Of course there's our regular weekly services and ministries, so we are trying to stay busy for our Lord and reaching souls for Christ.
Join us for our big Family Conference this Sunday. It all begins at 9:45 a.m. with Brother John Leatherman preaching.
God bless you. Bring your Bible and a friend to church this week!
Dr. Dennis Leatherman - Pastor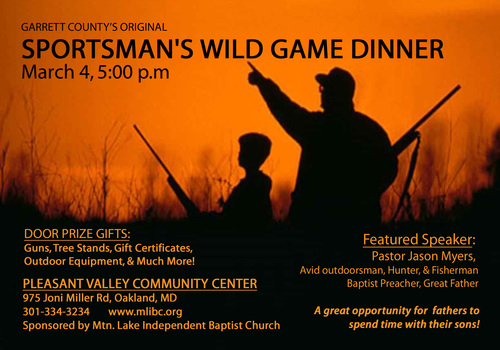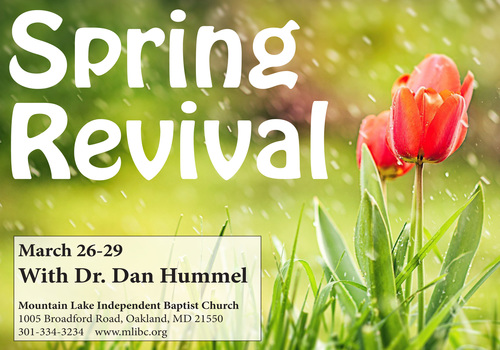 Mountain Lake Independent Baptist Church
1005 Broadford Road, Oakland, MD, 21550