A Fischer Haus Concerts Invitation to our last show of the 2019 Concert Series 

MARCIA BALL

 

Saturday, October 19th, 2019




 
The very first time Marcia played at Fischer Haus Concerts was our first show after the flood of 2015.  We were a community in a world of hurt and shock.  Marcia united us in love, recovery and strength with her music.  That was a little over 4 years ago and we welcome Miss Marica Ball back for her 4th show here with open arms.  Thank you Marcia! We LOVE you ~ Jan & Dennis

Saturday October 19th, 2019
Gates open at 6:30pm -
Food service begins
Concert starts at 8pm

$25 Cash Door Donation for Adults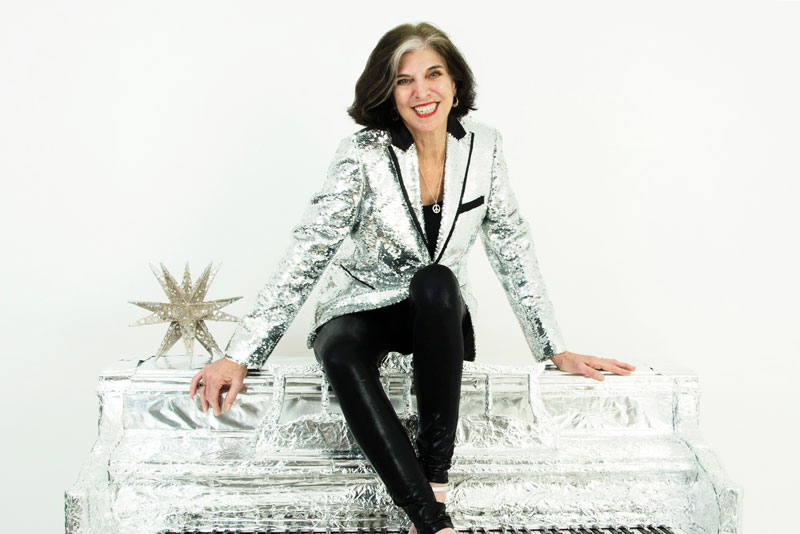 Fischer welcomes back the queen of boogie woogie...........
"Rollicking, playful, good-time blues and intimate, reflective balladry...her songs ring with emotional depth" –Rolling Stone
"A welcome ray of sunshine...Ball is a killer pianist, a great singer and songwriter. Potent blues, sweet zydeco, soulful, fast and furious Texas boogie...heartfelt, powerful and righteous" –Billboard
"Fifty years have passed in a flash," says Texas-born, Louisiana-raised pianist, songwriter and vocalist Marcia Ball of her long and storied career. Ball, the 2018 Texas State Musician Of The Year, has won worldwide fame and countless fans for her ability to ignite a full-scale roadhouse rhythm and blues party every time she takes the stage. Her rollicking Texas boogies, swampy New Orleans ballads and groove-laden Gulf Coast blues have made her a one-of-a-kind favorite with music lovers all over the world. With each new release, her reputation as a profoundly soulful singer, a boundlessly talented pianist and a courageous, inventive songwriter continues to grow. Her love of the road has led to years of soul-satisfying performances at festivals, concert halls and clubs. The New York Times says, "Marcia Ball plays two-fisted New Orleans barrelhouse piano and sings in a husky, knowing voice about all the trouble men and women can get into on the way to a good time." The Houston Chronicle says simply, "She's as perfect as an artist can be."
With her new album, Shine Bright, Ball set out to, in her words, "Make the best Marcia Ball record I could make." In doing so, she has put together the most musically substantial, hopeful and uplifting set of songs of her five-decade career. Produced by Steve Berlin (Los Lobos) and recorded in Texas and Louisiana, Shine Bright contains twelve songs (including nine originals), ranging from the title track's rousing appeal for public and private acts of courage to the upbeat call to action of Pots And Pans, a song inspired by renowned Texas political writer and humorist Molly Ivins. From the humorous advice of Life Of The Party to the poignantly optimistic World Full Of Love, the intensity of Ball's conviction never wavers while, simultaneously, the fun never stops. Shine Bright is exactly the album Ball set out to make. "It is a ridiculously hopeful, cheerful record," she says, in light of some of the album's more serious subject matter. The secret, according to Ball "is to set the political songs to a good dance beat."
SAUCE Y MAMA
will be serving up some Authentic Cajun Food

~On the Menu for October 19th~
Please note meals are prepared based on your RSVP.  If you pre-ordered please make sure you go by and pick up your meal. Thanks so much!!

Spinach Artichoke Dip Appetizer
Seafood Gumbo

made with a dark rich roux, served with Rice and French Bread

made with a dark rich roux, served with Rice and French Bread

Desserts:

NOLA Bread Pudding with warmed Bourbon Sauce or

Triple Chocolate Brownies
RSVP FOR MARCIA BALL:
PLEASE FEEL FREE TO FORWARD OUR INVITATION TO YOUR FRIENDS....  EVERYONE MUST RSVP
(can do groups) Thank you!
OUR BASIC RULES AND POLICIES
All shows are considered private (you must RSVP) and on a Cash Door Donation (set by the Artist).  All who are attending are required to Check-In at the Front Gate or Merchandise Booth. Thank you!!
We are also:


Cash Only

BYOB -

Beverages


Food is available to purchase (if you RSVP'd for Food please pick it up ASAP)or can bring your own

 
Family Friendly

 

(Children are welcome but please ask them to use their inside voice during the performances... Thank you!) 
No Dogs please

(Sevice Animals are Welcome)

Please RSVP if you are planning on attending a show

Camping available -

Limited electrical hook-ups, let us know ASAP - Must check-in before 4pm (Please remember we are a pasture camping facility)




No Smoking the first 2 rows of tables from the stage

and when the sides are down in the Cantina - SMOKERS PLEASE USE BUTT CANS, DO NOT TOSS ON THE GROUND - NEW POLICY FOR 2020 TBA

Trash, recycles, etc. -

WE DO RECYCLE

- please put glass, plastic and cans in recycle bins not the trash cans

Tables and chairs are setup in the Cantina but you can bring your lawn chairs or blankets for outside viewing and listening. We will always make arrangements for seating those who

have special needs.  

Please Note: we will take up to 4 advance table reservations for 6 or more at this show in order received, we will also accommodate folks with special needs if noted on your RSVP for reserved seating.

We typically have a Campfire Jam after an evening show, feel free to join in.... Please, no minors at the Campfire Jam unless prior approval is given

2020 FISCHER HAUS CONCERT SCHEDULE
(MANY, MANY MORE TO COME.... subject to change, be sure to check the website for updates)
January 11th, 2020 - Johnny Nicholas & Cindy Cashdollar
April 2020 - WAG FEST
May 9th, 2020 - Terri Hendirx Mother's Day Celebration
A HUGE Thank you from all of us volunteers....
"WE'RE ALL HERE 'CAUSE WE AINT ALL THERE" - FISCHER TX

Jan & Dennis - Hosts

Randy & Paul - Sound & lights

Chris, Sue & Linda - Check-in
Bubba, Unkle Jimmy & Sue, Paul, Adette & Kent - Setup and ongoing maintenance
Bubba, Mark & David - Parking/Security

All those others who get y'all in those parking spacings

Special Thanks to all our volunteers and everyone else who has helped keep this lil Hill Country Haus Concerts going!