HMV'S CASTALDO EXITS RETAILER…
…NEW MARKETING TEAM DUE SOON
HOOLIGAN CONTINUES TO RISE…
BVA: HALF-TERM BOOSTS DOWNLOADS?
PILOTS GET THE GREENLIGHT…
…AS AMAZON HEADS INTO TOWN
SIGNATURE PUTS ITS MARK ON THE DOTTED LINE
PECCADILLO INKS 10 CANNES DEALS
NETWORK GOES STRAIGHT TO HELI…
…AND GETS PROFESSIONALS TOO
PREMIERE DRESS CODE: COME AS YOU ARE
---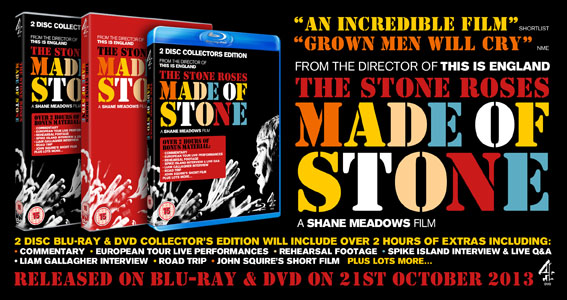 ---
I
f you can't read this newsletter or see the ads, please click
here
It Was A Good Week For…
4DVD, with its new increased commitment to film getting off to a flying start with Made Of Stone – it's the film everyone is, er, raving about…
I
t Was A Bad Week For…
Trade journalists as our pal Gennaro Castaldo leaves HMV…
And so, farewell then, Gennaro Castaldo, one of the industry's – and HMV's – longest-serving staffers. The mercurial head of press at HMV is this week exiting the retailer and heading off to pastures new after more than half a century at HMV. He's seen the company through both good times and bad, behaved with great dignity throughout and, in recent months particularly, showing stoicism and incredible loyalty above and beyond the call of duty. Many is the time that we at The Raygun bumped into Castaldo in the West End on a Saturday – we were out shopping, he was on his way to or from work, regularly pulling six day shifts. He's now leaving to join record industry trade body the BPI, where he will be director of communications. Ever the professional and loyal to the end, Castaldo bade a fond farewell to both his HMV colleagues and suppliers, saying: "I'd like to wish everyone at new HMV and Fopp - Ian Topping and his directors, the team at Hilco, the amazing colleagues at head office, the distribution centres and, of course, the stores around the country, every success going forward. I know that our supplier partners, who have had to put up with so much, are keen to do all they can, and I get the feeling of a growing sense of optimism. I sense that this new chapter in HMV's long history will be a very positive one that will surprise a few people, and long may that be the case - as a healthy and successful HMV is everyone's interests." We're sure everyone in the business will join us in wishing him all the best for the future. There's a handful of other staffers leaving the company, expect a riotous do tonight in Soho, it's just a shame we won't be there to say goodbye to the likes of Castaldo and another of our old pals, Jill Thomas. We'll have more from Gennaro on our website over the weekend…
Meanwhile, sticking with HMV and it appears as if a raft of appointments is due at the retailer in the coming weeks. It looks like Hilco is set to appoint new marketing staff, including a new marketing director, as part of its plans to revive the retailer, giving it a new branding for the future. Watch this space for more…
And on to a bit of recent business and we're delighted to report that the DTV market is still showing healthy signs and, with the right kind of title, the right packaging and the right marketing support, titles can still perform well and break through. Take the latest example: The Rise And Fall Of A White Collar Hooligan: England Away, the latest tale recounting the continuing adventures of Mike Jacobs and co. The eOne Momentum title again proved that the integration between the two has not affected its business and has been a smooth transition. The title sold more than 6,000 units in its first seven days and has continued into its second week. As the company's Rob Bentley said: "Great news on the DTV title of White Collar Hooligan 2 - England Away selling over 6,000 units. This is a great result in the current market and bang on our week one target. It has only dropped 35 per cent week on week too which means it could over perform on its month one target. It also had a strong 20 per cent share on Blu-ray which is very strong for a DTV."
---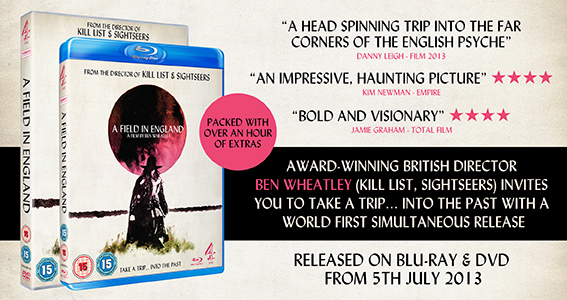 ---
Dateline: Manchester. This week's Raygun newsletter comes to you from the north west of England, where we've been to the premiere of the Shane Meadows-directed Stone Roses documentary Made of Stone, courtesy of our old chums at 4DVD, including the operation's chief David Root, who gets an executive producer credit on the film. The event was outstanding, held in a warehouse in Manchester, attended by hordes of fans and a smattering of celebrities, including three quarters of the legendary band themselves. As reported here previously, the film is the first to be released under the ongoing agreement between Film4, Picturehouse and other partners such as producers Warp, with the theatrical release being followed by a home entertainment bow in October, In a Q&A after the event, producer Mark Herbert and director Shane Meadows light-heartedly apologised to 4DVD for not delivering the film for a DVD release before Christmas last year. But as the project grew in size and scope – it was edited down from hundreds of hours of footage from the band's gigs in 2012 – they missed the deadline. And the film is all the better for it too, it really is an outstanding outing and one of the best premieres we've been to for some time. Commenting on the event, 4DVD's Lucy Bulmer said: "
Being part of the premiere last night was incredible, Shane Meadows has pulled it off again. This isn't just another music documentary, it transcends the genre into something really special. He invites us on such a personal journey fulfilling his dream to meet The Stone Roses without being intrusive building a trust between band and director that's so rarely seen. The DVD and Blu-ray will be out on the 21st October, the film speaks for itself but it's also packed with over two hours of special features including interviews, live performances, theatrical Q&A, commentary from Shane Meadows and much more." The film, and DVD, is what the world's waiting for…
Sticking in Manchester, and staying with 4DVD, as our north west correspondent headed to the Lowry in Salford for the recording a new live comedy release by Greg Davies. The stand-up and some time actor is now signed to 4DVD – the same company that released Inbetweeners, in which Davies starred. 4DVD's Karla Berry said: "
This year will propel Greg to new heights. With his new sitcom, Man Down out on the 21st October and his second live stand-up DVD "The Back of My Mum's Head" coming out on 11th November, Greg's profile will be at its peak this year putting him up there with some of the industries funniest stand-ups. With these two releases coming out in the gifting season it makes them ideal Christmas purchases."
Our northern correspondent was in the audience and filed this report: "
The show was a brilliant success, it was very funny throughout, inclusive and never dull, even ended on a song. I'm sure a lot of people will want to revisit this tour via DVD, as it's almost impossible to remember everything after the lights have come up."
Financial news and Metrodome has announced plans to delist the company from the AIM market, a move which highlights the way the market and investors view the film distribution sector. The company, which secured new loan finding in January, said that the move came about because it was difficult to secure further funding through AIM. Revenue at Metrodome was down nine per cent in 2012, with underlying earnings down to a touch under £100,000. The executive chairman Mark Webster said: ""We have seen a shakeout in the film distribution industry with the recent difficulties of some of our main competitors. The Group is in a good position to capitalise in the marketplace and well positioned for organic growth. This will be achieved by continuing to acquire and/or produce good quality content for UK distribution and the acquisition and representation of classic film libraries across all platforms including the emerging digital platforms which will be a catalyst for growth. It is the Board's belief that the next stage of the Company's growth can be best effected as a private company."
---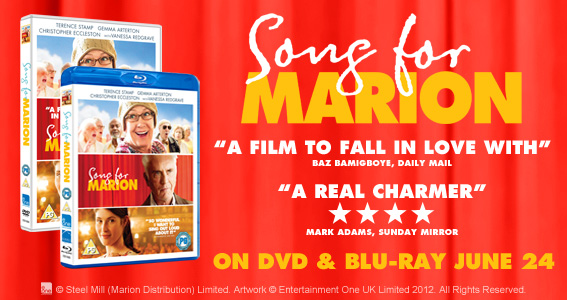 ---
It's been a big week in the online sector, with both good news and bad news filtering through from various sources. We'll start with the latter, as regulator Ofcom announced its latest online copyright infringement report. The figures, for the quarter ending in January 2013, stated that one on six, or 18 per cent, of Internet users aged 12 years old or more had accessed online content illegally in the three month period. That is up from 16 per cent in the previous quarter, although there was a suggestion that more and more consumers were accessing digital media content, which could account for the rise in those using illegal services. The levels of piracy rose to 30 per cent among Internet users who regularly access digital media. And it goes even further – 33 per cent – among those who regularly download and stream films. Interestingly, TV was the second most pirated content, after music but ahead of films. Almost 60 per cent of those accessing content illegally were male, and more than a third were under 34 years old. Commenting on the figures, the Industry Trust's Liz Bales said: "These new figures underline the challenge faced by the creative industries as new audience groups, young and old, migrate online. The industry has an important role in guiding people towards legitimate content and away from the temptation of 'free' downloads from illegal sites. Recent YouGov research also highlights accidental piracy as an emerging problem. Over a third of adults now say they are unable to distinguish between legitimate and pirate sites that often deploy clever copycat tactics to look like the real deal. To support those employed in making moments worth paying for, the film industry has created FindAnyFilm.com <
http://findanyfilm.com/
> , a one-stop not-for-profit search engine tool that allows consumers to search popular films, all in one place."
Meanwhile, also flying the flag for legal content was the BVA, which highlighted figures showing that almost 90 per cent of consumers now know that they can download and watch a film or TV programme by making a one-off payment, and more than twice as many people were now paying for legal downloads. The organisation also said that it expected downloads to rise this week , school half-term holidays (we can testify to this fact ourselves, as our junior correspondents watched all sorts of legal content online). The BVA's Lavinia Carey said: "It's fantastic to see the growing interest in legal download services, which is an excellent way to enjoy video on the move, whether it's the latest films you've been dying to see, bingeing on a TV series or the children's favourites. With new video releases from digital download services being available earlier and to keep, it isn't surprising that they are popular for holiday breaks. Many people will be downloading straight onto their tablets due to the increased portability offered by downloadable content. Whether stuck in a bank holiday traffic jam, or looking for video to amuse the family whilst abroad, having new releases or classic favourites on portable devices guarantees entertainment away from home."
And, as ever, there were more announcements from the rival online giants this week, who were as busy as ever. The blinkbox-operated Tesco-branded Clubcard TV has unveiled a deal with ITV which will see a wealth of programming being offered free to Clubcard members on the ad-supported service. These range from the more light-hearted Cold Feet and The Darling Buds Of May through to crime dramas such as Inspector Morse, Cracker and Prime Suspect. The deal also includes a wealth of cookery programmes. Commenting on the deal, Clubcard TV md Scott Deutrom said: "It's great news for fans of quality drama that some of ITV's best loved shows are coming to Clubcard TV. This is a significant new deal for us as many of the shows added will appeal to our heartland audience." Neale Dennett, Controller Pay and Distribution at ITV, added: "We are committed to producing and distributing the highest quality content across commercially viable platforms. We are delighted that this deal with Tesco extends opportunities for ITV viewers to access our content in new and diverse ways."
---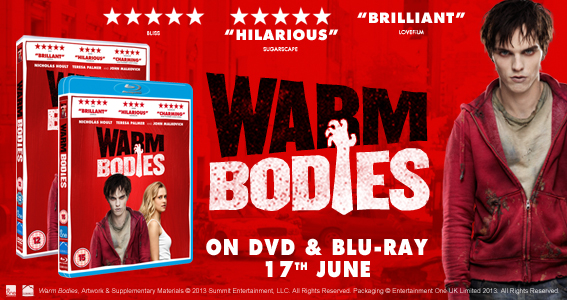 ---
Meanwhile, Amazon's Studios arm has announced the first five of its recently launched pilots which will be turned into fully-fledged series. As reported here previously, a whole series of different pilots, taking in both kids and comedy genres, were developed, with customer feedback from both LOVEFiLM Instant's streaming service here in the UK and Amazon Prime Instant in the US deciding which were to be turned into series. The five are comedies Alpha House and Betas and, for children, Annebots, Creative Galaxy and Tumbleleaf. Amazon Studios director Roy Price said: "We are thrilled at the enthusiastic customer response to our first original pilots. We built Amazon Studios so that customers could help decide which stories would make the very best movies and TV shows. It's exciting to see the process in motion, doing exactly what we set out to do. The success of this first set of pilots has given us the push to try this approach with even more shows-this is just the beginning." The assorted series will arrive on LOVEFiLM Instant towards the end of 2013 and into next year.
Sticking with Amazon and the online giant has unveiled plans for new offices in the heart of London, opposite Smithfield Market. It will take over 12 floors of the new development, 60 Holborn Viaduct, housing 1,600 staff. Although the headquarters remain in Slough, it's the second major development in the capital following last year's move for developers on LOVEFiLM and other services further east. Amazon UK md Christopher North said: "This new office location will provide the space we require for hundreds of our existing employees as well as many more that we will hire in the future. Amazon has over 6,000 permanent employees in the UK and we will continue to create thousands of jobs in the coming years across the UK."
There's still plenty of news filtering through from Cannes as assorted suppliers and distributors finish up deals and negotiating contracts with sales agents and producers. Signature has again shown its ambitions by announcing a raft of acquisitions made at the market. These include The Starving Games, a parody of, you guessed it, The Hunger Games (among other things), from the people behind the likes of Scary Movie and Meet The Spartans; psychological action drama Power Of Few, starring Christian Slater and Christopher Walken; Merciless, an actioner set in Thailand and starring the likes of Vinnie Jones and Danny Trejo; sci-fi horror Skinwalker Ranch; Dead Drop, an action thriller featuring Bros singer turned actor Like Goss; Inescapable, with Marisa Tomei and Joshua Jackson; Ben Kingsley in A Common Man and the wonderfully-titled Don Peyote, featuring an ensemble cast that includes Jay Baruchel and Anne Hathaway. As if that wasn't enough – its slate is now packed well into 2014 – there's also a Sylvester Stallone film on its way, with delivery due by the end of the year. Signature's Claire Loewenthal said: "We are delighted and proud of the product we have acquired in Cannes. Our new films are an array of critically acclaimed, cast lead and high concept genre titles which we feel compliment our current slate coinciding our move to direct trading."
Curzon Film World and its Artificial Eye label were busy too, picking up some of the prestigious titles that performed well in the festival competition: its pick-ups include Palme d'Or winner Blue Is The Warmest Colour, as well as The Selfish Giant, Paolo Sorrentino's The Great Beauty and Michael Kohlhass starring Mads Mikkelsen. Critics have been feverishly debated Blue Is The Warmest Colour since it screened at the festival, with many debating what will happen to the film when it's submitted to the BBFC. The company's Steve Lewis said: "We're proud to be releasing Abdellatif Kechiche's Palme d'Or winner in the UK. Featuring remarkable performances from its two young lead actresses, it's an extraordinary film which met with universal praise from critics. We're also excited to have two other great films which featured in Cannes' competition line-up: Paolo Sorrentino's The Great Beauty (La Grande Belleza), a stunning portrait of contemporary Rome that has been compared to Fellini's classic La Dolce Vita, and Arnaud des Pallierès' epic Michael Kohlhaas, which stars Mads Mikkelson as a vengeful 16th century warrior."
---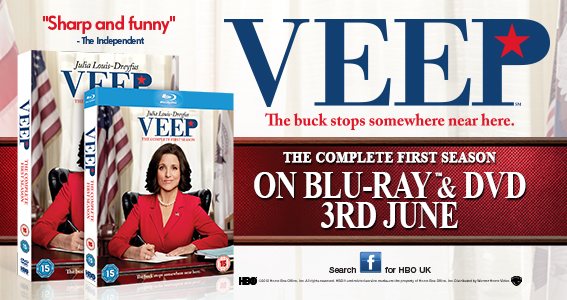 ---
Meanwhile another company announcing a hefty number of acquisitions was Peccadillo, which returned from the south of France with a whopping 10 new signings, promising that 2014 will offer its biggest slate ever. Titles include Grand Prix winner Salvo, another competition entry in the shape of Wakolda, as well as the winner of the Queer Palme, Stranger By The Lake, Bruno And Earlene Go To Vegas, I Am Happiness On Earth and The Golden Cage. Peccadillo's Tom Abell was reported as saying: "This has been an exceptional Cannes for Peccadillo with the acquisition of 10 (and counting) new feature films from various sections, with many picking up awards during the festival alongside an assortment of short films from the Short Film Corner. 2014 will see our strongest theatrical line-up to date and the whole Peccadillo team is looking forward to an exceptional year."
More post-Cannes news came from Network Distributing and its film arm Network Releasing. It has acquired all UK rights to another festival triumph Heli. The film's director Amat Escalante picked up the best director award in the south of France. The film follows a Mexican family and drew controversy for its violence. It also sees Network strengthening its ties to the Latin and Central American film business, following the likes of NO. Network's md Tim Beddows said: "We are delighted to have acquired HELI, one of the most talked about films at Cannes and look forward to building a relationship with one of the Spanish speaking world's most promising filmmakers."
Not from Cannes, but Network Distributing has also announced it has picked up the worldwide home entertainment and digital rights to seminal 1970s Brit action series The Professionals. The series follows the adventures of Bodie and Doyle (aka Lewis Collins and Martin Shaw). Network is restoring the series and will begin releasing all 57 episodes in March 2014. Tim Beddows said: "The Professionals is one of the last filmed series that has never been through any kind of credible restoration process from its original film elements, so we are rising to that challenge and giving fans something truly different whilst introducing the series to a new generation."
---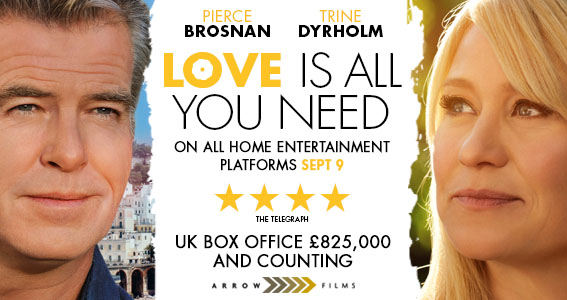 ---
One company keeping itself busy in the acquisitions market in recent months has been Eureka, which is upping both its slate and the size of the films it is acquiring. Next up from the company is Come As You Are, a comedy about three disabled people who head off on a road trip with the promise of s*xual adventures (asterisked for firewall reasons). The independent is marking its launch by hosting a charity premiere, working with three different organisations (Royal National College For The Blind, Brain Tumour Research and The Arthrogryposis Group. Eureka's sales director Ian Sadler said: "In 2012, the people of London, the country and the world marvelled at the achievements of the Paralympians. Come As You Are is an extremely moving and inspiring film and we hope that with its release we can help to continue to break down barriers and raise awareness of the challenges, rights and needs of disabled people in the UK." The Royal National College For The Blind's Lucy Proctor said: "We are delighted to be part of this very special occasion and hope that the film reaches the widest possible audience during its cinema release and DVD." Commenting on the ever-growing release schedule at Eureka, which includes the likes of Computer Chess and John Dies At The End, the company's Ron Benson said: "We have got a very good slate going forward. I think Come As You Are will do the business."
Also due to launch at theatrical and currently winning plaudits ahead of its release is Joss Whedon's Much Ado About Nothing, which is due from Kaleidoscope at cinemas on June 14. In fact, such is the reaction to the film that Kaleidoscope is putting the home entertainment release back to October to enable the company to give the film a bigger theatrical release. The company's Clare Dundrow said: "We wanted to maximize Much Ado About Nothing's breakout potential. The best way to do that was by enabling the film to reach a wider cinema audience which meant emphasis needed to be put on pushing the film out wider regionally, and not just making it a London centric film. Given the phenomenal media reactions we were getting, coupled with the fact that Joss Whedon has such a loyal and ready-made fan base here in the UK, it was becoming evident that traditionalists would lap this version up too. Joss Whedon is really behind it and has already come over to do a long lead press junket for us earlier in the year, and is now coming over again week of release to do short lead and broadcast media. Our media strategy really focuses on online, outdoor and national press plus an intensive screening program with Total Film. We really have left no stone unturned with this release."
And we'll end with an apology, as production gremlins caused one of our stories last week to become a bit garbled. Here's the correct version: Dogwoof is putting the finishing touches to its first ever Blu-ray release, Chasing Ice, which is coming out on both standard definition as well as the high def format, on June 10, marking the label's first bow into this arena. Given the film's amazing imagery, it's a worthy addition to the Blu-ray arena. The company's Terry Stevens said: "We're ecstatic about the theatrical success of Chasing Ice, so given this and the stunning footage it made perfect sense for us to make this Oscar nominated film our first ever Blu-ray release. Jeff Orlowski's exceptional doc about photographer James Balog's Extreme Ice Survey lends itself to the visual depth and clarity that only a Blu-Ray release can give. As well as the film, we've packed both the DVD and the Blu-ray with a ton of extras including: additional scenes, Q&As, director's commentary, whilst exclusive to the Blu-ray will be the making of the Time-Lapses and Making of Chasing Ice featurettes."
---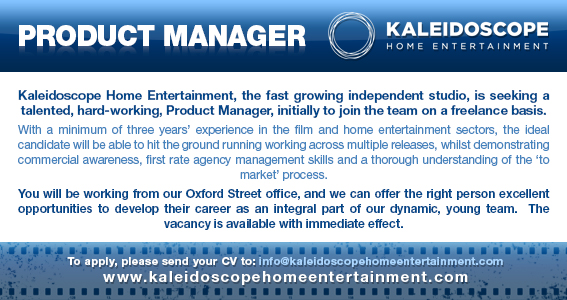 ---
RELEASE OF THE WEEK

Paul Andrew Williams is a director who is nothing if not diverse in his choices: after gritty outings such as the excellent London To Brighton and Cherry Tree Lane, he shifted tone with Song For Marion, starring, among others, Gemma Arterton, Christopher Eccleston, Terence Stamp and Vanessa Redgrave. eOne is releasing the title and the company's Holly Gough said: "We're really excited to be releasing Song for Marion on June 24. With an amazing cast of stellar British talent including Terence Stamp, Vanessa Redgrave, Gemma Arterton and Christmas Eccleston and a real personal project for the talented writer/director Paul Andrew Williams, it's impossible not to get close to this project. It's hugely touching with incredible individual performances. Critics and audiences alike have fallen in love with this film and for the DVD marketing campaign we're reaching out to 30 year old plus females, rolling out a mix of TV, digital and press advertising over the coming weeks. Our publicity and promotions campaign is well underway including interviews with the talent, as well as features to capture the public's imagination, involving grumpy old men and a daring Granny or two."
"We're not trying to get all the people to watch it the first day it comes out. We're not focused on the day-one ratings."
Netflix ceo Reed Hastings, again refusing to reveal viewing figures for its latest exclusive series, Arrested Development. The much-loved series' return has met with a mixed critical reaction, which didn't help the online operator's share price.
The Hangover Part III, or Part III, as it seems to be referred to on much of the marketing, made its debut at number one in the UK theatrical top 10 earning a touch under £6 million. Other new entries included Epic, with just over £3 million and The Moth Diaries, with just north of £100,000.
Anyone with a computer knows who Grumpy Cat is. The Internet Meme of 2013 and star of Facebook, whose pictures have circulated far and wide (and picked up almost 1 million likes on the social media site), is known to all. And news this week that the Grumpy Cat phenomenon is set to transfer to the big screen has been equally widely reported. It is said that the film project will be a Garfield-style outing.
Best news of the week is that Being Frank, the documentary about Frank Sidebottom and the characters creator Chris Sievey has achieved its target on Kickstarter, with the crowd-sourcing site helping producers come up with the necessary cash to make the film. Its one of two Sidebottom-related projects on the go, with Frank, starring Michael Fassbender, being loosely based on the same story.
Wrestling organisation the WWE has signed a deal with Warner that will see the pair jointly working on a feature length animated Flintstones outing. The project, which will be a home video release, will pair Fred, Barney and co with renamed WWE superstars, who will all provide their own voices. It will follow hot on the heels of the forthcoming Scooby Doo and WWE tag team outing, due for release next year…
We watched at the premiere for the Stone Roses film Made Of Stone as seemingly the entire audience at the film's debut outing tweeted pictures from the event. For more, follow us on www.twitter.com/theraygun…
Familiar plot, plenty of action…
Danny Trejo returns as Machete…
We've all been there, as that age-old debate rears its ugly head again…