PET FOOD NEWS
The list of petfood recalls continues to grow and mutate. Please check at these links for a list of foods to watch for:
Worried about pet food safety? Report Problems to the FDA!
~~~~~~~~~~~~~~~~~~~~
Interesting and Fun Links!
Cat Corner

As social beings, cats like it when you're around. When left alone, they might get noisy or spray your house.

So when you plan to go out, ignore them for about 15 minutes before you leave and after you get back.  During your absence, put out some of their favorite toys; on your return, put the toys away.

Play with your cats regularly so that they burn extra energy and, hopefully, they'll rest when they're alone.

Thanks to Paul DeCeglie, an American writer based in Pattaya, Thailand
From the Unbelievable Files:
BooBoo the cat, found in Ontario, Canada, will be reunited with her California family, thanks to a microchip! No one knows how she got lost in California and was found in Canada 4 years later.

http://www.cbc.ca/1.4044548
Feel free to share this newsletter with your friends. If they would like to have their own subsription, send them to:
TheProblemCat.com
to fill out the form on the upper left of the page. This is a private list and is not shared with others, certainly not any advertising companies.
If you would like to see past issues, or are having trouble viewing this one, you may find them at this link: 
About the Newsletter:
Published once a month on the 7th. Submissions and suggestions are welcome.
felinehelpline @ live.com
_______________________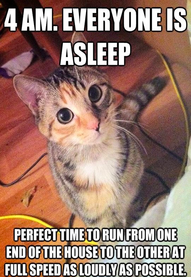 ~~~~~~~~~~~~~~~~~~
5 Surprising Ways Cats Get Sick
"Cats are known for their stoicism in the face of illness, so it's not unusual for felines to be in a fairly advanced stage of disease by the time they make it in to the veterinarian's office," according to Jessica Vogelsang, DVM.
However, here are 5 uncommon or surprising conditions you might not expect.
Thanks to Paul DeCeglie
--------------------------------
Preparing a Pet First Aid Kit
Here are some animal holidays for this month:

National Pet First Aid Awareness Month

Prevention of Cruelty to Animals Month

National Pet Month (for the UK)

April 11: National Pet Day

April 9-15: Animal Control Officer Appreciation Week. 2nd full week in April

April 16-22: National Pet ID Week

April 18: Pet Owners Independence Day

April 16-22: Animal Cruelty Awareness Week. Third week in April

April 29: World Veterinary Day. This event from the World Veterinary Association is always celebrated on the last Saturday in April.

April 26: Hairball Awareness Day

April 29: National Kids and Pets Day

April 30: Adopt a Shelter Pet Day

April 30: National Tabby Day

Latest News: I Am Now Certified!

It was a long and somewhat arduous journey (just under a year), but I am now a certified cat behaviorist. My official title is Certified Feline Training and Behavior Specialist (CFTBS). I graduated last month from the Animal Behavior Institute. The academic parts of class were done online - the "bookwork" part of it. The real-life field work requirement was fulfilled by working at the Central Nebraska Humane Society. Along with hands-on animal care, I also confirmed once again I'm no spring chicken anymore. It completely exhausted me and I had to accept that I can't work as hard as I used to. Once the pneumonia has cleared and I am back to full speed at my own shelter work, however, I will be updating some of my books and articles and writing new ones.  

I learned a lot from the great instructors at the Institute, including the fact that more studies are now being done to help everyone understand cats better. So far, most studies have focused on dogs and other animals. It's encouraging to know that cats may finally be accorded the respect they've always deserved, but it still will take time to spread the knowledge. That will be my mission...not that I haven't been doing this all along...but now, with credentials and new information, I may be able to do a better job.

To get started this month, here is an article about cats that cat-lovers already know:  
Cats Are Nice
That sounds obvious to those of us who love kitties, but even some diehard cat lovers still harbor some myths, one being that cats are aloof, or that they don't care about you. I learned this on my own through the years, but certain people had me convinced it was just my cats who cared about me because I "spoiled" them, and underneath the caring veneer, it was still just about the food. This is not true.
It's sad that this has to be proven via scientific studies, but now that the path has been broken, it's been proven that cats often choose affection and companionship over food...because they care!
Read for more details:
https://motherboard.vice.com/en_us/article/cats-are-nice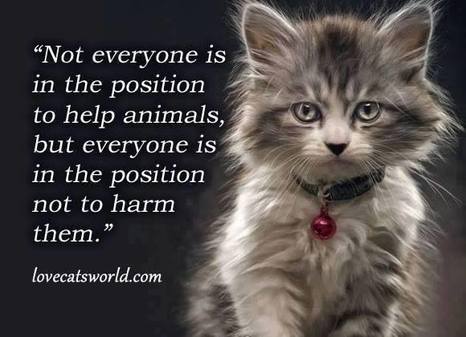 ASPCA Position Statement on Community Cats
This blog post by Dr. Margaret Slater, DVM, PhD, Senior Director, Veterinary Epidemiology, focuses on free-roaming cats using data and humaneness as guides that went into the creation of the ASPCA's recently published position statement.
"For the ASPCA, crafting a comprehensive statement meant being able to incorporate nuanced and sometimes grey ideas and recommendations so we could do justice to the complicated reality we face," she said.
"I am so pleased with the statement, and I view it as a successful culmination of a long journey to understand community cats, their lives and needs, using data and humaneness as our guides."
http://www.aspcapro.org/blog/2017/02/06/new-noteworthy-aspca-position-statement-community-cats
A Word About Fleas and Ticks
---
To see previous newsletters: