Good Morning CSA Members,
  Today, Wednesday August 3rd is a CSA pick up.  Your share will be available for pick up from 4-7pm at your chosen pick-up location. 
    Each week there ie something new to harvest. This week we have the first eggplant and heirloom tomatoes.  Cucumbers and peppers aren't far behind. 
Eggplant - farm pick up
Cucumbers - market pick-up
Carrots
Head Lettuce
Summer Squash
Munson's Sweet Corn
Green Beans
Tomatoes
Onions
Fruit share: Cherries & Peaches
Egg Share: pick-up every week
Flower Share: sunflower mix bouquet
Bread Share: this week
Coffee Share: this week
Wine & Cheese share: this week
Coming next week: tomatoes, sweet corn, beets, cucumbers, and more.....
     Do you remember the first taste of spring?  Tender shoots of greens which brought you tears of joy that the long, cold winter was now a long ways away.  We now bring you the tastes of summer: eggplant, corn, beans, tomatoes and squash.  Hold here please for many more weeks! 
    The hummingbirds got it right, never stop moving your wings and drink nectar often.  It is very easy to do this time of year.  The ability to keep your knees up while the mind tells you to ease up is a skill the interns are learning very well, but most importantly for them it is August, Hooray!  We can rip July's calender page to shreds and use it for September kindling. 
    It is the last week of Kid's camp and the twigs are now being turned into pencils and the bark a compendium of paper.  The chickens are breathing easier and the crawdad and spider populations have sent notice to family that all is well that ends well.
Enjoy!
Eggplant Eggs Benedict

1/2 Large eggplant, sliced into 1/4'' sliced
1 egg, beaten
1/2 cup almond flour
1/2 teaspoon salt
1/2 teaspoon pepper
1 teaspoon garlic powder
1/2 teaspoon onion powder
1 teaspoon oregano
4 eggs, poached
2 whole wheat english muffins, halved
garnish: chopped fresh cilantro leaves
for the avocado cream sauce
1 avocado
2 tablespoons extra virgin olive oil
1/3-1/2 cup coconut milk (or milk of choice)
juice of half a lime
salt and pepper, to taste
Directions
Preheat the oven to 400 degrees and line a baking sheet with foil. Slice the eggplant into 1/4'' slices. Get out two bowls, one for the beaten egg and one for the almond meal and spices (oregano, garlic powder, onion powder, salt, and pepper). Dip the eggplant slices into the egg and flip to coat both sides. Then dip that slice into the almond meal mixture and, again, flip to coat both sides. Place on foil lined baking sheet and repeat with remaining eggplant slices. Bake for 15 minutes, then flip the eggplant slices over and bake for an additional 5 minutes.
While the eggplant is baking, make your avocado cream sauce. Place all the sauce ingredients into a blender or food processor: avocado, coconut milk, olive oil, lime juice, salt and pepper. Blend until smooth and until it has reached your desired consistency. Add a little more milk, and salt and pepper if desired. This is also a great time to poach your eggs.*
Time to layer! Start with a half an english muffin and top that with one or two slices of eggplant. Add one poached egg and top with a generous amount of avocado cream. Garnish with a little chopped cilantro (or herb of choice) and repeat to create the rest of your eggs benedict!
Summer Gnocchi with Peaches and Pickled Onions

1 lb gnocchi, prepared according to directions on package
2 ripe peaches, cut into cubes
1/2 large onion
2 tablespoons apple cider vinegar
1 tablespoon sugar         
12 - 15 basil leaves
1/4 cup extra virgin olive oil
3 cloves garlic
1/4 cup pecans 
1/4 cup semi-firm cheese (we had an aged mild cheddar, but Parmesan would work)
1 tablespoon oregano + extra for garnish
2 tablespoons butter
1/2 cup heavy cream
2/3 cup soft goat cheese
fresh cracked pepper and salt
Directions
Once you've got your gnocchi cooked and set aside, begin by getting the red onions marinating. In a small mixing bowl, whisk together the apple cider vinegar, sugar, and a pinch of salt and pepper. With a sharp knife, slice the onion into thin strips before tossing with the marinade. Set aside.
Next, make the basil pesto by combining the basil leaves, cheese, garlic, pecans, olive oil, and salt and pepper in a food processor, pulse until smooth. Transfer the pesto to a large mixing bowl. Add the gnocchi to the pesto and give it a good toss to evenly coat.
Use tongs or a fork to remove the red onions from the marinade and shake off excess liquid before adding the onions to the gnocchi. Add the peaches and toss together. Place in serving bowls before making the alfredo.
Make the alfredo by combing the butter and heavy cream in a cast iron skillet over medium-high heat. Bring to a simmer and add the goat cheese, oregano, and a large pinch of fresh ground black pepper and salt. Lower heat to medium-low and stir with a wooden spoon until goat cheese has just melted. Pour over individual serving bowls and top with fresh oregano and cracked pepper.
Tangy Carrot Salad

4-5 Large Carrots, washed, trimmed and julienne sliced(4 cups yield)
½ Cup Mayonnaise
¼ Cup Heavy Cream
¼ Cup Shallot, finely diced
1 TBSP Each: Parsley, Cilantro and Chives
1 TSP Kosher Salt
¼ TSP Fresh Cracked Pepper
2 TBSP Chile Oil
1 TBSP Fresh Lemon Juice
¼ TSP Balsamic Vinegar
Directions
In a bowl, add the mayonnaise, heavy cream, shallot, herbs, spices, oil, vinegar and lemon juice. Mix well.
Add to the carrots in a large bowl and mix well to incorporate.
Taste, adjust the seasonings and taste again.
Serve cold and happy eating! *Note - the longer the salad sets, the better the flavors!
    This week CSA members will be receiving either orange or purple carrot bunches in their shares.  So besides being great colors for Halloween, what is the difference between the regular orange carrots you see all the time at the farm, and these long, purple beauties? 
     The first difference of course, is the variety. The purple carrots we grow here at the farm are the variety, "Purple Snax" - great name right? - while the orange carrots are "Mokum". The next difference between the varieties is the flavor. While the orange carrots are the sweetest, the purple carrots are still sweet with a touch of earthiness. Both varieties are great eaten raw or cooked, but note that the purple color will fade slighty.
      Personally, we love both varieties of carrots and recommend trying the "Purple Snax" for something new, but it's always great to stick with the traditional "Mokum" as well, because familiarity is always comforting.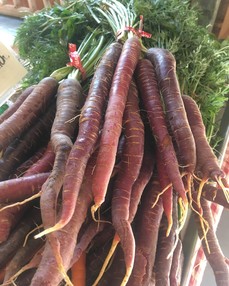 Sweet corn season has started with no end in sight! This week members will be receiving Munson's sweet corn again and look for it next week too! Why do we offer Munson's sweet corn and not just grow it here at the farm? There are two answers to this question. First, space. Because a great corn crop requires a large amount of space, here at Cure we have decided to use our valuable space for other varieties of crops like carrots and beets. The other reason is because the Munson's have been growing wonderful sweet corn since the 70's, so why compete with that?
     Currently, the variety is "Peaches and Cream", which is a bicolor sweet corn with white and yellow kernals. The flavor is wonderfully sweet and the texture is tender. Different ways you can prepare corn on the cob: grilling, sauteeing, and old fashioned boiling. But because the season is just starting and you may have more corn than you know what to do with, we recommend freezing or canning the kernals for later use. One of the best ways to remove raw kernals from the ear is to take the ear of corn, place it in the middle of a bundt or tube pan and slice down the ear. The tube in the middle of the pan holds the ear in place while the edges of the pan catch all of the kernals that could otherwise make it all over your kitchen. Store in freezer bags and then you have corn ready to go for salsas, succotashes, or just as a side with some butter and sugar!
     Marcy Munson has said that "they grow the best sweet corn in the world", and we hope you agree. Enjoy the season - because it has only just begun!
Happenings Outside the Farm
     A few great events are happening outside of the Cure Organic Farm world this week! First is the Boulder County Fair, which began on Friday, July 29 and will continue until Sunday, August 7. Check out the variety of events on their website or Facebook page including, but not limited to, All-Star dog shows, 4-H Livestock shows, carnival rides and games, and more!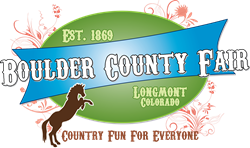 Another great event happening tonight is the Flatirons Food and Film Festival Benefit. This is a great way to support local food, chefs, and agriculture.
Meet some of Boulder's best chefs (Daniel Asher of Root Down and the upcoming River and Woods, Dave Query of the Big Red F Group, Kelly Whitaker of Basta, Nate Singer of Blackbelly Butcher)
Watch the short food film that inspired their creations
Listen to interactive live opera pairings from Opera on Tap Colorado
Score a culinary experience at a live auction
Eat and drink really well with deliciousness from Cured, Il Porcellino, Heifer and the Hen, Lucky's Bakehouse, and the Post Brewing Company
Proceeds to benefit the Flatirons Food Film Festival (Oct. 20-23, www.flatironsfoodfilmfest.org)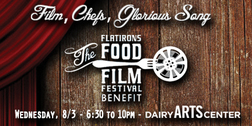 Houston we have a problem, too much of a good thing, I think we can handle this don't you?
Terra Laura: a distinguished white wine from Cheverny, a 2014 vintage (Oui, Oui).
And in this corner we have:
Double Cream Cremont: can we just say that this one is creamy?!  Produced by Vermont Creamery and a winner of the 2015 Good Food Awards.
My money is on the Cremont in the third round, TKO

Cheers!

Blessed are they who see beautiful things in humble places where other people see nothing.
- Camille Pissarro
Tomato Jam

1 1/2 pounds ripe heirloom tomatoes, cored and coarsely chopped
1 cup white sugar
2 tablespoons freshly squeezed lime juice, plus more to taste
1 tablespoon fresh grated ginger
1 teaspoon ground cumin
1/4 teaspoon ground cinnamon
1/8 teaspoon ground cloves
1 teaspoon kosher salt, plus more to taste
1 Fresno chile, stemmed, seeded and minced
Directions
Add all ingredients to a medium heavy bottomed pot (cast iron works best here), stirring to combine. Bring mixture to boil over medium-high heat, reduce heat to low, and simmer for 1 hour and 15 minutes. The mixture will start out watery but reduce to a jam-like consistency. Stir occasionally to avoid burning the bottom. Season to taste with additional kosher salt and lime juice.
Let mixture cool completely then transfer to an airtight container. Store in the refrigerator for 2 to 3 weeks.



Cure Organic Farm

7416 Valmont Rd.
Boulder, CO 80301
cureorganicfarm@yahoo.com
www.cureorganicfarm.com