Dwindling Water Supplies Make Every Drop Count
Drought and chronic water shortages played a significant role in sparking Syria's civil war and in unrest throughout much of the Middle East, water experts now believe.
Around the world, water demand already exceeds supply in regions with more than 40 percent of the world's population. That may climb to 60 percent in the coming decade, a new study has found.
"Water-scarce regions can't grow enough food to feed their own people," said co-author Manzoor Qadir of United Nations University's Canadian-based Institute for Water, Environment and Health (UNU-INWEH).
About 70 percent of the world's freshwater – and up to 95 percent in some countries – is used for irrigation. There is intense competition for freshwater between municipal, industrial, and agricultural uses. Increasingly, agriculture has been losing out, particularly in water-stressed regions, Qadir told IPS.
Between 2006 and 2011, up to 60 percent of Syria's land experienced its worst ever drought and a series of crop failures. In 2009, the U.N. reported that over 800,000 Syrians lost their livelihoods and fled to cities as result of the drought.
The entire Mediterranean region is undergoing a prolonged drought that has been linked to climate change, according to a recent U.S. study. If climate-altering carbon emissions continue at current rates, droughts in the region will worsen and lengthen.
Drought In Sri Lanka
As water supplies fall, many regions are using urban wastewater, a very valuable resource if it is treated properly, says the study "Global, regional, and country level need for data on wastewater generation, treatment, and use", published Sep. 5 in the journal Agricultural Water Management.
This is the first study to look at how wastewater is used in 181 countries. One of the key findings is that only 55 countries have good data. Synthesising what data there are, researchers found that high-income countries treat 70 percent of their wastewater while middle-income countries treat 28 to 38 percent. Just eight percent of wastewater generated in low-income countries undergoes any kind of treatment.
"From the earliest of times, most wastewater has truly been wasted. However, it is a vast resource if we reclaim it properly, which includes the separation of municipal from industrial wastewater," said UNU-INWEH Director Zafar Adeel.
The volume of wastewater potentially available worldwide each year is equivalent to 14 months of outflow from the Mississippi River into the Gulf of Mexico, Adeel told IPS.
In poor, water-scarce countries, wastewater is widely used to irrigate foodlands – some estimate as much as 300 million hectares producing 10 percent of the world's food, the study says.
However, there is little data to confirm this. It is often a country's 'dirty little secret' that much of the food consumed in urban areas is grown using untreated wastewater.
Wastewater is valuable because it has very high level of nutrients, including potash, nitrogen and phosphorus, eliminating the need and cost of fertilisers. However, untreated wastewater can transmit diseases such as cholera. Chile experienced cholera outbreaks and banned the use of untreated wastewater in 1992.
"Disease outbreaks from using wastewater do happen but it is rarely cited as the cause," said Qadir.
One reason is that few studies have been done. A few years ago Qadir and colleagues discovered higher rates of waterborne diseases like gastroenteritis in children in the Mediterranean who were eating food grown using untreated wastewater.
In the 1990s, fruit and vegetable exports from Jordan were banned for similar reasons. Jordan has since implemented an aggressive campaign to rehabilitate and improve wastewater treatment plants and introduced enforceable standards.
"Israel uses nearly every drop of its wastewater with specific uses determined by the quality", Qadir said.
Many homes in California have separate grey and black water collection systems. Grey water from showers and dishwashing is reused to water lawns and gardens, the report said.
People are generally reluctant to eat food grown using wastewater but it is perfectly safe if treated properly, Qadir stressed.
"Unfortunately, water treatment is not seen as a priority in many countries."
Source: Inter Press Service
Pure Water Gazette Fair Use Statement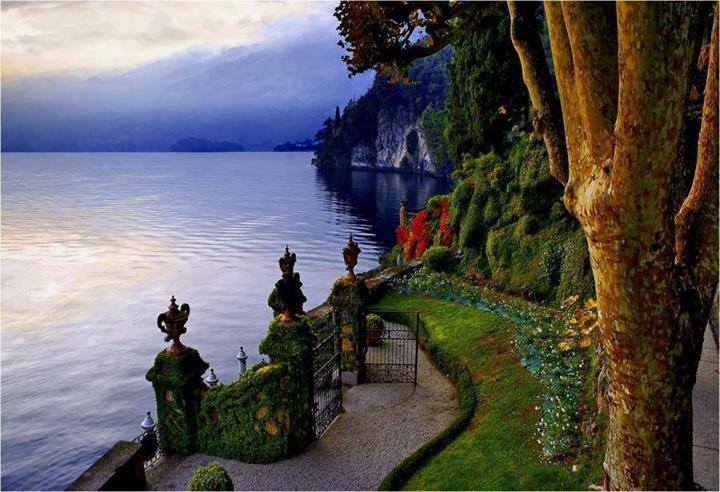 Editor's Note: The picture above has nothing to do with this issue. I just included because I like it.--Hardly Waite.
Choosing a Countertop or Undersink Drinking Water Filter
by Gene Franks
Standard vs . Proprietary
If you purchase a water filter with a "proprietary" design, you won't have to choose a filter cartridge for it because the filter manufacturer has chosen it for you. In other words, if you purchase an Aquasana, you have only one cartridge choice: the standard Aquasana. If you purchase a Multi-Pure filter, Multi-Pure has already decided which cartridge you will use: the standard Multi-Pure.
Aquasana and Multi-Pure provide you exactly the same cartridge whether you have city water with chlorine or with chloramines or whether your city fluoridates its water or not. If your well water has a rotten egg odor, if it has sand, or silt, or iron, or nitrates, or bacteria, with Multi-Pure and Aquasana it's all the same: you'll get the same filter cartridge you would get if you lived in Cleveland or Tucson.
Proprietary Countertop. Price: $260. Replacement Cartridge Price: $70. Cartridge Styles Available: 1.
Standard Sized Countertop. Price: $77. (With Lifetime Guarantee). Standard Cartridge Replacement Price: $21. Cartridge Styles Available: Countless.
If, however, you purchase a water filter that uses a standard-sized 9.75" X 2.5"cartridge, you have literally hundreds of excellent filter cartridges to choose from. Moreover, if you bought your filter from Sterling Springs, you can replace the cartridge with one purchased from Pure Water Products. Or vice versa.
Standard sizes got to be standard for a reason. They are a convenient and practical size that offers excellent performance in a compact package.
The variety of filter cartridges available in the standard 9.75" X 2.5" format is amazing. Every major filter cartridge manufacturer provides filter cartridges in this size.
In addition, with standard-sized units you have the option of multiple cartridges. Standard-sized housings can be easily joined to form multi-canister units. Multiple housings, of course, allow cartridges to be mixed and matched to create a total filtration unit with much more capacity and treatment range than is possible with a one-size-fits-all proprietary unit.
Here are some examples of the excellent cartridges available for standard sized-filters:
MatriKX CTO Plus carbon block, rated for 20,000 gallons of chlorine reduction. It's a great filter for chlorine, chloramines, VOCs, chemicals in general, plus excellent taste/odor performance. A very tight nominal 0.6 micron filter.
MatriKX VOC. A tight 0.6 micron coconut shell carbon block. Designed for overall performance on chlorine and chemicals, but is especially good at VOC reduction. It's a great taste/odor enhancer as well.
MatriKX PB1. An excellent one-cartridge drinking water filter, it is a tight 0.5 micron carbon block (too tight for use in reverse osmosis units) with lead reduction and cyst removal capability.
Doulton Super Sterasyl Imperial. An oversized Doulton ceramic cartridge with a carbon core, this is one of several Doulton cartridges made to fit standard housings. Its strong point is removal of bacteria and cysts, but it's also a good all-around chemical filter. While Doulton undersink and countertop units command a premium price, the regular-sized cartridges can fit into any standard housing.
Pentek ChlorPlus 10. A tough Pentek carbon block made with specialty carbon aimed toward removal of chloramines from city water, the cartridge has excellent all around carbon performance for taste/odor and chemical reduction.
In addition to carbon cartridges, there are many standard-sized "media" cartridges that treat nitrates, fluoride, arsenic, iron, rotten-egg odor, low pH, scale buildup, hardness, high TDS and more.
Another important consideration in deciding between standard vs. proprietary units is pricing. Standard sizing, of course, means competition, which keeps pricing fair. It is not uncommon for a high quality 9.75" X 2.5" carbon block cartridge to cost ¼ the price of a propriety cartridge.
Current Water News from Around the World
More of the same: predictions of increased use of wastewater; the big flood in Colorado (certainly the week's leading water news story); Great Lakes resoration; how income affects biodiversity; ageing infrastructure; the Fukushima disaster; beach closings; brain eating amoeba; preparing for climate change; drugs in lakes; polluted oyster beds; lax water quality enforcement; acid rain changing the nature of America's rivers; a massive sewage spill in Kentucky. Any, as always, there is much, much more.
Poop power: Ghana turning human waste into energy. Groundbreaking disposal methods, which have leapfrogged over Western technologies, transform human waste into valuable fertilizer, biofuel and biodiesel. .
Weary but unbowed, neighbors pull together in flooded Colorado. The flooding that has ravaged - and continues to ravage - a 150-mile-long stretch of Colorado's Front Range has left at least four dead. More than 500 people are unaccounted for. Are they dead? Trapped? Or simply without power or phone service? .
Congress must address Great Lakes challenges. The Great Lakes Commission carried several reminders of the challenges the lakes still face and, in particular, the need for Congress to restore funding for restoration and clean water programs and the federal governments' utter failure to this point to do anything about lower lake levels.
EPA can go forward with plan to limit pollution in the Chesapeake Bay. A federal judge on Friday upheld the Environmental Protection Agency's sweeping plan to limit pollution in the Chesapeake Bay, derailing the farm lobby's attempt to stop one of the largest efforts to clean a waterway in the nation's history.
The effects of growth: The long view. The evidence suggests that, above a fairly low level of income, economic growth benefits biodiversity. When people get richer, they start behaving better towards other species. And as countries grow they become cleaner, more urban, more peaceful, more efficient and better-informed.
Aging infrastructure being taxed by extreme weather. Severe weather conditions are taxing Canada's aging infrastructure with water damage insurance claims now outstripping fire damage.
Former US regulator says Fukushima cleanup 'far more challenging' than Three Mile Island. A former U.S. nuclear regulator says cleaning up Japan's wrecked Fukushima plant is a bigger challenge than the work he led at Three Mile Island and that ongoing radioactive water leaks are a minor part of that task.
Sea change: Oysters dying as coast is hit hard. Half an ocean from Seattle, on a green patch of island below a tropical volcano, a Washington state oyster family built a 20,000-square-foot shellfish hatchery.
Chesapeake Bay pollution diet survives legal challenge. A federal judge on Friday upheld the Environmental Protection Agency's right to impose a pollution "diet" for the Chesapeake Bay, rejecting a legal challenge to the restoration effort from farmers' and builders' groups.
2013 beach closings lowest in recent history. The health of Lake St. Clair seems to have taken a significant turn for the better as the number of Macomb County beach closings this past summer was the lowest in recent history.
Due to St. Bernard water amoeba, many schools shut off drinking fountains. Citing confirmation that a rare brain-eating amoeba was found in St. Bernard Parish's water system, Public Schools Superintendent Doris Voitier said Friday that she has shut down middle and elementary schools' drinking fountains "out of an abundance of caution."
'Biblical' Colorado rains cause more evacuations. Massive flash flooding along Colorado's Front Range, triggered by what the National Weather Service termed "biblical rainfall amounts," killed at least three people, cut off small towns and forced countless residents to scramble for high ground. "This is not an ordinary day. It is not an ordinary disaster," Boulder County's sheriff said.
Environmentalists: New York pollution checks declining. New York has reduced pollution inspections more than one-third over the past three years following large staffing cuts, according to a report issued Thursday by an environmental group.
Markell orders Delaware to prepare for climate change. Gov. Jack Markell today ordered a new, long-term push to prepare Delaware for the local effects of global climate change and sea level rise, as a coalition of environmental groups opened a weeklong public awareness campaign focused on the issues.
Experts say climate change a threat to regional water supply. Rising sea levels could contaminate supplies of fresh water and changing climate patterns could result in less rain to supply reservoirs in the coming decades, scientists and officials warned at a recent conference in St. Lucia.
'Rivers on Rolaids': How acid rain is changing waterways. Something peculiar is happening to rivers and streams in large parts of the United States — the water's chemistry is changing. Scientists have found dozens of waterways that are becoming more alkaline.
Testing finds drug contaminants at Groton lakes. Early testing of the water table surrounding Lost Lake and Knops Pond in Massachusetts was inconclusive for contamination, the Lost Lake Sewer Commission was told Thursday, but the findings did indicate the existence of unexpected emergent contaminants at different points.
Number of landslides hitting Britain up fivefold in a year; heavy rainfall blamed. Despite a welcome return of endless days of sunshine this year in Britain, last year's record wet weather still had a sting left in its tail – an "unprecedented" five-fold rise in the number of landslides in the past 12 months.
'Cancer villages' alarm water pollution crisis. Wang Guixiang has to buy purified water for her family as people in her village do not dare to drink the water from the well anymore, due to serious pollution.
Study supports nuclear waste disposal near Great Lakes. New geology research says radioactive wastes are unlikely to enter groundwater from a proposed Canadian disposal site less than a mile from Lake Huron.
Secrets of fracking fluids pave way for cleaner recipe. The recipes for fracking were until the last few years secrets guarded by the companies that drill. But in the face of widespread concern about water contamination, 21 U.S. states have adopted mandatory disclosure rules for the mixtures, making it easier for scientists to assess their impacts.
More extreme weather expected in Atlantic region, says insurance bureau VP. The Atlantic vice-president of the Insurance Bureau of Canada says homeowners should review their insurance policies before storms hit so they know what they are — and aren't — covered for.
Louisville reports six million gallon sewage spill. A gate failure at a major pumping station in western Louisville caused a big overflow of raw sewage into the Ohio River, according to the Metropolitan Sewer District. The agency said the gate opened up unexpectedly following a planned power outage.
Use of wastewater to supplement world's strained water supplies likely to increase.The wastewater that goes down drains and toilets will likely be repurposed far more frequently for crop irrigation and other uses as water supplies become more constricted across the globe, according to a new United Nations-backed study.
Nominal vs. Absolute
by Pure Water Annie
If you're puzzled by what filter makers mean when they call their filters "absolute" or "nominal," technical wizard Pure Water Annie will clear the matter up for you.
Water filtration devices are rated by the sizes of particles that will pass through them. The ratings are normally expressed in microns.
Micron ratings are applied to all types of filtration devices, including even granular filters. It is said, for example, that a sand filter is roughly a 10 micron filter, meaning that it filters out particles ten microns and larger in girth. Carbon block filters are also assigned micron sizes, but micron ratings are most meaningful in comparing sediment filters.
The micron is a standard measure of size that is used by filter makers. The diameter of a human hair is about 90 microns. Sediment filters are used to catch particles 1/300 of that.
Most sediment filters are given ratings by their manufacturers that describe their effectiveness at removing particles down to a specified size. The most common of these are"nominal" and "absolute."
Nominal, according to the Water Quality Association (WQA), means that the filter will filter out at least 85% of the particles of the size it is rated for. In other words, a filter that is rated as a 1 micron nominal can be expected to pick out 85% of the particles that are 1 micron or larger from the water that passes through it.
Absolute, theoretically, means that the filter will reject virtually all of the particles of the given size. The usual expectation is a 3-log rejection–or 99.9%. Absolute ratings are usually used for the tightest filters and for purposes where efficiency really matters. For example, if a filter maker promises removal of E. coli, more or less 85% efficiency isn't good enough. If you're going to trust your life to the filter, you expect an absolute 3-log or 4-log rating at the very least.
The problem with the absolute vs. nominal system is that there is really no universal standard that assures uniformity. Some makers of filters for non-critical applications, for example, might consider 70% rejection suitable for a nominal filter. Definitions vary from one manufacturer to another, and there is really no way for the end user to verify the claim.
For most common filtration issues filters rated as "nominal" are used. For example, a nominal 5 micron sediment filter is a standard size used in much residential water treatment.
Keep in mind that tighter is not always better. The lower the micron rating of a filter, the more it restricts flow. An absolute 1 micron filter is normally not a good choice for a residential sediment filter because there will be too much pressure loss. If you put in a filter to remove sand, a filter with a low micron rating is not only unnecessary, but it will also become clogged much faster than a looser filter.
Reference: The Pure Water Occasional.