Dear esteemed ACS customers,
Here at All City Style HQ we are very excited to report that the most recent production run of ACS trains will hit our US warehouse at the end of October.
WHAT ARE ALL CITY STYLE TRAINS?
ACS trains are 20 inch long blank subway train DIY platforms which come ready to bomb! With convenient wall mounting hardware for the half-car model, as well as pegs that allow the ACS half-cars to be combined into a full car, the All City Style platform has proven to be a sellout product in graffiti and art shops worldwide. The newest production run includes both the standard silver color and the new crystal-clear "Ghost Train" color (available only to retail shops).

ACS PRODUCT DETAILS:
• Material – High density injection molded ABS plastic
• Length – 20 inches
• Height – 5 inches
• Color – Silver
• Train is a half-car model, wall-mountable, sold with all the special connectors to hang and display
• Also included: pegs to attach 2 ACS train halves together to make a "whole car"
• Suggested retail price: USD$40.00 per ACS train

LEARN MORE ON OUR WEBSITE:
http://www.allcitystyle.com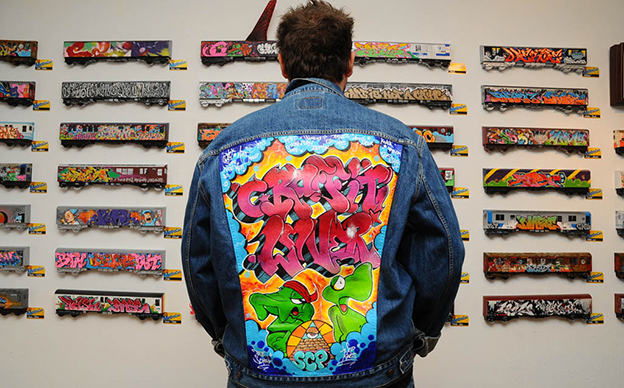 BUYING ACS TRAINS AT RETAIL:
All City Style trains will be available from retailers around the globe, as well directly from us through our US warehouse.
Customers wishing to purchase single ACS trains should get in touch with their favorite local shop- pass this email along to them so they can order from us!
Suggested retail price for each ACS train is USD$40.
Check our list of retailers here:
http://www.allcitystyle.com/retail-shops/
ORDERING ACS TRAINS BY THE CASE DIRECTLY FROM US:
PRICING (in US dollars):
(1) 10-piece bundle: $350 + shipping
(2) or (3) 10-piece bundles: $300/bundle + shipping
WHOLESALE:
Shops wishing to purchase ACS trains at wholesale (40 piece minimum) may simply email their orders into us at
sales@bigshottoyworks.com
We will provide wholesale pricing info. Wholesale customers must provide name & web address of your shop. As soon as you place your order with us, we will add your shop to our list of retailers on our website.
EUROPEAN SHOPS:
European shops should contact our European distributor Tag the Train:
sales@tagthetrain.com
http://www.tagthetrain.com/
WHAT ABOUT THE NEW CLEAR GHOST TRAINS?
Our new product for 2014 is the crystal-clear "Ghost Train" colorway. Ghost trains are ONLY available to wholesale and distributor-level buyers.
DOWNLOAD IMAGES:
Please visit the following web page to download stock photos of the All City Style trains:
http://www.allcitystyle.com/acs-blanks/
PLANNING AN ACS SHOW?
Let us know! We will be happy to cover your show on our website, blog and social media! Who knows, maybe we'll even show up in person!
Creative Director
BIGSHOT TOYWORKS
Characters Development, Product Development, and Manufacturing
917 971 1109
BigShot is represented by Bernstein & Andriulli.
If you are an Art Buyer, Creative Agency, or an Art Director looking to create character based marketing,mascots, illustration, and promotional magic
If you are an Artist or a Designer looking to turn your characters and ideas into toys or statues based on your work or a toy company looking for product design and development assistance
please drop us a line at:

For further details on our work, news on upcoming projects, and additional information