Welcome to CMCA(UK)
Welcome to the first CMCA(UK) Newsletter of 2015. Read on to find out more about what the CMCA(UK) team has been up to over the past few months...
CMCA(UK) Deliver Obsolescence Management Training in Singapore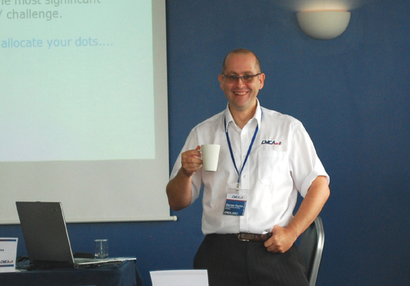 CMCA(UK)'s Obsolescence Strategy Advisor Darren Topley taking a short break from OM Training in Singapore.
The CMCA(UK) Management Team have been racking up a fair few air miles since the start of the New Year. Aside from the ongoing visits to Malaysia as part of the Malaysian Operational Expenditure Reduction Team initiative, our Obsolescence Strategy Advisor (Darren Topley) has been busy delivering Obsolescence Management training in Singapore. The training course, organised by our K2B International partner, was attended by representatives from industry and the Singapore Defence Science and Technology Agency and was specifically designed to prepare delegates for taking up a role as an Obsolescence Manager. Darren takes up the story…
"The course contained a healthy mix of Obsolescence Management theory and practical exercises including the development of obsolescence risk profiles, obsolescence strategy and plans, interacting with obsolescence monitoring tools, and guidance on effective ways to mitigate obsolescence risk. In order to develop the delegates Obsolescence Management skills and knowledge the delegates were given various scenarios based on true-to-life events; these were gradually developed over the period of the course, culminating in the delegates having to write an Obsolescence Management Plan and execute appropriate strategies. It was a pleasure to work with such a diverse range of individuals from government and industry all of whom played a very active role in making the course both engaging and interesting. Our partner K2B International provided first class facilities and the administration throughout the course was faultless. To this end, CMCA(UK) is looking forward to returning to Singapore in the near future to deliver additional Obsolescence Management workshops".
Not content with his current allocation of air miles, Darren is due to depart for Puerto Rico in April to deliver Obsolescence Management support for another new client. Stay tuned for more details….
Contact Darren Topley, CMCA(UK)'s Obsolescence Strategy Advisor for more information on +44 (0)1905 458307.
CMCA(UK) Continues to Build Strategic Relationships with Third Parties

With the New Year comes new business opportunities for CMCA(UK), both within the UK and further afield. Many of our readers will be aware from the previous edition of our newsletter that we have established a Joint Venture with MFDM Holdings in Malaysia to develop and deliver the Malaysian Operational Expenditure Reduction Team (MOERT).
The overriding goal of MOERT is to deliver substantial through life support savings for both MFDM Holdings and the Malaysian Government by embedding various CMCA(UK) skill-sets and processes (covering Quality, Business Management, Codification, Procurement and Obsolescence Management) into the Malaysian workplace. As part of this initiative CMCA(UK) has engaged with ESG, a Germany based global blue chip company, to develop a software solution for managing elements of the MOERT infrastructure including codification, project management and inventory management. The MOERT software development work is ongoing and on schedule to be completed by late June 2015 in time for the MOERT pilot phase that will run for 6 months from July 2015. As the saying goes, 'mighty oaks from little acorns grow' and true to this idiom we are now exploring other areas of business where we can work more closely with ESG to deliver overarching solutions in areas such as inventory optimisation, procurement and codification given the synergy that exists between our two organisations.
Speaking on behalf of CMCA(UK), our colleague Darren Topley offers the following insight. "It's been a pleasure to work with ESG during the early stages of the MOERT project and they've been extremely professional and flexible in helping us to define the boundaries of the MOERT software solution. Moving forward, MOERT is one of several international opportunities that CMCA(UK) is pursuing and we don't want to be in a position where we're having to reinvent the wheel every 5 minutes; therefore it made sense to work more closely with ESG to explore scalable software solutions that can underpin CMCA(UK)'s business growth. As it happens we have far more in common with ESG than we first realised and our ongoing dialogue has exposed a number of additional collaborative opportunities that we will be qualifying over the coming months. Having had the chance to visit them at their Fuerstenfeldbruck Headquarters in Germany in late February to discuss these joint opportunities, I am confident we have a very strong foundation on which to build new business for both parties".
Andy Johnson joins CMCA(UK) as Project Manager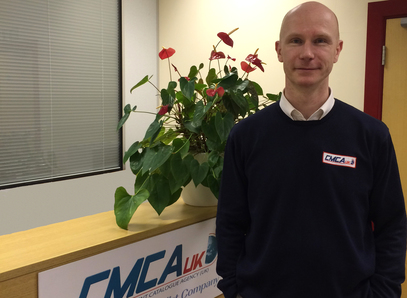 The newest member of the team, Andy Johnson.
Andy Johnson joins CMCA(UK) as a Project Manager, based within the Procurement Services team.
With over 16 years service as an Air Engineer within the Royal Navy Fleet Air Arm and 5 years experience working within the Defence and Security sectors, Andy brings a wealth of knowledge and experience gained both in the UK and internationally.
Andy will be a key member of the team, building on the continuing success of CMCA(UK), to support existing business and develop new strategies within the Procurement Services department and beyond.
His skills and enthusiasm will help to ensure that CMCA(UK) continues to provide the best service possible to its existing customers, whilst assisting the company to identify new opportunities in an exciting and dynamic marketplace.
May we take this opportunity to thank you for your time and for reading our newsletter, Please don't hesitate to contact us regarding any of our services or to see how we can help you. Contact our Business Development Manager Antony Elliott on;
CMCA(UK) are currently recruiting for administration positions within our Codification and Procurement Services Departments. Due to increased business opportunities, including being awarded a single source contract to perform NATO Codification on behalf of the UK Ministry of Defence, we have identified the need for additional Administration Support Staff to join our growing workforce. Please visit our website for more information.

Managing Safely is Top of the Agenda

Making our working environment a safer and healthier place for our employees is paramount. In a measure to ensure the continued well-being of our workers, Rachael Allen, CMCA(UK) Business Support Coordinator has successfully achieved a Managing Safely qualification validated by the Institution of Occupational Safety and Health. IOSH is Europe's leading body for health and safety professionals. As an independent and not-for-profit organisation, they aim to regulate and steer the health and safety profession, maintaining standards and providing impartial, authoritative guidance on health and safety issues.

With this qualification Rachael will ensure that all standards are met and maintained within CMCA(UK), enabling us to be prepared and responsible in all areas of health and safety throughout the company. This is in conjunction with CMCA(UK)'s Corporate Social Responsibility.

As part of CMCA(UK)'s Corporate Social Responsibility programme, they continue to support the

Be Who You Can Be

charity. The latest candidate to benefit from the charities expertise has commented, "The coaching was so beneficial my confidence has grown, without the support from CMCA(UK) and my BWYCB coach, I would still be going round in circles. Simply, the coach helped me to see and believe in the real me, now I am looking forward to my future with confidence, thank you".

It is with great delight that we take this opportunity to mention that CMCA(UK) will continue to support the Be Who You Can Be charity with their life-changing work.

Click to read the latest CMCAUK) News >>

This year CMCA(UK) will be exhibiting at a small handful of specialist industry events. You may have seen us at CX2015 in London earlier this month. After a 2 year break the CX event is back showcasing the latest leading and cutting edge technologies in production, R&D and OTS. Key decision makers from the UK and European Defence, Security & Police organisations were in attendance by invite only.

Later in the year CMCA(UK) will be returning to DSEI, the World leading Defence and Security event after several years of away. DSEI has a proven track record of bringing the entire supply chain together on an unrivalled scale and we look forward to utilising this platform to project our services within the industry.