---



11

August

2017
August Memory Verse
2 Timothy 2:15,
"Study to shew thyself approved unto God,
a workman that needeth not to be ashamed,
rightly dividing the word of truth."
Don't Worry About It!
Christians worry. New Christians worry, those saved for a long time worry, young people worry, senior citizens worry, Pastors worry, Sunday school teachers worry, bus workers worry, choir members worry. Worry, Worry, Worry! Worry is a very real and serious issue for believers of all ages and stations in life.
The following are observations from the Bible concerning worry...
Worry Is Distracting.
Six times in this passage "taking thought" is addressed. This does not mean that we should not think about or address these needs, but it does mean that we are not to be anxious or worry about them. Another aspect of the phrase "taking thought" has the idea of "being distracted by." The Lord is warning us to not allow ourselves to be distracted by the temporal things of this world and life. Worry is distracting.
Worry Is Demonic.
That is a strong statement. Worldliness can take many forms, a few of which are addressed in our Lord's sermon here are: hypocrisy, materialism, and worry. Satan tempts the Christian to worry. God never instructs His children to worry. Anything that draws away my focus on, service to, commitment to, and faith in the Lord is of the Devil! Worry is demonic.
Worry Is Disobedience.
"...I say unto you, take no thought..." This is not a suggestion, it is a clear command. Philippians 4:6, "Be careful for nothing..." The Lord is not suggesting that we simply ignore what we eat, wear, live in, etc., but He clearly commands us not to worry about these things. We cannot allow them to distract us from our faith in God, our service for God, and our focus on the Lord. Worry is disobedience.
God has been blessing Mountain Lake Independent Baptist Church in many ways this Summer. Our Bible Time rally and County Fair evangelism saw many professions of faith. This past Sunday with Dr. Chuck Harding was outstanding and our burden for our nation has been stirred.
This Sunday (August 13) we welcome Evangelist David Sommerdorf to our pulpit. We are calling it "Revival Sunday" and ask that you pray with us that God will spark a revival in our hearts and church. Please join us if at all possible.
Let me ask you to mark your calendars for Western Maryland's Annual Sword of the Lord Conference on Sept. 25-26. We're looking forward to a great conference this year!
Saturday, October 7 is our annual FALL TEEN RALLY. We have scheduled Dr. Lou Rossi and Pastor Lee Bowman as this year's speakers, along with godly music, fun, and a great meal. Call the church for more information.
Pastor Bret is gearing up for Teens Alive beginning on Wednesday, Sept. 6. Brother Mark Hinebaugh is ready for Master Clubs kicking off that same evening.
Mountain Lake Bible Institute begins our Fall semester on Monday evening, August 28. All our church members are urged to enroll. Anyone in reasonable driving distance is urged to enroll also. I believe Bible Institute can and will help you grow in your knowedge of the Word of God and in your personal walk with God. It will enable you to be a more knowledgeable and effective Sunday School teacher and church worker. Call the church for information.
I hope to see you in church this Sunday, so bring your Bible and a friend!
Dennis Leatherman - Pastor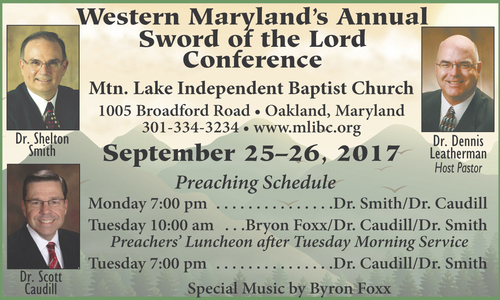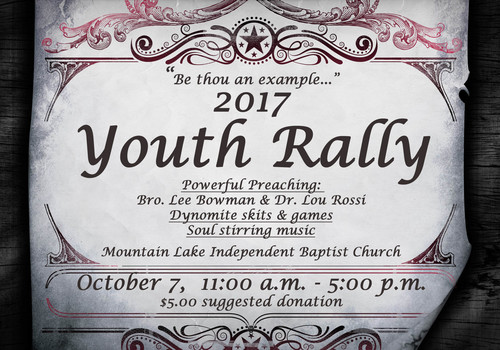 Mountain Lake Independent Baptist Church
1005 Broadford Road, Oakland, MD, 21550