PUBLIC SHOPPING HOURS




 Tuesday - Friday

12-4pm

 

Saturday

11am-4pm

 

Sunday

12-4pm

 

 

PRIVATE SHOPPING

HOURS




Available on Request for individuals or small groups

 




Hello to our Wonderful Yarn Enthusiasts! It's finally November and that means the official start to the gift knitting and crochet season. Think worsted weight socks, stockings, cowls, mitts, and a baby sweater or two, maybe even a blanket! Need a little extra motivation? We will be hosting a virtual Thursday Holiday Knit-A-Long for the next two months. Come in or call and we'll get your yarn ready so you can craft some holiday cheer.

 

We are open for drop-in shopping six days a week and we are also taking appointments for private shopping if you would feel more comfortable shopping alone or with a small group. 

Appointments for private shopping can be made at least 24 hours in advance via phone or email.




If you don't feel comfortable coming inside or you want to grab something quick, we are still offering contactless curbside pickup during any of the shop hours. There are THREE ways to order from us: you can e-mail us at rebellegirls@gmail.com, you can call us at 859-389-9750, or you can order some of the kits we have assembled in our online shop. If you order by phone or e-mail we will email you an invoice and you can choose to pick up your order during shop hours or have it mailed directly to you. For curbside pickup, give the shop a call when you arrive and we will place your order on the porch.

 
The November colorway of Emma's Cazy Beautiful Color Club isn't here yet, but we still have some of October's batch left which is a lighter take on the spooky Halloween theme. 
We really like this color paired with Twilight, Mermaid Tavern, and Glamping. Perfect for any of
Laura Dobratz's shawl patterns
. Follow us on Facebook or Instagram to see the November colorway when it arrives. Trust us, it is a stunner!!
We have some new designs of MAB shawl pins. She really knocked it out of the park with her latest designs, they are amazingly gorgeous and we have a range of styles to highlight every shawl project. MAB shawl pins feature loops that hold the sticks in place making your shawl and shawl pin extra secure. Many also have coordinating earrings to really make you or your loved ones shine this season! 
Do you like Malabrigo Rasta? Do you like Speckles? Now you can have both! We have 4 colorways of Rasta Pintada to satisfy your need for bulky speckles. If you need pattern inspiration, Rasta works with all the same patterns I selected for Blue Sky Bulky later in the newsletter. Left to right is Snake, Unicorn Bark, Carousel, and Blueberry Cream.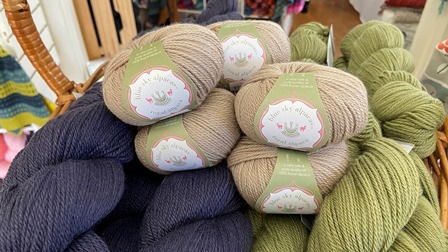 We have a bit of Royal Alpaca from Blue Sky Fibers in the shop. It's made from only the royalest of alpacas! Just kidding. What is Royal Alpaca? Royal refers to the finest grade of alpaca fiber, one step finer than Baby Alpaca, with fibers of less than 19 microns. The finer the fiber, the softer the yarn, so Royal Alpaca is super soft! These fine fibers are more rare and therefore more expensive. Lucky for you, we got a few colors of this Royal Alpaca on sale and we are passing the saving on to you by offering it at 50% off! We have three colors, two in 100g/288yard skeins and one color in 35g skeins, they are both the same yarn and can be used together for colorwork. This is a sport weight yarn and is ideal for making all kinds of luxurious garments including hand mitts, hats, cowls and sweaters. Here are some patterns that will work great with this yarn:
Gem Gloves
,
Nalu Mitts
,  
Pretty Thing
(cowl),
Sonrae
(2 color pullover),
Rift
(pullover or tee),
Still Light Tunic
,
Tuileries Pullover
,
Vitamin D
(cardigan),
Enamored
(Shawl) and
Wildberry Shawl
.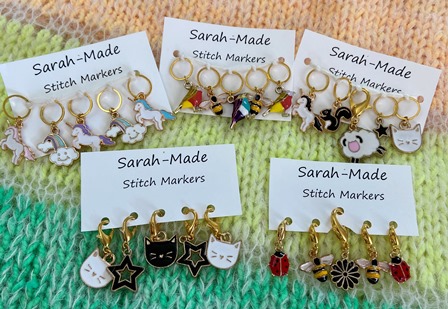 Sarah made some more stitch markers! They are cute and come with lobster clasps, simple rings, or a combination of the two. A perfect gift for your knitting friends or for yourself!
It's time for Knit Collage's Fall Knit-a-long. If you haven't got your supplies already, we have a good stock of Spun Cloud and Mini kits. We have Ink Spun Cloud back in stock as well as a couple new colors, Minty and Antique Mauve. Knit Collage KALs are great because you not only get the pattern, but access to video tutorials for all FOUR of the projects which are like a virtual class! For the Fall KAL, Knit Collage is featuring the
Plaid Party Cardi
,
Plaidtastic Scarf
, 
Flower Power Cardi
, and
Kaleidoscope Sweater/Cardi.
 I also must mention their
Daisy Pillow
which they have a free video tutorial for as well. Sarah will be knitting that one up just as soon as she can decide on the colors. Let us know if you need yarn for Knit Collage's KAL, we would love to help you pick out YOUR colors!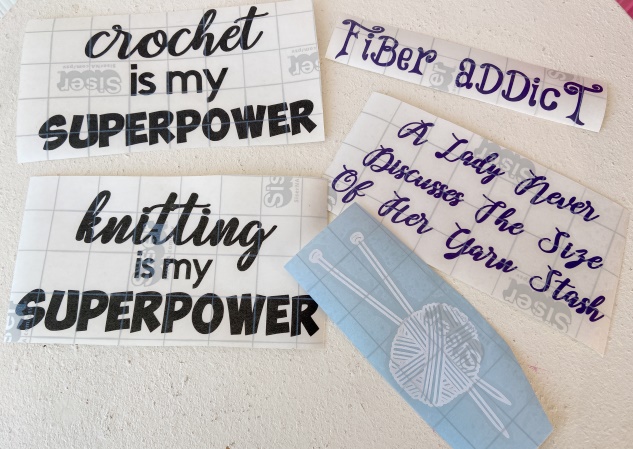 Feel like showing your yarnie pride? We love these vinyl decals from Artistic Nature Studio, perfect for your car, laptop, or water bottle. Each decal comes with detailed instructions for applying the decal for long lasting results.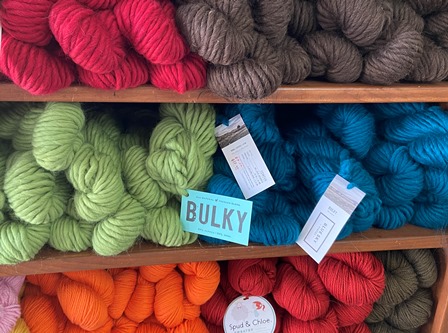 Our clearance shelf is packed with some fantastic yarns. Winter is approaching, and with it the season of bulky yarns. On the clearance shelf we have 4 colors of Blue Sky Fibers Bulky, a 50/50 alpaca/wool blend with 45 yards per 100g skein. It typically calls for a US size 13-15 making for some quick and cozy knits! Here are some perfect patterns if you need inspiration:
Really Warm Hat
,
Faux Fair Isle Set
(hat, mittens, scarf),
Autumn
(hat),
Meathead Hat
, 
Compass Cowl
,
Garter Gaiter
,
Lanesboro Vest
, 
Weekend Pullover
, 
Lacy Chunky Throw
, or 
Eleventh Hour Blanket
.
We also have one color of the luxurious Blue Sky Fibers Suri Merino, a worsted weight blend of 60% Suri Alpaca and 40% wool with 164 yards per 100g skein. What is Suri Alpaca? Suri alpacas are a different kind of alpaca (the other kind that we usually think of is a Huacaya Alpaca). The fiber from suri alpacas is longer and it has a beautiful luster and , like other alpaca, is warm, soft, and drapes beautifully. Some patterns that work well with Blue Sky Fibers Suri Merino are:
Lovely Ribbed Cowl
,
Pangolin Cowl
,
Jul Hat
 or
Textured Shawl Recipe
.
For our November/December shop KAL/CAL, we will be focusing on holiday projects- both projects with holiday themes (advent calendars, stockings, decor) and project meant as holiday gifts. This is your chance to get an early start on those holiday projects and get help and support along the way. 
For those of you longing to get something new on the needles, Robyn created a
Ravelry bundle
 with several pattern ideas if you need some help finding the perfect project. She is also available if you need help finding a pattern for a particular yarn. 
All ReBelle knit alongs are free and open to the public. You are welcome to attend as many or as few of the KAL sessions as you like. 
Join Us on Zoom, every Thursday in November and December from 12-2pm
Meeting ID: 870 9246 9648
Passcode: santa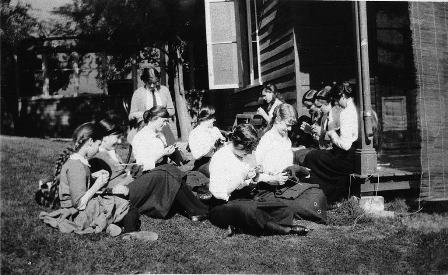 We have decided to continue hosting Tuesday evening (7-9pm) stitch-ins on Zoom every week for the remainder of the year. Community is important and we found that these virtual meetups are a great way to fight cabin fever and to connect with other crafters. Plus, if you find yourself stuck on a project, there will always be someone there to help you out. All stitch-ins are free, join us every Tuesday at 7pm!!
Join Zoom Meeting
Meeting ID: 797 040 230
Password: knitnight