Good Morning CSA Members,
  Today, Wednesday August 10th is a CSA pick up.  Your share will be available for pick up from 4-7pm at your chosen pick-up location. 
Potatoes
Green Beans
Kale
Head Lettuce
Summer Squash
Munson's Sweet Corn
Garlic
Tomatoes
Fruit share: Cherries & Peaches
Egg Share: pick-up every week
Flower Share: Hot Pink Party Mix Bouquet
Bread Share: next week
Coffee Share: next week
Wine & Cheese share: next week
Coming next week: tomatoes, sweet corn, beets, cucumbers, and more.....
    The heat lightning is a firework display like no other here on the front range.  The dark clouds arrive just in time for evening and then to witness such a display within the clouds is pure bliss.
    Not that the interns have much to say about it, as they are usually in bed by 6:30 with snoring noses and happy bodies at rest.
    The baby turkeys are now adolescent with Momma catering to their every need and the plums upon the driveway a daily necessity.
    The piglets now hogs, the chickens awaiting cooler temperatures to begin heavier egg laying and the ducks as always are cackling away.
     Artie at the farm store is officially off the market now ladies as he is now a happily married man and be sure to thank the newlywed tonight as he will now be moving to the greener pastures of Maine with his betrothed and we mark the end of a wonderful three years of his kindness, humor and friendship.  All the best Artie!
    Meanwhile, raise your tomato and toast the beginning of tomato season.  We are pretty much hand to mouth so if you fancy such a technique we applaud you and if not why not just add a slice of fresh tomato to that omelette or pasta this evening.
Buon Appetito!
Elote - Mexican Sweet Corn
Elote is a tradional corn on the cob street food in Mexico. We're sure you'll skip the butter and salt with your corn on the cob this week - this recipe is packed with flavor!

Summer Celebration Salad Celebrate the peak of the summer CSA season with this wonderful salad that combines necterines, corn, tomatoes, kale, and more!

Green Bean and Peach Salad Don't know what to do with all those peaches and green beans we've been giving you? Try them together in this salad - we're sure you don't have any left after this!

We say "Anna Potatoes", the French say "Pommes Anna". Either way, this garlicy, buttery, crispy on the outside, tender on the inside dish is worth the work.
Elote - Mexican Sweet Corn
3 ears sweet corn
3 tablespoons mayonnaise
¼ teaspoon garlic powder
½ cup cotija cheese, crumbled
3 tablespoons cilantro, chopped
½ teaspoon chipotle chili powder (ancho chile powder works too) (see note)
1 lime, quartered
Directions
If you are going to bake the corn, leave the husks on. Preheat the oven to 350ºF. Place the corn covered in husks directly on the oven rack and bake for 35-40 minutes or until the corn is tender and juicy. If you are going to grill the corn, you can leave the corn husks on or take them off for some pretty grill marks.
In a small bowl, combine the garlic powder with the mayonnaise. Place the cotija cheese in a shallow baking dish or a plate. When the corn is done, remove husks and brush the corn with the garlic mayonnaise. Roll in the cotija cheese and sprinkle with cilantro and chili powder. Serve with the lime wedges to squeeze over the corn.
Summer Celebration Salad
Salad
1/2 cup quinoa
1 cup water or broth
1 + 1/2 cup cherry tomatoes
1 medium shallot
1 clove of garlic
Sea salt and freshly ground pepper, taste
3/4 cup fresh corn kernels (from one small ear of corn)
2 1/2 cups mixed kale, stems removed and finely chopped
1 ripe nectarine or peach
1/3 cup toasted pumpkin seeds
1/2 cup crumbled feta
Small handful fresh chives or basil leaves
Dressing
3 tablespoons red wine vinegar
1 teaspoon dijon mustard
1 tablespoon honey
Roasted shallot + garlic (from above)
1/4 teaspoon fine grain sea salt
1/3 cup extra virgin olive oil
Cracked black pepper, to taste
Directions
Preheat oven to 325°F / 165°C and line a rimmed baking sheet with parchment paper.
Slice the cherry tomatoes in half then place on baking sheet. Half and peel the shallot and place on the baking sheet with tomatoes and garlic clove. Drizzle everything with 1 tablespoon extra virgin olive oil and season with sea salt (a pinch or two should do). Place sheet on the top rack of your oven and roast for 30 minutes, until tomatoes are slightly dried around the edges but still juicy. Remove from oven and let cool.
While the tomatoes are roasting cook your quinoa. Rinse the quinoa under cold water in a metal sieve for about 30 seconds. Add rinsed quinoa and 1 cup water to a pot and season with salt. Bring to a boil, then cover and simmer for 13-15 minutes, until quinoa has increased in sized and absorbed most of the water. Remove from heat and let sit with the lid on for another 5 minutes before fluffing with a fork. Drain off any excess water.
Heat 1/2 tablespoon extra virgin olive oil in a large frying pan over medium-high heat. Add the corn kernels and sauté, only stirring once or twice, for 2 minutes to just char the outside. Remove corn from the pan, reduce heat to low and add pumpkin seeds. Toast seeds for a few minutes, until light brown and fragrant, stirring often to prevent burning. Remove from heat and set aside.
Remove rough stems from the kale and finely chop the leaves. Add kale, cooled tomatoes, cooked quinoa, toasted corn and pumpkin seeds to a large bowl. Pit and dice the nectarine and add to the bowl along with crumbled feta cheese.
For the dressing. Add roasted shallot and garlic clove to a small blender. Add red wine vinegar, dijon mustard, honey, sea salt and pepper. Begin blending and drizzle in olive oil with the motor running. Taste and adjust seasoning as needed. Add a tablespoon of water if the dressing is too thick.
Add half the dressing to the salad, mix with your fingertips to combine. Sprinkle with fresh basil or chives and serve with extra dressing on the side. Salad will keep in a sealed container in the fridge for 2 days
Green Bean and Peach Salad
¼ cup red wine vinegar
¼ cup water
1 Tablespoon Kosher salt
1 teaspoon sugar
½ medium red onion, thinly sliced
1 pound green beans, trimmed
1 pound yellow beans, trimmed
1 Tablespoon Vegetable Oil
3 ripe peaches, halved and cut into wedges
2 Tablespoons balsamic vinegar
4 Tablespoons Extra Virgin Olive Oil
Salt and Freshly Ground Black Pepper
8 large basil leaves, thinly sliced
Directions
In a medium sized mixing bowl, combine vinegar, water, salt and sugar. Stir in sliced onions. Set aside for at least 45 minutes.
Bring a large saucepan of water to a boil. Add 3 tablespoons kosher salt. Do not worry that this amount is wrong. It is correct. Your beans will not be too salty. They will just taste properly seasoned and delicious. Add green and yellow beans and cook until crisp-tender, 3-4 minutes. Drain and place colander with beans into a large bowl filled with ice water. Let beans chill for a few minutes. Drain and set aside.
Heat 2 Tablespoons of oil in a 12" skillet over medium-high heat; add peaches and cook until peaches are soft, 5-7 minutes. Remove from heat.
Whisk together balsamic vinegar, extra virgin olive oil, salt and pepper. Toss beans and peaches with half the dressing. Arrange on a large serving platter. Drain onions and scatter pickled onions over top of salad.
Garnish with sliced basil Serve with extra dressing on the side
    Believe the hype, they are delicious and took seven months to grow! 
    The ability to be able to finally eat that which we have been attending to for so long is poetic justice. 
    It starts in February (cold, windy) with just a few smattering of interns hoddled in the greenhouse sipping coffee and listening to Fresh Air interviews.  Then the seeds sprout and it is April with more interns and warmer weather less Terry Gross and more rock and roll.  Then May we transplant to pint containers and more interns less rock and roll just talking to each other.  Then it is June transplanting into the field with volunteers (50) plants (3000) no music no talking.  Then it is August voila!  Tonight we feast.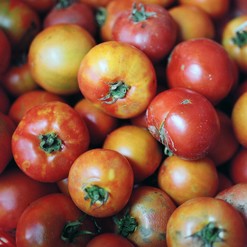 It's National Farmer's Market Week!
Did you know that August 7-13 is National Farmer's Market week this year? Check out some of the great events happening this year at the Wednesday night Boulder Farmer's Market, as well as Saturday's Boulder, Longmont, and Uninon Station Markets. Details can be found at the BCFM website:
www.bcfm.org
Why are Farmer's Markets so important? Take a look at this great infographic by the National Farmer's Market Coalition to learn more!
For more information on the local importance of Farmer's Markets and to learn about other farmer's markets around the country, visit
www.farmersmarketcoalition.org
It is the sweet, simple things of life
which are the real ones after all.
- Laura Ingalls Wilder
Anna Potatoes
6 medium potatoes (or 12 small potatoes), scrubbed clean
6 tablespoons virgin coconut oil (or ghee or butter)
2 garlic cloves, unpeeled and smashed
2 teaspoons thyme
Fine grain sea salt
Ground black pepper
Directions
Preheat oven to 450°F (230°C) and place a rack in the middle.
Using a food processor with a slicing blade attached (or a mandoline or a sharp knife) slice potatoes as thinly as possible (¼-inch thin or even thinner).
Melt the coconut oil in a small saucepan over medium heat, add garlic cloves and cook for 2 minutes, until fragrant. Remove from the heat. Brush the bottom of a 10-inch cast iron skillet (or an oven-safe pan) with 1½ tablespoons of garlic coconut oil.
Starting in the center of the pan, arrange potato slices, slightly overlapping, in circular pattern, covering surface. Brush with another 1 ½ tablespoons of garlic coconut oil, sprinkle with a bit of thyme, and season well with salt and pepper. Repeat for two more layers.
Place skillet over high heat until coconut oil in pan sizzles, about 3 to 4 minutes. Transfer to oven; bake until potatoes are fork-tender, about 50 to minutes.
Remove from oven. Run a spatula around edges and underneath potatoes to loosen. Carefully invert onto a plate and serve.



Cure Organic Farm

7416 Valmont Rd.
Boulder, CO 80301
cureorganicfarm@yahoo.com
www.cureorganicfarm.com