Is that a finger gun Todd? Ought to just point it at your head and complete the picture
Do politicians really think that the average voter is so stupid that they will believe the lies they spin? Last week we saw Lt. Gov. Todd Lamb come out just a swinging at Fallin over the billions in new taxes that C.B. plans on saddling Oklahomans with. C.B. is short for Crazy Bitch.
Lamb of course sat in on the meetings that laid out the budget plan and the State of the State speech that Fallin gave. Lamb of course introduced Fallin at the ceremonies and sat right there behind her while the C.B. laid out her insane tax policies. And applauded her while she did it. Yet Todd Lamb was silent as the silence of the lambs.
Now there is ignorant and then there is stupid. Ignorant means you simply don't know any better but probably should. Stupid is when you aren't self aware enough to realize the stupidity of your actions or plans and don't have the mental capacity to think through the consequences of both.
But then Todd Lamb sat silent for over a month, knowing full well that C.B. was going to spring billions of dollars in new taxes upon hardworking Oklahomans and he stayed silent.
But poor Mary Fallin. Ditched by the Lt. Governor, ditched by Trump, heck, even her hubby is rumored to have a new girlfriend that is so much younger and so much more pretty if you are to believe the rumors. The C.B.'s plans of screwing over the sheep in Oklahoma in return for a cushy Trump team job seems to have evaporated but she soldiers on believing that someone will see her treachery for what it is and offer her a job in Washington D.C. come January of 2019.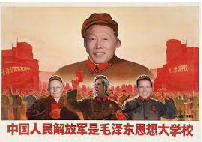 Comrade Yen, Comrade Cannaday, Comrde Bush, and Comrade Smalley
Comrade Yen's SB 83 comes up for a vote in committee on Monday at the HHS committee room. His goal is to force all children to obtain vaccination, over eighty vaccinations at the last count, some of which have proven to be not only dangerous but ineffective with the vast majority of breakouts occurring solely within vaccinated people. There is more than enough evidence that the vaccinations of some diseases are all that is keeping the disease circulating around the population.
Comrade Yen's bill would remove the religious exemption as well as the medical exemption, forcing children to take the vaccination even if their doctors believe that the vaccination will harm the child.
And Comrade Yen has new converts that are pushing similar legislation. A new gang of four, Yen, Smalley, Bush, and Cannaday are all pushing legislation designed to strip parental rights away and instill more state control over children.
SB 93 by Senator Smalley (AKA Small Hands Smalley) which would include the withholding of controversial medical care procedures in the list of child abuse laws.
SB 93 Senator Smalley, child abuse medical care religious, HB922 Ed Cannaday and Carol Bush out of court testimony under 13 years old in neglect cases. The right of a defendant to face their accuser in a court of law is crucial for justice as prosecutors, investigators, and social workers are all trained to lie and deceive in order to get convictions. Rep. Carol Bush of course is the liberal that ran as a Republican and is hell bent on causing as much damage as possible before she is booted out in the next primary. Ed Cannaday is a long time liberal Democrat so it is no surprise to see the ugliest woman in the legislature cozying up to a liberal Democrat.
Below are the Senators that are on the committee that will either pass or fail Comrade Yen's legislation. Give them a call anytime today or tonight as the phone recorder will catch the call. Email them too and read them the riot act and remind them that Oklahomans are independent, not communists. Tell them to vote NO on SB 83 and the other bad bills listed above.
Former House Member Richard Morrissette show what an absolute lying sack of …Fallin… he is in a post card mailing that landed this last Monday. The bright yellow oversize post card was mailed only to Republican primary voters in Ward 4 Oklahoma city and boy did he tell some doozies about his opponent, Republican Todd Stone.
First he attacks his Republican opponent for attending the University at Berkley California, not mentioning that it was a two day seminar that his opponent attended on fiber optic networks at the request of his employer.
Then Morrissette claimed that his Republican opponent didn't live in Oklahoma City while knowing full well that nearly a quarter of Oklahoma City Ward 4 voter's mail comes through Norman post offices. There are many that have Choctaw mailing addresses as well but are Oklahoma City voters.
Morrissette then claims that his opponent is a liberal from a liberal family. Todd Stone is a long term registered Republican and while his son Shane is a Democrat; Shane had the highest conservative score of all the Democrat House members (82 points out of 100) and was the ninth highest scoring legislator out of the 101 total House members. Shane Stone is anything but liberal.
Any man that would lie like this ought not to be fit to pick up road kill for the state much less be a city councilman. Back in 2006 Morrissette showed up at my door asking for my vote and I ordered him off my property and let him know that I wouldn't be voting for a damned liberal Democrat. It is true that Morrissette had a 61 on his RINO score but that was because of SEVEN walked votes that cost him only minus 17.5 points instead of the 35 points it would have cost him had he voted for the bills and voted wrong.
For years many of us have said that politicians say what the people want to hear and do the opposite anyway. Often that is very hard to prove. In the case of Governor Fallin we have it in writing. We have her own words rewarding big business in Oklahoma while burdening the common working people with exorbitant taxes. She seeks to placate the majority of the people by eliminating the tax on groceries, yet she rewards those that donate the most to political campaigns by seeking to eliminate the business tax. We will use her own words from her State of the State Address, her 2014 Campaign site and a pledge she made in 2010 as a candidate for Governor to show you that she has sat here for the last six plus years and lied to the citizens of the State of Oklahoma.
We didn't have to go very far back to expose the lies that the Governor has made to the citizens of this great state. We went back to her first campaign for Governor when she made a promise to the people and even signed a statement to the fact that she would oppose and veto any and all efforts to increase taxes. You can see that sworn pledge for yourself here
We do remember she wanted to give the citizens a tax cut. She did get one passed and signed into law. We were supposed to see the effects of it this year. It isn't going to happen. Poor planning led to a $1.3 billion dollar gap in the budget last year and the first item sacrificed by all the legislators and the Governor was our tax cut. They did cut $189 million dollars of tax credits from businesses that no longer do business in the state. That didn't really save us a lot of money. They also made the tax credit for the oil and gas industry permanent because they were having such a hard time.
There is a list of the services she has proposed taxing or raising taxes on.
Throughout this financial shortfall over the last two years we've seen the taxes for the citizens reinstated, a proposal to eliminate the grocery tax, the oil and gas industry get a permanent tax credit and a proposal to eliminate the corporate income tax. We have seen the deletion of $189 million in tax credits last year and there was talk of an additional $100 million this year. All of that is important. What's even more important that we haven't heard about except here is the legislature giving lobbyist permission to spend more on them each year? We haven't heard a word on the over $2 billion dollars in tax credits that the legislature hands out every year to those corporations that donate to their campaigns. The reason why is easily deduced. The people in power want to stay in power and that is how they see the way to do it.