To Unsubscribe: Please use the link at the bottom of this email if you would like to no longer receive our invites or need to change your information.  Thank you!

A Very Special Fischer Haus Concerts Invitation to




 Cindy Cashdollar &

Johnny Nicholas 

 

 




On Saturday January 5th, 2019




 
Details for this show are below. Please note there will be limited seats available for this show as we plan on closing the sides of the Cantina.  Be sure to read the instuctions to have a guaranteed seat.  Please RSVP if you plan to attend ~ Thank you!
Saturday January 5th, 2019

Gate opens at 6pm
(food service begins)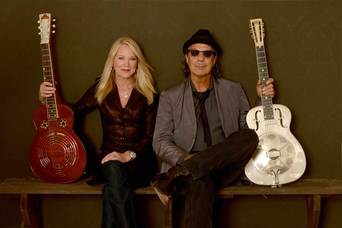 Most of y'all remember the Fischer Haus as a great local music venue for the Spring / Summer season.  We freely admit it is best in the open air and is usually closed for the winter from November thru February.  We have had some great shows in the winter however, with the flaps down and the heaters turned up, the Cantina resembles a circus tent with fantastic sound.  This is a non-smoking show!
But every now and then a special opportunity arises that you just can't turn away, and we have one of them coming our way on Saturday, January 5th.
Cindy Cashdollar………., five (5) time Grammy Award Winner Cindy Cash dollar…………… Asleep At The Wheel Alumnus, Cindy Cashdollar……. Who now resides in Woodstock, New York and seldom gets down to Texas anymore, Cindy Cashdollar……… Will come to Fischer Haus on Saturday, January 5, with Big Blues man Johnny Nicholas and his band, including Scrappy Jud Newcomb.  This will be a rare opportunity for you to listen to a huge talent in a small listening environment, so don't be late in sending in your check and reservation.  With the sides down and the heaters up we can only get 150 seats inside the Cantina.
Being as our No-Shows have increased dramatically this past year and this is a limited number seating event we are requesting you send in a personal check for the number of seats in advance and your check needs to picked up upon your arrival to show and a cash payment is expected.  If you are unable to attend and did not give sufficient advance notice to fill your seat, then your deposit check will be given to the artists.
Please mail your personal check (payable to Johnny Nicholas) to Dennis Hubbard, 115 Fischer Store Rd, Fischer TX  78623 and RSVP on this link to secure your seats.  You will receive an email confirmation upon receipt of your check! The artist is requesting cash so don't forget to  bring it with you to the show and pick up your check when you arrive.
Thanks everyone!

There will be a big pot of Green Chili Pork Pozole cookin'... Self Serve for a $5 donation per bowl - Please bring your own beverages as we will not have any available and yes, you may bring your own food.

Details on how to get a reserved seat proved on link below.  Thank you!
2019 Haus Concert Line-up
~Saturday, January 5th~
~Saturday, May 11th~
Our Annual Mothers Day Celebration
~Saturday, June 15th~
Our Annual Fathers Day Celebration
OUR BASIC RULES AND POLICIES
All shows are considered private (you must RSVP) and on a Cash Door Donation (set by the Artist).  All who are attending are required to Check-In at the Front Gate or Merchandise Booth. Thank you!!

We are also:
Cash Only

BYOB -

Beverages


Food is available to purchase or can bring your own

 

Family Friendly

 

(children 16 and under free, also please ask the kiddo's to use their inside voices during the performances.) ~ Thank You!

No Dogs please - Service Dogs are welcome

Please RSVP if you are planning on attending a show, Advance Deposit required for this show

Camping available ~ (check ahead)


No Smoking in the Cantina

- OUTSIDE SMOKERS PLEASE USE BUTT CANS, DO NOT TOSS ON THE GROUND

Trash, recycles, etc. -

WE DO RECYCLE

- please put glass, plastic and cans in recycle bins not the trash cans


Tables and chairs will be setup in the Cantina (first come), no outside chairs for this show. But you can bring your seat cushions and/or blankets.  We will always make arrangements for reserved easy access seating for those who

have special needs. 

 



We typically have a Campfire Jam after an evening show, feel free to join in....  and burn ban is currently off! Please, no minors at the Campfire Jam unless prior approval is given.

A HUGE Thank you from all of us volunteers....
"WE'RE ALL HERE 'CAUSE WE AINT ALL THERE" - FISCHER TX

Jan & Dennis - Hosts

Randy & Paul - Sound & lights

Biskit & Chris - Check-in
Bubba, Paul, Unkle Jimmy & Sue - Setup and ongoing maintenance
Mark & Linda- Parking/Check-in/Merch/Security

Jimi, David and others who get y'all in those parking spacings

Special Thanks to all our volunteers and everyone else who has helped keep this lil Hill Country Haus Concerts going!