---



11

May

2017
May Memory Verse
Matthew 5:16,
"Let your light so shine before men,
that they may see your good works,
and glorify your Father which is in heaven."
- Victory Follow Up -
The last six weeks have been absolutely "victorious" here at Mountain Lake Independent Baptist Church. April's "Tract Month" was a tremendous success. This past week's Faith Promise Missions Conference was outstanding with great preaching by Dr. Pat Creed, some fantastic missionaries, and the highest Faith Promise commitments in our church's history.
However, after a great victory or a period of spiritual success, Satan will often make his most vicious attacks. Some of history's greatest failures have followed great victories. King David and the great prophet Elijah are classic examples of this truth.
The following are some steps we can take for "Victory Follow Up":
Keep Our FOCUS Off Self And On The Lord!
We rejoice in the role we play in God's kingdom and for the privilege of having a part in His service, however, we must remember, every victory is the Lord's doing. Notice that Moses and Paul both emphasized what "the Lord had done," not what they accomplished (Exodus 18:7-11 & Acts 14:26-27).
Keep Our FLESH On The Cross!
It was by dieing to self and being filled with the Holy Spirit that brought victory in the first place. We must not allow the flesh to creep in and steal the presence and power of God in our lives. (Romans 8:12-13)
Resist The FEAR Of Man.
Not everyone will appreciate the victories God gives to those who trust Him and obey Him. Some will criticize and find fault. We must not allow the fear of man to keep us for going forward after a great victory. Elijah fled in fear from Jezebel after the great victory on Mount Carmel and was never the same (1 Kings 19). See also, Proverbs 29:25.
Do Not Allow Myself To Become FEEBLE In My Discipline.
One of the most important ingredients in the long term success of the Christian life is personal discipline. I need the disciplines of prayer, Bible meditation, church attendance, soul winning, etc after a spiritual victory as much as before. Israel is a classic example of this. (Ephesians 6:10)
Be Strong In My FAITH.
Do not allow my faith in God to waiver after great victories. We must God on and trust God for even greater victories tomorrow and throughout the rest of our journey here on earth.
We are looking forward to some big Sundays in the next couple of months: Mother's Day is this Sunday, followed by "Baby Day" and our famous "Baby Day Parade" on May 21st. June 11 is our "Scripture Publishing Sunday" with Dr. Dan Hummel and then on June 25 we are having our annual "FBN Sunday" with Brother Gerald Miller.
We are thrilled to be busy for our Lord and His Gospel. Please pray for us and be in every service you possibly can.
Sunday Morning I'm preaching on "A Mother's Faith" from Exodus 2:1-10. The evening message from Ecclesiastes is "Synergy."
I hope to see you in church this Sunday, so bring your Bible and a friend!
Dennis Leatherman - Pastor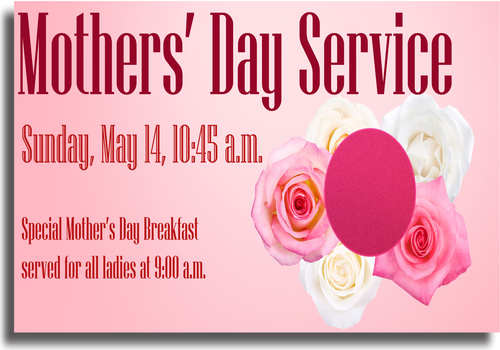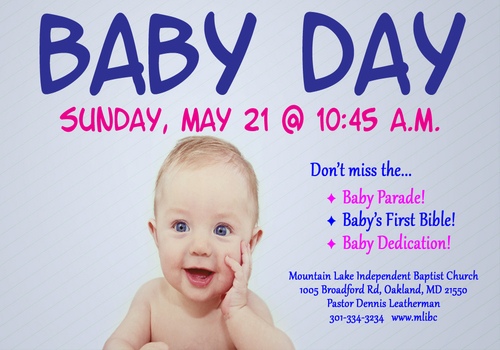 Mountain Lake Independent Baptist Church
1005 Broadford Road, Oakland, MD, 21550