BURNING UP THE BOX OFFICE
CATCHING THE PUBLIC'S EYE
SETTING SOCIAL MEDIA ABLAZE
---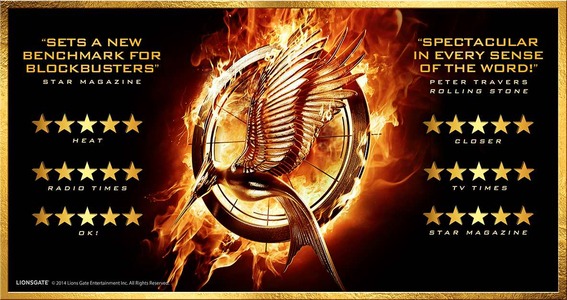 ---
I
f you can't read this news
letter or see the ads, please click
here
The UK is Catching Fire on Monday… It's the message for the release of the second instalment in The Hunger Games franchise, due in stores and online in physical and digital formats from March 17. And it's also Lionsgate's message to the trade and retailers. For the company has been stoking the fire, fanning the flames and adding fuel in readiness for the big date.
And in this special edition of The Raygun newsletter, we're looking at the film, the marketing campaign behind it, Lionsgate's impressive support for the release and a whole lot more.
Just look at its performance – on a global level the film has bucked the sequel trend, with its $863 million total outdoing that of the first in the franchise by some 25 per cent. It took more than £34 Million at UK cinemas and eased into the top 10 highest grossing films ever in the US, replacing Pirates Of The Caribbean: Dead Man's Chest.
With the UK a week or so behind the US home entertainment bow, Lionsgate's sister American division has shown the potential for the release in digital and physical formats. It shifted just shy of 4 million units in its opening weekend of release on DVD and Blu-ray, a figure up on 2012's Hunger Games total (3.9 million compared to 3.8 million). The Blu-ray split was approaching 50 per cent compared with its predecessor's 35 per cent, making it even more of a money-spinner at retail. Digital results were even more remarkable – representing an increase of almost 40 per cent on the previous title, a figure buoyed by a significant amount of players who weren't even around when the first film was released. Lionsgate president and GM of home entertainment sales and distribution Ron Schwartz said: "This is a monster opening and a tremendous result for the second film in a franchise, underscoring the enormous momentum of the Hunger Games films. With strong increases in digital revenue and Blu-ray accounting for 50 per cent of packaged-media sales, the opening weekend performance is a testament to the strength of the franchise."
So, let's start with the SKUs. The release, due on Monday March 17 (next Monday) comes in multiple different versions, with a standard one-disc DVD version featuring the film, deleted scenes and a commentary, a two-disc version featuring a second disc which includes a nine-part documentary. It is, said Lionsgate's Kaz Mills, "a very in-depth and insightful look at the making of the film and an essential watch for fans of the series". There's a triple play edition which features Blu-ray, DVD and UltraViolet versions of the film; this is available in both standard and Steelbook SKUs, as well as DVD and Blu-ray versions featuring the first two films in the franchise. There are also further premium retail skus with the likes of Amazon and HMV.
---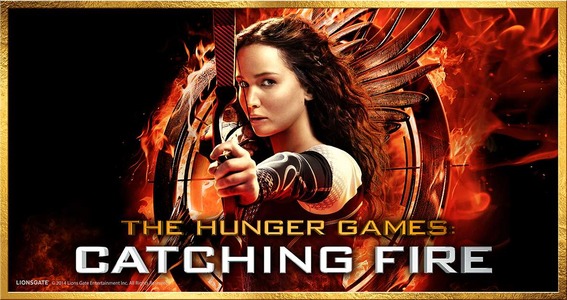 ---
Point of sale and in-store theatre is key to Catching Fire's release strategy. "We've never seen anything like it in terms of retail support," said Lionsgate's Kaz Mills. "It's real theatre and it's pretty much unprecedented." Take, for example, the seven foot piece that will allow fans and shoppers to have their pictures taken with characters from the film. "Fans can stand in between lifesize Katniss and Peeta characters and have their photo taken alongside them – essentially simulating being within the film's poster. We are then inviting fans to share their pictures on social media to be in with a chance of winning tickets to the premiere of the next film. For fans of the franchise it will be a really big deal… What's more there's a special surprise in store for fans having their picture taken in one store, as talent from the film may just pop up from behind them. Not only will this improve the buzz, it should also ensure further coverage across key media targets." Other point of sale will include huge arches on the entrance to stores, all manner of high-impact units housing assorted SKUs, countdown clocks, staff wearing Catching Fire T-shirts and loads more. As Mills said: "The scale of it is enormous."
The sense of theatre created by the point of sale will continue in stores with assorted events. Take the planned HMV activity, which will see a 2-hour early access window in 12 stores – mirroring the film's 12 districts. Customers can turn up early for a special reaping-style event, with the opportunity of winning tickets to the premiere of the next film. hmv's Tim Scaping said: "We're delighted to be able to offer customers the hmv exclusive version of Catching Fire a day early in 12 stores. Sunday releases have worked well in the past for Harry Potter and Twilight releases, in addition to the first Hunger Games film, and we expect this to generate similar levels of interest."
Further spectacle comes in the shape of a special launch flash mob-style at Marylebone station in London, where a Mockingjay statue will be erected and fans, dressed in their finest Capitol Couture, will congregate to be in with a chance of winning money-can't-buy prizes. The Capitol has requested that citizens bring honour to their district by showcasing Panem finery fit for President Snow himself.
On the day of release, the UK's 'Capitol' will also be adorned with propaganda from President Snow's office. Look out for messages from Panem in the form of graffiti all over town. Key Capitol characters will also be making their way around London with suitably glamorous surprises for key media targets.

And what of the TV ads and the above the line marketing? Lionsgate is essentially dividing its activity into two parts. The first is targeting fans of the film, devotees who will rush out to snap it up, while the second part is aimed at the floating audience – a broader, wider crowd of older film fans. "Every piece of ATL activity is strategically targeted across two-pronged messaging," said Kaz Mills. "We want to cater for the fans to ensure they are hugely excited but also broaden it out to a wider, older audience by making it more accessible and inclusive." The TV ad for the former is the Mockingjay symbol, burning away with the aforementioned tagline: "The UK is Catching Fire on Monday." We have also developed five 'countdown' TV ads that will run from five days pre-release so that fans will feel a tremendous anticipation. For the latter, we've showcased the incredible cast, acclaim and storyline in our broader 'epic' spots".
Elsewhere, there is a suitably big spend for the film, with outdoor leading the way. "We've planned a highly visible national outdoor campaign – across buses, super six-sheets and LU," said Kaz Mills. "In addition, we naturally have an extensive TV and press campaign kicking in this week."
---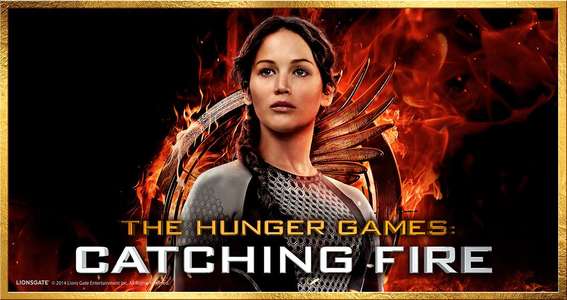 ---
It's not just the traditional areas where the marketing excels; digital is a key arena for the campaign too. As Kaz Mills said: "There's also a huge digital plan for the release which is key to driving real conversation and excitement amongst our core audience. This includes a range of highly disruptive big impact takeovers across news, entertainment, film and retail sites."
And from digital to social media – where the film will have a huge presence. As Kaz Mills said: "Social media is a substantial part of this overall campaign." There's already a pre-order app on Facebook, where fans can get the film from any retailer without even having to leave the site. This week sees the launch of another app, Join the Rebellion, with fans joining forces to help release new content – if, say, 1,000 get involved, new footage will be put online as a reward for engagement. There will be new content, prizes, holiday packages and lots more. Facebook fans will get their own exclusive footage too, with the likes of TV spots and other elements shown only to them. There will also be an image of Katniss, made up of fans performing the District 12 salute, for the Hunger Games devotees to look at. And on the day of release there will be a shared view, with fans watching the film at the same time and commenting on it via a bespoke forum:
www.HopeReturns.co.uk
.
Ireland is a key territory and it will have its own focused campaign too, which will include a nationwide day of release 'reaping' event, in conjunction with Ireland's biggest radio station. "The UK and Irish sides of the campaign are almost independent of each other with a committed focus to each that are designed to make this massive blockbuster feel more relevant and localised to audiences across each territory," said Kaz Mills.
Marketing Director Marie-Claire Benson said of the overall campaign: "The appetite for the success of this release is evident across the board, and forward-planning with retail has been key to achieving a great set-up. We've enjoyed working with enthusiastic partners and we aim to build on these relationships, maintain presence at retail and continue to innovate in our communications as the franchise continues to grow."
Retailers have been praised for their efforts on the title too. As Elevation Sales' Kevin Dersley said: "

At Elevation we are delighted with the level of engagement from our Retail partners on the Catching Fire release. Retailers have been prepared to approach the set-up in store with a fantastic level of ambition, ensuring that every customer who visits their stores will know Catching Fire is available to buy on DVD and Blu-ray. Combined with the hugely innovative campaign delivered by Lionsgate, we are confident that the Hunger Games franchise will continue to go from strength to strength in the UK and Ireland.

"



---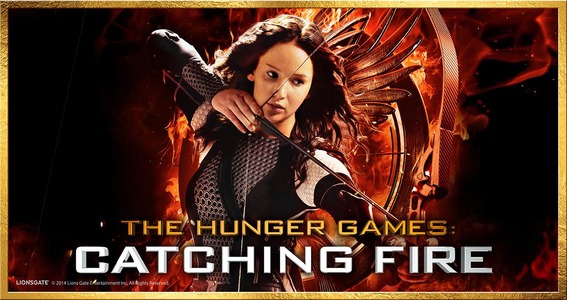 ---
The Hunger Games star Jennifer Lawrence was the most bankable star of 2013, according to analysts at Quigley Publishing Company, which organises an annual survey among cinema owners and film buyers in the US. In 2012 she was voted the Star Of Tomorrow, becoming the first star to make the transition from that to fully fledged Star Of The Year in the poll. As well as The Hunger Games: Catching Fire, Lawrence also appeared in American Hustle…
Lawrence will appear in what are expected to be two of the year's most profitable films in 2014 too – she is set to appear as Mystique in the next instalment of the X-Men franchise, Days Of Future Past, reprising her role in the popular series. And then, come November 21, she will be appearing again as Katniss for the opening of Mockingjay, the penultimate part of The Hunger Games franchise…
The release of The Hunger Games: Mockingjay – Part 1 will see some new names joining more familiar faces, with Julianne Moore joining the franchise. Also up for a role is Robert Knepper, from Prison Break.
And lastly, Jennifer Lawrence is rumoured to be teaming up with Hunger Games alumni such as Gary Ross, director, and Allison Shearner producer, for Burial Rites, a drama set in Iceland in the 19th century….
And to remind yourself, here's the trailer…
To subscribe to The Raygun newsletter, please email
info@theraygun.co.uk
with subscribe in the subject matter
To unsubscribe, email
info@theraygun.co.uk
with unsubscribe in the subject
For editorial or advertising queries, contact
tim@theraygun.co.uk