Greetings & Blessings to all,
We hope this pre-Independence Day edition finds all of you and yours in fine fettle and as fit as a fiddle . If this is your first issue, many thanks for joining us and if you enjoy our musings and meanderings, please feel to share them with your family and friends.
Since many of you will be reading this around uly 1st - pinch, punch, first day of the month, white rabbit! And for all of our readers up north, Happy Canada Day! That said, the majority of our subscribers are from the USA and we know many of you are getting ready for parades, picnics and barbecues this weekend. We wish all of you a safe and happy holiday. As for ourselves, we are heading to South Haven, Michigan for a ew days. There will be four couples, all of us long-time close friends, so it should be a lot of fun - Jim & Sharon Turley -f you are reading this, we wish we could stop by South Bend. Can't do it this time, may be next.
Onwards. Now that the US is out of the World Cup (and Ireland wasn't in it to begin with) our enthusiasm has waned somewhat - but we are hoping that watching the US make such a great effort will have inspired more Americans to learn about "The Beautiful Game." We have an advantage in that Bridget grew up with soccer in England and Russ spent a good many years there, so he understands all of the hoopla. Taking the place of the World Cup now, at least for us, is Wimbledon fortnight. Bridget always gets a wee bit wistful when this comes around every year as she literally lived in the siuthwest19 zip code - about a mile or so from Centre Court. Sigh. Oh well, we'll just have to make up for not actually being there by indulging in plebty of strawberries and cream washed down with lots of champers. Lovely!Enough of the blather and on with the update:
SPONSOR
:
Please help us keep your newsletter coming - visit our good friends at the Celtic Attic:
Whatever the occasion, stop by the Celtic Attic where you'll find a wide array of ways to celebrate every celebration in Celtic style, plus, take 5.00 off an order of $50 or more exclusively through Irish Culture & Customs. Just put the code IC01 in the add a gift card section!
Contact the Celtic Attic on line or by phone - and tell them Bridget & Russ said hello!
Phone: (360) 813-1113 9am to 5pm PST Week Days
Or visit us at Gift Shop Alley 408 Pacific Ave, Bremerton WA 98337
On line:
http://celticcallings.com/shopping/merchant.mvc?CSC&Affiliate=Bridget
IN THIS ISSUE:
Links
Quips, Quotes, Proverbs & Toasts
A Bit of the Wit
Joke of The Week
Did You Know
The week That Is
Leave 'em Laughing
The first rish-American Flag Football Classic -
On July 4, 2010, U.S. Ambassador to Ireland Dan Rooney hosted the first Irish-American Flag Football Classic at his residence in the Phoenix Park, Dublin to celebrate American Independence Day.
https://www.youtube.com/watch?v=zMvy_LtiNYE
National Independence Day Parade
Constitution avenue and the Monuments in Washington D.C. form the setting for the National Parade. Nowhere is there greater excitement on America's birthday than in the nation's capital. Find out more here:
http://www.july4thparade.com/
Disney Celebrates America
One of the most popular US destinations for Irish families, it's also one of the best places to be on Independence Day!
http://www.youtube.com/watch?v=fqEQDKkKatU&feature=fvw
Boston Pops 2013 fourth/third of July celebration-I'm Shipping Up To Boston
We used to live in Bean Town and even die-hard proper Bostonians would let their hair down at the Hatch - the famous shell-shaped place on the Charles Rver where the annual July 4th concert always takes place.
https://www.youtube.com/watch?v=A2H49TR6OuM
Very funny pooch determined to play fetch
We've included this because not only is it funny, it looks like the satue of poet PatrickKavanagh by the canal in Dublin. Is it? May be some eagle-eyed reader can set us straight!
https://www.youtube.com/watch?v=q8DiOthAKek
QUIPS & QUOTES, PROVERBS & TOASTS
An Irishman will always soften bad news, so that a major coronary is no more than 'a bad turn' and a near hurricane that leaves thousands homeless is 'good drying weather'.
Hugh Leonard
ED NOTE: With Hurricane Arthur bearing down on the US Atlantic coast line, we hope and pray that if you live in Arthur's path, you and yours will be able to weather the storm out of harm's way.
BIT OF THE WIT
Many thanks to Hartson who sent us the following:
Blarney is flattery so thin that we like it - as opposed to baloney which is flattery so thick that it can't be true.
JOKE OF THE WEEK
Nine Out of Ten?
Sean was meeting a friend at the pub and as he went in he noticed two pretty girls looking at him. "Nine," he heard one whisper as he passed them. Feeling pleased with himself, he waggered over to his pal and told him a girl had just rated a nine out of ten. "I don't want to ruin it for you," his friend said, "but when I walked in, they were speaking German."
DID YOU KNOW
1. On July 4, 1921, Eamon De Valera ordered the Stars and Stripes to be flown over Dublin? It was to "emphasize the principle for which we are fighting."
2. On the eve of July 4 in the Centennial year of 1876, an Irish couple in New York named their new-born American Centennial Maloney?
3. On July 4 in 1905, the equestrian bronze statue of Gen. Thomas Francis Meagher, leader of the Irish Brigade in the Civil War and later secretary and acting governor of Montana was unveiled on the Capitol grounds in Helena?
SPONSOR: Please help us keep your newsletter coming - visit our good friends at Lollysmith:
They hope you are enjoying your summer or winter season - depending on which hemosphere you live in! Meanwhile, they have been busy adding new gift items to respond to customers' requests.Please stop in their online shop and have a look around. Happy browsing and shopping!
http://store.yahoo.com/cgi-bin/clink?lollysmith+waspish+teandgrgi.html
THE WEEK THAT IS
1. SEARCH FUNCTION: Have you tried it out? You can find the search box in the banner on the left-hand side. Simply key in whatever word or words you wish and if they're on the site, Google will find them!
2. SHOPPING SECTION:
Please keep in mind that every purchase through our shop links, helps support our efforts. Many thanks in advance.
http://www.irishcultureandcustoms.com/Shop/1Shop2.html
3. Article: From our front porch - July 4th
http://www.irishcultureandcustoms.com/AMisc/FromFrontPorch.html
4. Article: A Dandy of an Irish Yankee
http://www.irishcultureandcustoms.com/AMusic/GMCohan.html
5. Article: The Irish soldiers in WWI in remembrance of those who died in the battle of the Somme
http://www.irishcultureandcustoms.com/ACalend/VetsWW1.html
6. Article: Watching the weather on St. Swithin's Day http://www.irishcultureandcustoms.com/ACalend/StSwithins.html
7. Article: What the Twelvth Means To Me
http://www.irishcultureandcustoms.com/ACalend/12thJuly.html
8. Poetry Corner: Thomas Kettle
http://www.irishcultureandcustoms.com/Poetry/Kettle.html
9. Irish Kitchen: Brown Trout Recipes
http://www.irishcultureandcustoms.com/2Kitch/rBrownTrout.html
10. Basic Irish: Travel
http://www.irishcultureandcustoms.com/3Focloir/Vacations.html
11. Kids' Ireland
:
Old Whiskers wins a wife
http://www.irishcultureandcustoms.com/1Kids/OldWhiskrs.html
12. Music Review: Masked, Mirrored and Magical by Loreena McKennitt is reviewed by William Ramoutar, our resident music reviewer http://www.irishcultureandcustoms.com/AMusic/Ramoutar/LoreenaMcKennitt.html
SPONSOR: Please help us keep your newsletter coming - visit our good friends at the Irish Lottery:
In operation since 1988, it's one of the oldest online sites in the world. With subscribers in 89 countries it is also among the most reliable. Jackpots are never lower than US $1,500,000 and are frequently worth in excess of US$5,000,000 Here's the best part - you don't have to live in Ireland to play and all winnings are Tax Free! It's always been a fantasy of ours that one of readers would scoop the big prize, but you can't win it if you're not in it. Play from the comfort of home here: - and the best of Irish luck to you!
http://www.irishlotto.net/
So there you have it until we write again, probably toward the middle of July. If you are celebrating a birthday, anniversary or other special event between now and then, we hope it's an occasion filled with joy and happiness. And if you were married duringthis month , here is your special verse:
They who in July do wed
Must always labor for their bread.
Not terribly romantic or auspicious, is it? We think it's probably based on "Hungry July" - that was when the stores of food would start to run out, causing no end of anxiety for an Irish housewife . It was said that a woman could hold her head high if she had managed the food so well she had enough to feed her family until the August harvest.
We'll 'll take our leave with this lovely old blessing:
Like the gold of the sun, like the light of the day,
may the luck of the Irish shine bright on your way.
Like the glow of a star, and the lilt of a song
may these be your joys all your life long.
And, as they say in Ireland, mind yourself.
Bonus video:
https://www.youtube.com/watch?v=G7O9OqBd2us
Slan agus beannacht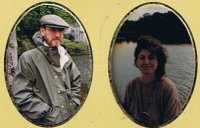 Bridget & Russ
Get down on your knees and thank God you're still on your feet!
And this is for our dear friend Mary O'Hara - several years ago, she asked us to bring this phrase back:
May you be seven times better, a year from today!!
Go mba seacht bhfearr a bheas tu bliain o inniu!!
IF A LOT OF PEOPLE GIVE A LITTLE, A LITTLE WILL BECOME A LOT
Help us keep our newsletter and the web site free; please send whatever you can to Bridget or Russ Haggerty. Our snail mail address is 5814 Blue Spruce, Cincinnati OH, 45224. Or you can send a donation via PayPal. The Url is:
http://www.paypal.com
and our account is this email address:
bhaggerty@irishcultureandcustoms.com
Many thanks in advance for your kindness.
DID SOMEONE FORWARD THIS ISSUE TO YOU?
Subscribe for FREE!
Send an e-mail to: bhaggerty@irishcultureandcustoms.com
or click on this link:
http://www.irishcultureandcustoms.com/Newsletter.html
LEAVE 'EM LAUGHING
Why Some Men Have Dogs, Not Wives
1. The later you are, the more excited your dogs are to see you.
2. Dogs don't notice if you call them by another dog's name.
3. Dogs like it if you leave a lot of things on the floor.
4. A dog's parents never visit.
5. Dogs agree that you have to raise your voice to get your point across.
6. You never have to wait for a dog; they're ready to go 24 hours a day.
7. Dogs find you amusing when you're drunk.
8. Dogs like to go hunting and fishing.
9. A dog will not wake you up at night to ask If I died, would you get another dog??
10. If a dog has babies, you can put an ad in the paper and give them away.
11. A dog will let you put a studded collar on it without calling you a pervert.
12. If a dog smells another dog on you, they don't get mad. They just think it's interesting.
13. Dogs like to ride in the back of a pickup truck.
And last, but not least:
14. If a dog leaves, it won't take half of your stuff.