André Shepherd seeks asylum in Germany
U.S. Army Specialist André Shepherd applied for asylum in Germany becoming the first Iraq-era vet to pursue refugee status in Europe. Listen to his audio interview with Courage to Resist.
Write holiday greetings to war resisters
Tony Anderson and Robin Long will likely be jailed well into 2009 for refusing to fight in Iraq. Meanwhile, other outspoken objectors face military courts martial in the coming year.
Community packs Ithaca council for resister
Fort Drum soldier Spc Steve Loope petitioned Ithaca NY's Common Council to make good on its pledge to be a "community of sanctuary" for soldiers who oppose the war in Iraq.
"Support GI Resistance to War" poster
Order from photographer Jon Orlando, note "Courage to Resist" in the checkout comments, and we'll get 50% of the proceeds.
Support Israel's young objectors (link only)
Israeli high school students who have been imprisoned for refusing to serve in an army that occupies the Palestinian Territories. Activists will hand-deliver messages of support on December 18th, the Shministim Day of Action. (www.december18th.org)
---
Iraq war vet André Shepherd seeks asylum in Germany
By Military Counseling Network, Connection e.V., and Courage to Resist. December 3, 2008
FRANKFURT, Germany - U.S. Army Specialist André Shepherd applied for asylum in Germany Nov. 26, becoming the first Iraq War veteran to pursue refugee status in Europe.
After attending college and failing to find meaningful employment, Shepherd enlisted in the military early in 2004. The promises of financial security and international adventure easily trumped working at a fast food chain. He became an Apache airframe mechanic, hoping to someday qualify up to the role of helicopter pilot.
His first unit was already deployed to Iraq when he completed his training, so he joined them immediately, with only one day at his unit's home in Germany. Shepherd spent six months on a forward operating base near Tikrit, working 12-hour days to keep the heavily armed Apaches (and their signature Hellfire missiles) in the air.
Though he enlisted in order to bring freedom, prosperity and peace, Shepherd found none of these traits in the locals with whom he interacted.
"Some had the look of fear, while others looked outright angry and resentful," he said of locals contracted for jobs around the base. "I began to feel like a cruel oppressor who had destroyed the lives of these proud people.
"Our unit did a lot of good things, giving schools books and bringing clothes to children," he said. "These actions helped my conscience a bit, but I kept thinking to myself, 'Had we not invaded, would these people need this aid now?' " ...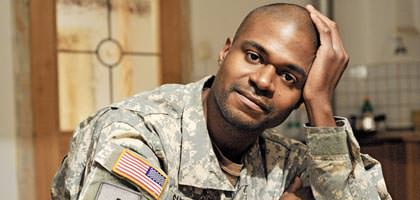 This disposition came to a head in 2005, when the German Federal Administrative Court officially declared the Iraq War violated international law, citing the assault launched by the United States as an act of aggression.
A German army officer had refused an order to develop a computer he feared would be utilized by the United States against Iraq. He was demoted and a criminal complaint was filed against him for insubordination. The federal court reversed the demotion because the charges contravened a paragraph in the German Constitution guaranteeing the right to freedom of conscience.
Shepherd's application also cites a European Union regulation providing refugee status to a soldier who is in danger of being prosecuted if military service "would include crimes or acts" which violate international law. The application refers to the Nuremberg Trials, stating "It is established that a person cannot defend his or her actions by explaining that they had simply been following orders."
In effect, Shepherd's asylum application calls on Germany to clarify the nature of its opposition to the war in Iraq. The United States utilizes German airspace on a daily basis to carry out operations vital to the war, and U.S. bases within the country are home to roughly 60,000 American service members.
"We should not be forced to fight an illegal war, nor should we be persecuted for refusing to do so," Shepherd said. "During the past five years we have waged a preemptive, internationally condemned war that was shown to be founded on a series of lies. After learning the truth about the nature of my military's endeavors, I refuse to continue to be a part of this."
"We are honored to help support this courageous war veteran turned resister in whatever ways possible," declared Jeff Paterson, Project Director of Courage to Resist—a U.S.-based organization dedicated to supporting U.S. troops who refuse to fight.
Listen to Andre's 23:30 min. interview with Courage to Resist
---
Write holiday greetings to war resisters
The holidays are a difficult time for many folks, especially when separated from family and friends. Now imagine you're a war resisters imprisoned for refusing to fight in Iraq.
Please take a few moments this holiday season to write a letter of support to a imprisoned objector. Better yet, organize your social club to collectively write letters to these brave men with the courage to resist.
Tony Anderson, Robin Long, and Daniel Sandate are currently jailed and are not expecting release until well into 2009. Benji Lewis, Blake Ivey and André Shepherd are publicly taking bold stands against war that may result in their eventual courts martial.
Anthony Michael Anderson
PO Box 305
Fort Sill OK 73503-5305
Robin Long
PO Box 452136
San Diego CA 92145-2136
Benji Lewis,
Blake Ivey, and
Daniel Sandate
c/o Courage to Resist
484 Lake Park Ave #41
Oakland CA 94610
André Shepherd
c/o Military Counseling Network (MCN)
Hauptstrasse 1, D-69245 Bammental
Germany
($.94 USPS postage req.)
For more information about each individual, follow the link from their name.
---
Packed Ithaca NY council supports Spc Steve Loope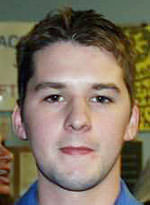 December 5, 2008 update - Spc. Loope turned himself in this morning at Ft. Drum. The Army may take some time to announce if they intend to court martial him.
Krisy Gashler, Ithaca Journal. December 4, 2008
A Fort Drum soldier absent without leave petitioned Ithaca's Common Council Wednesday night to make good on its pledge to be a "community of sanctuary" for soldiers who oppose the war in Iraq.
Ithaca's Common Council chambers were filled beyond capacity with people supporting U.S. Army specialist Stephen Trevor Loope, who left Fort Drum last year after what he described as "mental abuse" from his peers and superiors and unresponsive or non-existent mental health treatment.
A 22-year-old from Austin, Texas, Loope served a 15-month tour of duty in Afghanistan with the 3rd Brigade 10th Mountain Division starting in February 2006.
Common Council in October passed a resolution declaring itself a "community of sanctuary" that would "respect and not interfere with the lawful activities of military personnel, veterans, and all others who are opposed to the immoral wars in and occupations of Iraq and Afghanistan and all other violations of the United Nations and Nuremberg Charters."
---
"Support GI Resistance to War" poster available
Order poster here - enter "Courage to Resist" in the check out comments and we'll get 50% of the proceeds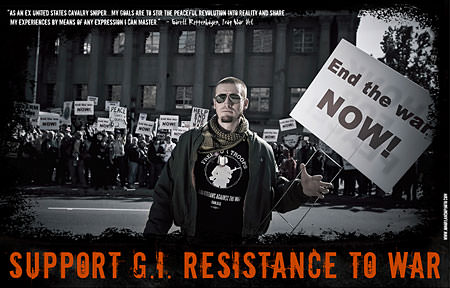 This is a new poster (15"x24", $10 each) available from photographer Jon Orlando.
This poster features Garett Reppenhagen, who in his own words, is "a Veteran of the Iraq War. An ex United States Cavalry Sniper who has decided to live the rest of his life opposed to the imperialism and materialism that has eaten away at the soul of humanity. I've dedicated myself to improving my mind and repairing my spirit, and to assist others to do the same. My goals are to stir the peaceful revolution into reality and share my experiences by means of any expression I can master."
Jon Orlando is currently working on a series of such images featuring veterans from the wars in Iraq and Afghanistan.