This Week at the Richmond Memorial Library                  June 29, 2020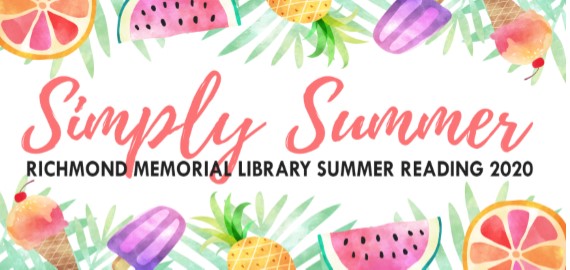 Simply Summer Summer Reading Programs
RML's 'Simply Summer' Reading Program kicked-off Saturday, June 20!
With the Richmond Memorial Library currently open only for curbside pickup and virtual programming, we have designed an easy-to-use online summer reading program for all age groups. We want your summer to be as stress-free as possible while still providing you with the tradition and benefits of summer reading programming. We know our library users look forward to special summer reading programs and prizes, all of which will be offered this year, just a bit differently. Our Simply Summer Summer Reading Program allows for greater flexibility and gives you the opportunity to be involved as much or as little as you would like to be.


Our 8-week Simply Summer Reading Program runs from
Saturday, June 20 through Friday, August 14.
Children's Summer Reading Program

Our website will feature some fun and simple challenges that can be completed with ease any time. Each week we will add activities and programs with a different theme. Fill out a simple Google Form just once each week that your child participates so we know they have been reading. (We will send this information to Marlborough Elementary School in the fall.) Each week you submit, your child will be eligible for either a prize or craft to pick up, a virtual experience or a special treat!

This week's theme is: Celebrate America! If you submitted your Google reading form on Friday, you can stop by this week to pick up your Treat of the Week. It's a patriotic pinwheel craft (with a few surprises thrown in)! The kits will be outside under the portico on a table labelled "Summer Reading." Please take only the bag with your child's last name on it. They will be outside during Library2Go hours, 10am-4 pm.

Teen Summer Reading Program
For those entering grades 7-12 in the fall, you can join our Teen Simply Summer Reading Program! Visit our website at www.richmondlibrary.info and click on the Teen Summer Reading banner for all the information you need. Each book logged gets you an entry for prizes given out through the summer. Our first prize drawing will be Thursday, July 2.

Adult Summer Reading Program

Click the Adult Summer Reading link on our website and submit log entries for books you have read as part of the Simply Summer Summer Reading Program. Each log entry will be entered into a weekly raffle prize drawing, selected at the end of the week during the summer reading program's duration of June 20 and August 14. Books, graphic novels, audiobooks, as well as ebooks and eaudiobooks are all eligible. The more you enter, the more raffle entries you earn. Be sure to check our website and social media pages for information on special programs throughout the summer! 


In observance of Independence Day, Library2Go curbside pickup will not be available on Friday, July 3.


Introducing AtoZ World Travel
Some of you have already discovered our AtoZ World Travel database while exploring our website, but we wanted to officially announce that we have added this new online resource to our collection. AtoZ World Travel is a comprehensive travel resource that compiles 202 travel guides covering 75 different topics for 202 world cities. Some of these topics include safety and security, tourist attractions, culture, native languages, food and restaurant information, points of interest, and maps. We realize fewer people are traveling these days, but it's never too early to start planning for your next trip, even if it's a year away! AtoZ World Travel is available to Richmond Memorial Library card holders. In order to access the database, you need to visit the Online Resources section of our website. We would like to thank the Friends of the Richmond Memorial Library for sponsoring this new database.   


One of our library users recently suggested that we include a Staff Picks column in our newsletter to highlight some of the books our library staff have been reading and enjoying, and we thought it was a great idea, so, going forward, when we have room in our newsletter, we are going to feature a brief review of a book we recommend. This week we would like to share Race Against Time: A Reporter Reopens the Unsolved Murder Cases of the Civil Rights Era. Jerry Mitchell's new book, published this past February, follows a nearly twenty year search for the Klansmen responsible for some of the most notorious murders of the Civil Rights Movement. While the book reads like a fast-paced thriller, it is important to remember that these were real crimes with real victims that had become cold cases. This book is thoroughly researched (as a result of the work done by the author, four Klansmen ended up convicted for their crimes) and will give the reader new insight into not only the Civil Rights Movement but a new lenses in which to look at current social justice activism and reform movements. Race Against Time is a relevant read and ties in well with the larger community conversations about race and racism in America that are going on now.


Coming Soon ... Grab & Grow Garden Program
Since we cannot host programs at the library this summer (and we know how depressing that is), we will be putting together a Grab & Grow Garden Program Kit for adults with everything you need to grow your own wildflowers. A limited number of Grab & Grow Garden Kits will be available. Registration begins Monday, July 13. Call the library at 860-295-6210 (on or after July 13) to make arrangements to pick your kit up.


Richmond Library is normally open Monday through Thursday from 10 AM to 8 PM, Fridays, 10 AM to 6 PM and 10 AM to 1 PM on Saturdays from May through September.  Please check with us to make sure we have re-opened before stopping by.

We have started to and will continue to host virtual programs for all age groups. Additional information will be found on our website and social media pages, including video tutorials on how to access the virtual formats these programs will be offered in.
Thursday, July 9 from 7-8 pm, Animal Architects: Egypt, Greece, Rome, from Thomas Jefferson to I. M. Pei, humanity's history has been chock full of extraordinary architects and architecture. We, however, were not the first to erect monumental structures! While humans had yet to emerge from caves, many animals were going gangbusters impressing mates with their own monuments! Meet some incredible builders in this one-hour picture presentation, designed for adults, celebrating the glory of human and animal architecture. This program is being presented by the White Memorial Conservation Center.

Register in advance for this webinar:

https://us02web.zoom.us/webinar/register/WN__pArkfbyRv-42yVIuze-Cg

After registering, you will receive a confirmation email containing information about joining the webinar.

Monday, July 20 from 7-8 pm, That's Weird: The Connecticut Historical Society will join us virtually for a program that explores some of their strangest collections. You will learn how some of the oddest artifacts can be gateways into a deeper understanding and appreciation of our state's history. This is a virtual program for adults. Advance registration is required. Email richmondprograms@gmail.com.  


***Accessibility at RML: The library does not have an elevator. If you need full accomodation, please contact Library Director Aubrey Muscaro at 860-295-6210 or amuscaro@richmondlibrary.info prior to the event (one week preferred) so we can find an alernate space. The meeting room is located on the second floor.

+++Denotes registration required. Please call the library at 860-295-6210 or email us at richmondprograms@gmail.com