Welcome to CMCA(UK)
This hot-off-the-press instalment of the CMCA(UK) newsletter is a DSEI special edition, bringing you the latest breaking news and releases from CMCA(UK) this autumn. Stay tuned to the news section at
www.cmcauk.co.uk
to always be the first in the know. You can also follow CMCA(UK) on
Twitter
,
LinkedIn
and
Google+.
CMCA(UK) Introducing: Materiel Management One-Stop Shop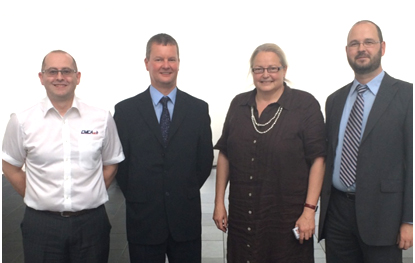 Co-operation partners pictured at ESG's Headquarters in Fuerstenfeldbruck, Germany. From Left to Right: Darren Topley (CMCA(UK) Head of Business Development), Gary Harman (CMCA(UK) Codification Manager), Henriette Schromm (ESG Project Management, Codification) and Traian Iosub (ESG Business Development Manager).
CMCA(UK) has been developing and delivering cataloguing services for almost two decades. Since April 2014 it is the ONLY company authorised to conduct NATO Codification on behalf of the UK Ministry of Defence. Notwithstanding this fact, we are always looking to deliver innovation across the wider cataloguing and inventory management landscape.
Regular readers of our newsletter will recall that back in June 2015 we announced the formation of a new strategic partnership with Elektroniksystem- und Logistik-GmbH (ESG) an internationally renowned provider of codification and materiel management software solutions. In the intervening period our two companies have been working hard in the background to develop joint bespoke solutions that will allow clients to manage their equipment inventories more efficiently and effectively, thus leading to through life cost reductions. Fast forward a few months and we are now proud to announce the arrival of our first offspring from our blossoming relationship; the 'Material Management One Stop Shop'.
The Materiel Management One Stop Shop is a modular solution that combines CMCA(UK)'s world-class expertise in obsolescence management, codification and procurement services, with ESG's unsurpassed knowledge in developing materiel software applications. The Materiel Management One Stop Shop has been specifically designed to address the inventory management needs of both the defence and civil sectors.
The Materiel Management One-Stop Shop is highly effective in reducing the time that would otherwise be taken to identify and combine disparate material management solutions from several vendors, thus streamlining the acquisition process and project implementation timescales. If your business requires cataloguing software, material cataloguing services, cleansing of legacy inventory data, obsolescence management services, procurement support, or any combination of these services then the Materiel Management One-Stop Shop has it covered! Optimising your materiel source data is our number one priority so why not let our team of dedicated subject matter experts assist you in resolving your materiel management woes. Our brief is simple; to support you in reducing your operational costs, increasing your efficiency and empowering you to use your essential materiel data more intelligently. If you're visiting DSEI 2015 then please feel free to swing by our stand to find out more.
Further details about the partnership and the individual components of the Materiel Management One Stop Shop can be found at
www.cmcauk.co.uk >>
CMCA(UK) Introducing: V-Guard Advanced Under Vehicle Inspection System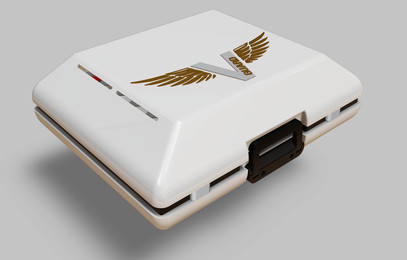 Over the past few months CMCA(UK) has been developing it's very first product which is due to be unveiled at the Defence and Security Equipment International (DSEI) exhibition in London between 15-18
th
September 2015.
V-Guard is an advanced under vehicle inspection system designed in the UK and developed by experienced professionals in military counter terrorism. V-Guard is a mobile 'checkpoint' system that can be deployed and operational in seconds and has the ability to search and record a vehicles underside helping to detect any foreign objects via a cutting edge camera. The V-Guard system can instantly record a driver's face, store number-plates in any weather (day or night) and has a 360 degree sensor which can scan cars driving over it at speeds of up to 30mph, while also taking rear and front pictures to enable cross-referencing for 'blacklisted vehicles. The entire system is contained in a portable case connected to a tablet via wireless link.
We have already received strong interest from Middle Eastern countries and look forward to engaging with visitors and fellow exhibitors alike at DSEI.
If you'd like to express an interest in learning more about V-Guard or to book an appointment with us at DSEI contact V-Guard Project Manager,
Andy Johnson
.
Robin Walker MP Visits CMCA(UK)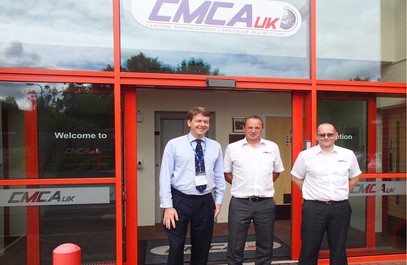 CMCA(UK)'s Rob Crawford (centre) and Darren Topley (right) with Worcester MP Robin Walker.
Earlier this month CMCA(UK) invited Worcester MP Robin Walker to our head office to discuss a few concepts that we have been developing here at CMCA(UK) which could drive greater efficiencies and deliver better value for money in the public sector.
The visit was a successful one and we hope to be able to report on further developments in the coming months.
May we take this opportunity to thank you for your time and for reading our newsletter, Please don't hesitate to contact us regarding any of our services or to see how we can help you. Contact our Business Development Manager Antony Elliott on;
DSEI brings together the entire defence and security industry to source the latest equipment and systems, develop international relationships, and generate new business opportunities. This year CMCA(UK) will be exhibiting in the

Tri-Service Zone

at DSEI on stand

N4 191

.

DSEI 2015 is due to be the largest event of its series to date, expecting over 30,000 attendees, featuring 40 larger pavilions, over 100 programmed delegations, 6 dedicated zones for air, land, naval, medical and unmanned technology, each hosting a topical seminar programme and CMCA(UK) is very excited to be participating for the first time in several years.

Look out for us at DSEI!

CMCA(UK) is pleased to reveal our brand new exhibition stand that has been commissioned as part of the launch of our V-Guard Advanced Under Vehicle Inspection System. This is an exciting time for CMCA(UK) and we look forward to unveiling our first product offering at DSEI. Come and visit us at stand

N4 191

, in the

Tri-Service Zone

to find out more about CMCA(UK)'s first foray into the security sector.

In collaboration with the National Physics Laboratory, CMCA(UK) has developed a metallographic lab fully stocked with the analysis tools required to observe and quantify intermetallic growth in semi-conductors. With these systems in place CMCA(UK) is now able to analyse and measure the microstructure and elements present in components and alloys. Using the information gathered it is possible to predict component deterioration which could prove to be a very powerful tool in helping our customers to achieve significant through life cost savings.

After the huge success we saw at last years 'CMCA(UK) Bake Off', staff have once again agreed to don their aprons and summon their mixing bowls in aid of Macmillan Cancer Research. Over a three day period staff have the opportunity to show off their baking skills whilst raising funds for the charity. Stay tuned to our

twitter

account 23

rd

-25

th

to see the show stopping creations.