Newsletter Headline Here...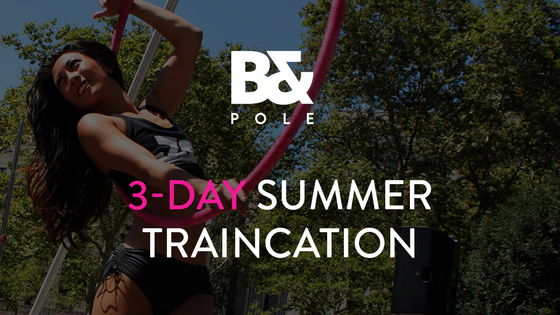 UP TO 8 SESSIONS OF YOUR CHOICE IN 3 DAYS
USE ANTIME JUNE - AUGUST 2021
COST: ONLY $199
... that's less than $25/Training!
ONLY 25 AVAILABE, FIRST COME FIRST SERVED
It's getting hotter, and we're ready for those fiery summer training vibes! This limited time only 3-Day Traincation is good for 8 sessions to be used over 3 consecutive days.
The Details:
Late cancellation fees still apply. Offer cannot be combined with other discounts.
Your Traincation will activate on your first visit date. If you do not sign up for a Training upon purchase, your Traincation will activate on date of purchase. In case you need help, or to change your desired start date, email customerservice@bodyandpole.com.
SPRING FEVER
HOOP LEVEL 1 & UP
THURSDAYS 4:30 - 5:45 PM
WITH ABIGAIL WILLIAMS-JOSEPH
SATURDAYS, 5/8 & 5/15
8:00 - 9:15 PM
WITH STELLA FINK
TUESDAYS, 5/18 & 5/25
2:00 - 3:15 PM
SATURDAYS, 5/15, 5/22, & 5/29
8:15 - 9:30 PM
WITH MATHIEU LEOPOLD
- PLAYFUL PROMPS 6:15 - 7:30 PM
- FILMING YOUR FREESTYLE 8:00 - 9:15 PM
WITH TRACEE KAFER
Join us for these B&P Plus series geared towards heels, sensuality, and exploration!
Are you a freestyle lover, freestyle-curious, or even freestyle-stuck?
Freestyle is a skill unlike any other, but can be developed pragmatically like any other skill.
In this one-day intensive with Tracee Kafer, you will explore important concepts of free movement 

through creative prompts, theory discussions, and long-form exercises.
This experience meets you where you are at; all levels (Pole L1 & up), movement values, and style preferences welcome.
RAISING MONEY FOR THE SYLVIA RIVERA LAW PROJECT
Join Body & Pole as we raise funds for the Sylvia Rivera Law Project (SRLP). To particpate, join the Zoom link below on 5/24, and send your donation directly to

www.SRLP.org

.
Meeting ID: 892 1639 4161
SATURDAY, 6/12
8:30 PRE-SHOW
9:00 CURTAIN UP
Hosted and Performance by Broadway's Holly Butler!
Performers include: Gina Alm, Nicholle Bittlingmeyer, Laurie Bloom, Tiffannie Burrowes, Donna Carnow, Joshua Dean and Benjamin Franklin, Yana Edinovich, Ayla Gittelman Ipek, Glow Job, Leandra Johnson, Chante Odom, Yaiza Rodriguez, and Carrie Seavoy
Join Body & Pole as we celebrate the Great White Way, BROADWAY! What would Cabaret be like on a pole? Ever heard Jason Robert Brown sung in a hammock? See this and MORE! Expect a night of singing, dancing, music, and a few surprises. Performances will be given by current work-studies and alumni as well as a few guest performers.
WORK-STUDY OF THE MONTH
Our Work-S
tudy of the month for April was "Lele"! Lele's hard work, dedication, and sweet presence hasn't gone unnoticed! 
To show our appreciation, Lele will receive a free private lesson with the trainer of her choice! Thank you for everything!
🤳🏽 B&P ONLINE: LIVE CLASSES 🤳🏽
LIVE 2X A WEEK + *NEW* 
LIVE
ARCHIVE

You can sample the LIVE ARCHIVE now for one free view!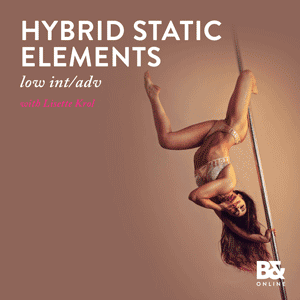 HYBRID STATIC ELEMENTS
WITH LISETTE
WEDNESDAY, 5/5 4:00 - 5:00 PM EDT
POLE PUZZLES
WITH VANE
FRIDAY, 5/7 2:00 - 3:00 PM EDT
Available only for our B&P Online Members! Enjoy these limited-run, exclusive live classes with your favorite B&P Online instructors and now, special guest instructors! Classes are capped to maintain an intimate class environment.
If you are a B&P Online Member, you will receive sign up details this week.
We understand not everyone will be able to join us in person, so B&P Online is there for you - streaming & live.
- Live Classes For Our Members
- Workout With Your Favorite B&P Instructors & Your Favorite Classes, Now & Anytime!
- Quality In-Studio Experience For Everday Use
- Over 500 Classes, Search By Class Or Technique
- New Favoriting Feature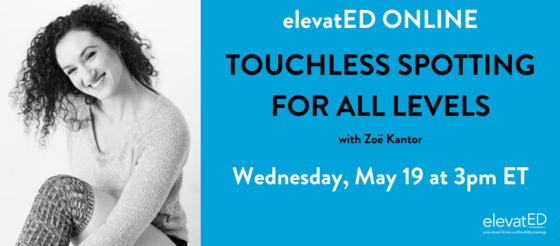 Next up:
TOUCHLESS SPOTTING FOR ALL LEVELS WITH ZOE KANTOR
WITH AN elevatED ONLINE MEMBERSHIP 
GET INSTANT ACCESS TO:
• Directory of elevatED Certified Instructors and Studios
• Monthly Video Training Modules
• Exclusive Access to Livestream Workshops
• & more, exclusively for elevatED Certified Members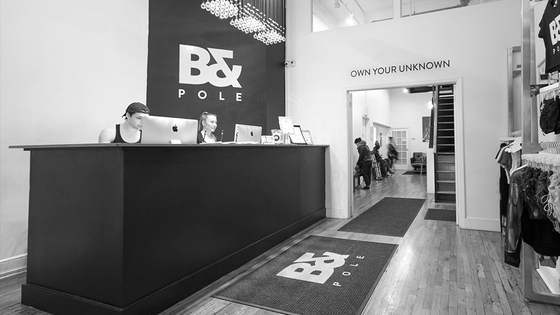 This part-time position will be responsible for providing a welcoming environment for clients at the studio as well as leading sales initiatives, new client acquisition and client retention. Pay is hourly plus commission and bonus opportunities.
Interviews begin May 18th, apply now!
We are honored to help you own your unknown. Stay safe and stay moving.
- The Team at Body & Pole