---------------------------------------------------------
SCARED ABOUT THE HOLIDAY EXPENSES AND WHAT THE NEW YEAR WILL OR WON'T BRING? Keeping the fear cleared in you and your loved ones is a magnificent gift to give at any time of the year. 
Am hosting Christmas dinner at my home this year, with an appetizer of fear clearing mini-sessions for any family members who request it.
Imagine the peace on Earth if we continually released our fears and negativity, then helped others to clear theirs, too?

Don't have time to figure out what you need to work on?
Allow me help you through the holiday season and into 2012 at affordable rates for

up to 6 sessions for the price of 3!

  Yes... only $60 per session for 6.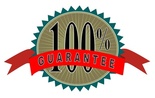 Results are GUARANTEED.

Buy One-Get One FREE SESSIONS ARE EXTENDED UNTIL DECEMBER 30, 2011 -
BUY ONE for a friend (gift certificate form will be sent to you if requested) and keep the FREEBIE for YOU!
FAST FACTS:
(1) You can get together with friends and pool your funds to get this special offer (new clients must complete a release form before their first session)

(2) Sessions are a solid hour long
(3)  Sessions include unlimited surrogate muscle testing (SMT) to find subconscious blocks from any time in your life, and ensure they are 100% cleared; here's a SMT video:
(4) You choose if we'll use EFT or FREED as a clearing tool

(5) You have until June 30th, 2012 to use your session time
(6) I GUARANTEE you will notice a change on a specific issue we've cleared after our first session. If not, request a full refund within 24 hours of the session; no further sessions will be conducted.
---------------------------------------------------------
NEWLY DESIGNED GIFT CERTS AVAILABLE for the person who has everything... except peace of mind or joy?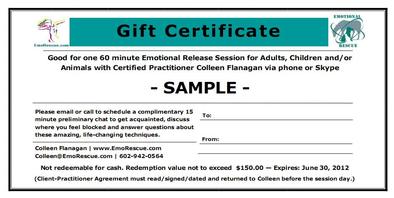 ---------------------------------------------------------
Please email YOUR WISH LIST for quickie education videos or articles for YOU and your loved ones: Colleen@EmoRescue.com or use my contact page:
---------------------------------------------------------