With articles about drugs in the great lakes and the chemical make-up of urine, plus links to the week's leading water news stories. Also, a look at Pure Water Products' Single Tank Aeration units.
This Week's World Water News Roundup
A lot more of the persistent bad news from the Fukushima nuclear plant. Crumbling infrastructure in the US. Drugs in sewage, drugs in drinking water. Fish poisonings. Chlorine drainage into streams. Mercury in streams. Increased re-use of wastewater. How climate change affects water. Agent Orange is still around. More bad news about "flushable personal wipes." As always, the drought and ever-intensifying water shortage. Plus, much more.
U.S. Forest Service set to decide on fracking in George Washington National Forest. By the end of the month, the U.S. Forest Service is expected to decide whether to ban or allow hydraulic fracturing under the George Washington National Forest's new, 15-year management plan. The decision will settle a raging dispute between conservationists and the oil and gas industry.
Heartbreaking portraits of Vietnamese children suffering from devastating effects of toxic herbicide sprayed by U.S. Army 40 years ago. They were born decades after American forces had sprayed the herbicide dioxin Agent Orange in South Vietnam, but some children living in the region today continue to suffer from the horrifying effects of the chemical.
Protecting our water resources. In Malaysia, the oil spillage at Sungai Selangor which resulted in a major water disruption in the Klang Valley has shown just how vulnerable and exposed our water sources are.
In drought, water war in California fought underground. Throughout the Central Valley - one of the world's most productive agricultural regions - farmers, residents and cities have seen their wells go dry. Experts say water supplies have been strained by growing city populations and massive tracts of newly planted orchards and vineyards.
Scientists' water filter to aid poor. A water purification filter created by Australian scientists has pipes just 10,000th the width of a human hair and could provide relief to millions of people without access to safe drinking water.
Florida lake cleanup is expensive and messy. A black bag that resembles a gargantuan beached whale in Winter Park's Mead Garden. Slime that bubbles like "sick oatmeal" in downtown Orlando's Lake Lucerne. These are two examples of the same lake cleanup problems in Florida communities.
Sewage spills continue despite EPA order. Lehigh County municipalities and sewer-service providers have collectively responded by spending nearly $25 million during the past four years to end what the EPA calls "sewer overflows." But they say they are unlikely to meet the deadline, even though they could face stiff penalties for future spills.
'Flushable' personal wipes clogging sewer systems, utilities say. Sewer agencies in the Washington area and across the country say the rapidly growing use of pre-moistened "personal" wipes — used most often by potty-training toddlers and people seeking what's advertised as a more "thorough" cleaning than toilet paper — are clogging pipes and jamming pumps.
South Korea bans fish imports from Japan's Fukushima region. South Korea has banned all fish imports from a large area of Japan in response to growing concern over the possible environmental impact of recent leaks of highly toxic water at the Fukushima Daiichi nuclear power plant.
PCBs found at other sewer sites in South Carolina. Hazardous chemicals have been located at several other waste oil hauling and storage companies across the Upstate, as state and federal agencies continue to investigate possible illegal dumping in three sewer districts.
Enbridge dredging in full swing in Calhoun County. Large pipes, buoys and pontoon boats have been placed throughout sections of the Kalamazoo River as Enbridge Inc. works to fulfill an order by the U.S. Environmental Protection Agency to do additional cleanup
Compost pile turns into heap of trouble. Forester Peter Olsen knows the rules. One he overlooked has given new ammunition to opponents of the city's plans to compost sewage sludge at the Kodiak Island Borough landfill.
Ohio River commission may relax mercury pollution rules. The eight-state commission that sets water quality standards for the Ohio River wants a two-year delay on enforcement of a more stringent mercury standard while it considers relaxing those rules.
California tsunami would have costly aftermath. The fearsome aftermath of a tsunami striking California might cost at least $3.4 billion to repair, but neither of the state's nuclear power plants would be damaged, suggests a new analysis that could help officials and the public prepare for a tsunami and reduce risks before any such disasters happen.
Climate change threatens Caribbean's water supply. Experts are sounding a new alarm about the effects of climate change for parts of the Caribbean — the depletion of already strained drinking water throughout much of the region
Chinese chemical company apologizes for fish-killing toxic spill. A Shenzhen-listed company identified by authorities as being responsible for a toxic spill that killed thousands of river fish apologized on Friday and said it would punish those responsible.
Private Massachusetts water plant shut down. A private wastewater treatment plant was shut down Thursday after city officials decided it has done too little too late to stem foul odors that have blown into nearby neighborhoods periodically for three years.
Policymakers on the brink of algae action need to get it done. The U.S and Canada International Joint Commission last week released a draft report on Lake Erie that prescribes strong medicine for the Ohio agricultural community, the primary source of phosphorous runoff that leads to algae blooms.
World set to use much more wastewater. The world is set to use far more treated wastewater to help irrigate crops and feed a rising population as fresh water supplies dry up, a team of U.N.-backed experts said on Thursday.
Cold feat: How Japan plans to contain Fukushima's nuclear contamination by building a 1.4-kilometre 'ice wall.' The Tokyo Electric Power Co. had its chance, and now the Japanese government is stepping in: The government announced it will spend a half-billion dollars trying to stabilize the Fukushima nuclear plant after the 2011 triple meltdown.
Chemical pollution poisons fish in Hubei. Over 100 tons of dead fish has been found in several sections of the Fuhe River, in Hubei Province, since Monday afternoon.
Advocates say Gov. Rick Scott's $37 million pledge to fix springs not enough. With his sleeves rolled up, Gov. Rick Scott announced Wednesday that he is steering $37 million to 10 projects designed to cut pollution and boost the flow of some of the state's most popular springs.
Avon Park stops water fluoridation. Citing "no quality control," City Manager Julian Deleon has stopped the injection of fluoride into the city's drinking water.
Contaminated reservoir drives Venezuelans to bottled water. The socialist revolution implemented by late President Hugo Chavez redirected funds from state-owned companies to reduce poverty and widen access to education, health-care and housing. But basic services have suffered. Blackouts and water cuts have become weekly events in Caracas, and when water does flow, few dare to drink.
Fight over a Florida sewer pipe raises national financial and health issue. Nondescript as it is, the pipe is at the center of one of the biggest fights over climate change in the country. It carries millions of tons of partially treated sewage daily underwater from Miami Beach and miles out to the ocean. Environmentalists fear a direct hit from a strong storm could knock out the pipe, sending raw sewage into Biscayne Bay.
Japan's radioactive water leaks: How dangerous? New revelations of contaminated water leaking from storage tanks at the tsunami-ravaged Fukushima Dai-ichi nuclear power plant have raised fresh alarms. A look at the problem, and the potential risks to fish and the humans who eat them.
Splashing in New York's Hudson River. As the rivers around New York City recover from decades of pollution, New Yorkers are once again taking to the water to swim. "Floating pools," tethered safely to the shore, let swimmers enjoy the waters of the might Hudson without worrying about dangerous currents.
Single Tank Aeration from Pure Water Products
As a companion to our old faithful AerMax systems, we now feature a good selection of one tank aeration systems. In these units, the aeration and filtration functions are performed in the same tank.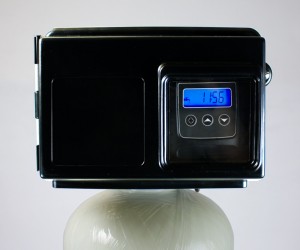 Single tank aerators are built around a modified Fleck 2510 SXT control, shown above. The system provides an excellent and easy-to-maintain solution for residential wells with moderate amounts of iron, manganese, and/or hydrogen sulfide.
Please get full details from the Pure Water Gazette website.