The Pure Water Occasional for June 9, 2014
In this post Memorial Day Occasional, you'll hear about the pros and cons of desalination as a solution to water shortage and the belief that overuse of water is moving mountains and causing earthquakes. World Oceans Day, salt water taffy, water shortage in Venezuela (a land of abundant waters), and the dirty, untold stories about whaling. Read the good news about the LA, Menomonee and Kinnickinnic Rivers and the bad news for sea stars and sea lions. Other dire stories about nitrates, deadly diarrhea, pipe clogging algae, microcystin, and water main breaks. Finally, hear about nifty and inexpensive disposable inline water filters, and, as always, there is much, much more.
The Pure Water Occasional is a project of Pure Water Products and the Pure Water Gazette.
To read this issue on the Pure Water Gazette's website, please go here.
Nation's largest ocean desalination plant goes up near San Diego; Future of the California coast?
by Paul Rogers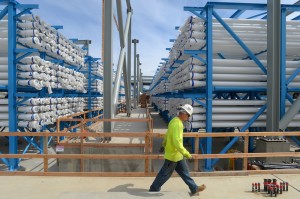 Racks containing reverse osmosis components at the $1 billion Carlsbad desalination plant in Carlsbad, California. When completed in 2016, it will be the largest desalination plant in the Western Hemisphere and will produce 50 million gallons per day.
CARLSBAD -- On sunny afternoons, this stretch of beach 35 miles north of San Diego offers a classic Southern California backdrop: joggers, palm trees and surfers, flanked by waves rolling in and pelicans soaring overhead.
But just across the road, another scene, unlike any other in the state's history, is playing out: More than 300 construction workers are digging trenches and assembling a vast network of pipes, tanks and high-tech equipment as three massive yellow cranes labor nearby.
The crews are building what boosters say represents California's best hope for a drought-proof water supply: the largest ocean desalination plant in the Western Hemisphere. The $1 billion project will provide 50 million gallons of drinking water a day for San Diego County when it opens in 2016.
Since the 1970s, California has dipped its toe into ocean desalination --talking, planning, debating. But for a variety of reasons -- mainly cost and environmental concerns-- the state has never taken the plunge.
Until now.
Fifteen desalination projects are proposed along the coast from Los Angeles to San Francisco Bay. Desalination technology is becoming more efficient. And the state is mired in its third year of drought. Critics and backers alike are wondering whether this project in a town better known as the home of Legoland and skateboard icon Tony Hawk is ushering in a new era.
Will California -- like Israel, Saudi Arabia and other arid coastal regions of the world -- finally turn to the ocean to quench its thirst? Or will the project finally prove that drinking Pacific seawater is too pricey, too environmentally harmful and too impractical for the Golden State?
"Everybody is watching Carlsbad to see what's going to happen," said Peter MacLaggan, vice president of Poseidon Water, the Boston firm building the plant.
"I think it will be a growing trend along the coast," he said. "The ocean is the one source of water that's truly drought-proof. And it will always be there."
To supporters, the Carlsbad Desalination Plant is a historic engineering marvel. And it is a survivor, having endured six years of government permitting, from the Carlsbad City Council to the California Coastal Commission. Supporters won 14 lawsuits and appeals by environmentalists before finally breaking ground in December 2012.
"They went through seven or eight years of hell to get here," said Tim Quinn, executive director of the Association of California Water Agencies. "But they stuck it out. They got it done. If it succeeds, it will encourage others to try. And if it fails, it will have a chilling effect."
To critics, the plant is a costly mistake that will use huge amounts of energy and harm fish and other marine life when it sucks in seawater using the intakes from the aging Encina Power Plant next door.
"This is going to be the pig that will try for years to find the right shade of lipstick," said Marco Gonzalez, an Encinitas attorney who sued on behalf of the Surfrider Foundation and other environmental groups to try to stop construction. "This project will show that the water is just too expensive."
For the plant to be a success and copied in other parts of the state, Poseidon will have to deliver high-quality drinking water at the price promised -- and not cause unexpected impacts to the environment such as fish die-offs.
"It's a test case," said Ron Davis, executive director of Cal Desal, an industry advocacy group. "We like to tease them: Only the entire future of desal is riding on this project. No pressure."
High cost
Almost every discussion about desalination begins and ends with cost.
Desalinated water typically costs about $2,000 an acre foot -- roughly the amount of water a family of five uses in a year. The cost is about double that of water obtained from building a new reservoir or recycling wastewater, according to a 2013 study from the state Department of Water Resources.
And its price tag is at least four times the cost of obtaining "new water" from conservation methods -- such as paying farmers to install drip irrigation, or providing rebates for homeowners to rip out lawns or buy water-efficient toilets.
"We look out and see a vast ocean. It seems obvious," said Heather Cooley, water director for the Pacific Institute, a nonprofit research organization in Oakland. "But it's cost prohibitive for most places in California."
In Carlsbad, two gallons of seawater will be needed to produce each gallon of drinking water. And to remove the salt, the plant will use an enormous amount of energy -- about 38 megawatts, enough to power 28,500 homes -- to force 100 million gallons of seawater a day through a series of filters. The process, known as reverse osmosis, removes salt and other impurities by blasting the water at six times the pressure of a fire hose through membranes with microscopic holes.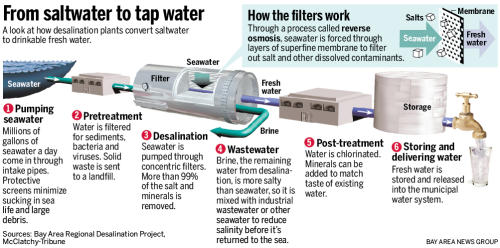 San Diego County is better suited than any large California community for desalination. It receives only 10 inches of rain a year, one-third less than Los Angeles, Fresno or San Jose. It has very little groundwater. And it has a large customer base to spread out the cost of the Carlsbad plant, which will provide about 7 percent of the total water needs of the county.
The high price is worth it to help San Diego and other regions rely less on water from the Colorado River and the Sacramento-San Joaquin River Delta, both of which are overdrawn and increasingly unreliable, said Bob Yamada, water resources manager for the San Diego County Water Authority.
"You can't conserve or recycle what you don't have," Yamada said.
"Desal offers us local control."
The authority will pay from $2,014 to $2,257 an acre foot for the water, depending on how much it buys. The agency, which provides water to 3.1 million people in San Diego County, signed a 30-year contract agreeing to buy at least 48,000 acre feet a year.
With that guarantee, Poseidon and its investors were able to sell bonds to finance the project. The company will be guaranteed a rate of return between 9 and 13 percent, depending on operating costs.
Critics say the agency is getting a raw deal.
"It's not a public-private partnership," Gonzalez said. "It's corporate welfare."
Nobody disputes that the cost of water will go up. According to Yamada, the average customer's bill, now $71 a month, will rise $5 to $7 to pay for desalination.
Santa Barbara redux?
Sometimes the high costs can turn off the spigot.
After enduring severe water shortages during a drought in the late 1980s, Santa Barbara voters agreed to spend $34 million to build a desalination plant. It opened in 1991 and provided water for four months. When the drought ended, the city shut it down. Water from reservoirs and other sources was significantly cheaper.
Similarly, Australia spent more than $10 billion building six huge seawater desalination plants during a severe drought from 1997 to 2009. Today, Cooley noted, four are shut down because when rains finally came, the cost of the water became noncompetitive.
"We run the risk of building facilities that we don't use," Cooley said. "And that's a waste of money."
Earlier this month, the Santa Barbara City Council voted to spend $935,000 to hire an engineering firm, law firm and lobbyist to try to restart the city's shuttered plant by 2016.
"None of us wants to do it, but I was there 25 years ago, and it's really ugly when you run out of water," said Santa Barbara City Councilman Harwood "Bendy" White. "This is one option for stretching out our supplies."
Monterey County
Similarly, the California American Water Company in Monterey County is studying three locations to build a desal plant to make up for water lost when state regulators ruled the company didn't have valid permits for the Carmel River. In Los Angeles, leaders of the West Basin Municipal Water District, which serves about 100,000 people, built a pilot plant in Redondo Beach and are studying plans for a $300 million desalination plant by 2020.
Desal technology continues to improve. It now takes only a quarter of the electricity to generate drinking water as it did in the 1980s because of more efficient pumps, membranes and energy-recovery devices, said Tom Pankratz, editor of the Water Desalination Report, a newsletter based in Houston.
But some places are balking.
Santa Cruz city officials in August shelved plans for a desal plant after environmental activists raised fears that the new water might trigger more growth. Marin County studied a desal project, then dropped it when water use declined. Long-running plans to build a desal plant in San Francisco Bay near Concord were shelved this year when the region's largest water districts decided they could obtain water more cheaply through recycling and other means.
Another key issue looming large is how to get the seawater without hurting the marine environment.
The Coastal Commission approved the Carlsbad plant and its open-ocean intake system. But new scientific studies and changing laws mean that most future plants probably will be required to bury intake pipes and pump water at a lower rate to reduce impacts on fish and the millions of larvae, eggs and other sea life that can be killed.
"These organisms become things -- like fish -- and we always have to be careful of the perspective that 'Oh, this is just one little piece,'" said Charles Lester, executive director of the Coastal Commission. "It all adds up."
Plans by Poseidon to build a desalination plant in Huntington Beach slowed last year when the Coastal Commission said it wanted the company to investigate whether its pipes could be buried, a prospect that will increase costs. For the Carlsbad plant Poseidon was required to build 66 acres of wetlands in San Diego Bay to offset the plant's environmental harm. It also must blend its brine at a 5:1 ratio with other seawater before flushing it back into the ocean so it won't harm marine life. Other projects will have to do all those things to get state permits.
But some experts say the plants are coming anyway.
"In the next 10 years you are probably going to have three big plants built in Southern California and another plant or two in Northern California," Pankratz said. "The trend is toward more desal. They are the most reasonable insurance policy against a long, protracted drought."
Source: San Jose Mercury News.
Pure Water Gazette Fair Use Statement
Sierra rises, quakes erupt as Central Valley aquifer drained
by David Perlman
Are We Creating Earthquakes by Overuse of Water?
The Sierra Nevada is rising.
Drought-stricken farmers in the Central Valley are pumping more and more water from the valley's huge aquifer beneath them, and the drainage is triggering unexpected earthquakes along the San Andreas Fault, scientists have discovered.
For the past 150 years, they report, periodic pumping from the aquifer has caused the towering Sierra to rebound upward as much as 150 millimeters, or about 6 inches. At the same time, they note, California's Coast Range, which spans 400 miles from Humboldt to Santa Barbara counties, has grown, although by much less.
The pace of uplift in the Sierra is measured only in millimeters, but when California experienced bone-dry seasons between 2003 and 2010 and pumping increased up and down the Central Valley, the High Sierra rose by about 10 millimeters, the geophysicists say. That's nearly half an inch during those seven years alone.
During that same period of increased pumping, instruments at Parkfield in Monterey County detected unusual clusters of earthquakes along the quake-prone San Andreas Fault there.
The unexpected links between the periodic drainage of the Central Valley's aquifer and the rise of the mountains that increase stresses on the San Andreas fault zone are reported in the May issue of the journal Nature.
Its authors are a team of Earth scientists led by Colin Amos of Western Washington University and includes Roland Bürgmann of UC Berkeley and William Hammond of the University of Nevada in Reno.
GPS sensitivity
The remarkable ability to measure tiny changes in the height of mountains is made possible by the extraordinary sensitivity of advanced global positioning systems, similar in principle to the GPS devices that tell car drivers where they're going in unfamiliar cities, block by block.
Hammond and his colleagues at the Nevada Seismological Laboratory regularly analyze signs of the Earth's movements from more than 12,000 GPS stations around the world. For this study, the team focused on 566 stations in California and Nevada.
"The whole Earth is elastic," Hammond said, "and when it moves even slightly we can measure it."
Amos, the study's lead author, explained the connections.
"As winter snows melt and rains fill the aquifer each year, the enormous weight of the water pushes the Earth's crust downward beneath both the valley and the mountains," he said. "Then as pumping drains the aquifer, particularly in dry years, the crust springs upward - mountains, valleys and all - and the rocks rebound like elastic."
Amos calculated that the amount of water pumped from the great aquifer since 1860 would be enormous, weighing roughly 175 billion tons, more than enough to fill Lake Tahoe.
'Real eye-opener'
"The periodic stress on earthquake faults would be very small, but in some circumstances even such small stress changes can be the straw that breaks the camel's back," Bürgmann said. "The stresses from the rebounding mountains would give just that extra force needed to unclamp the (San Andreas) fault and encourage, not only small earthquakes, but also larger ruptures to occur."
"This is a real eye-opener," said James Famiglietti, a water resource expert and director of the UC Center for Hydrologic Modeling at UC Irvine who has long studied the great aquifer's long-term drainage issues and its seasonal water losses. He called the study's conclusions surprising and valid.
"The whole role of fluids and seismicity is still poorly understood. They have identified a real link between human activity and earthquakes," said Famiglietti, who was not part of the study.
"It forces us to consider not only the role that large groundwater mass changes can play in earthquake frequency, but by extension, the roles of water management decisions in times of drought and climate change."
Source: SFGate.
Pure Water Gazette Fair Use Statement
Water News: What's Happening in the World of Water
Sunday 8 June was World Oceans Day, an event to raise global awareness about threats to the oceans and promote marine conservation. The special day has been recognized by the United Nations since 2008. Read all about it in the Pure Water Gazette.
Don't forget that National Garden Hose Day is less than two months away.
The LA River
Some big news came out of Los Angeles last week regarding the LA River. The US Army Corps of Engineers is recommending a more expensive restoration plan—in the neighborhood of a billion dollars—that it had previously rejected in favor of a less expensive alternative.
The new plan would restore about 11 miles of the river and would include multiuse spaces like bike paths and connections to public green spaces. The funding—if Congress approves the plan—will come jointly from the city of Los Angeles, the state of California, and the federal government. Most of the federal share will come from the Army Corps of Engineers.
The Los Angeles River is more than 50 miles long, running from the San Fernando Valley to the Pacific Ocean at Long Beach. Much of it was paved or lined with concrete decades ago to serve as a flood control channel by moving runoff quickly to the ocean. The newly adopted plan involves widening parts of the river, restoring the natural channel and the habitat that was lost, and creating wetland areas.
The Arroyo Seco at its confluence with the Los Angeles River north of downtown Los Angeles. Read the rest in the LA Times.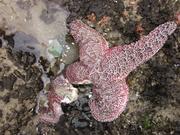 Sea star disease growing on Oregon Coast. A mysterious disease that causes sea stars to disintegrate is exploding on the Oregon Coast. Monitoring of tide pools along much of the coast shows the number of sea stars affected has jumped from just 1 percent in April to as high as 50 percent.
Gold-mining in Alaska. Five gold-mining projects have been proposed on the British Columbia and Alaska watershed, threatening important salmon populations and pristine rivers.
SAUSALITO, Calif.—Record numbers of distressed sea lions have washed ashore in California for a second straight year, the latest example of a marine mammal facing severe problems amid what biologists say is overfishing and other human-caused strains on the world's oceans.
From January through May, a record 367 California sea lions have been admitted to the Marine Mammal Center here just north of San Francisco, nearly five times the average. In Southern California, more than 600 sea lions—more than twice the average—have been taken in so far this year, after a record 1,600 were treated last year.
The problem may have implications for humans, researchers say. "Sea lions are living and feeding on the same resource as humans are," said Shawn Johnson, director of veterinary science at the Marine Mammal Center. "If they are starting to have problems, that shows there could be a problem with the ocean."
California's drought. The state's residents cite a broad range of causes for the drought, ranging from a lack of rain and snow and people using too much water to insufficient storage and climate change. Despite recognizing the problem, the majority seem reluctant to spend money for water resource development.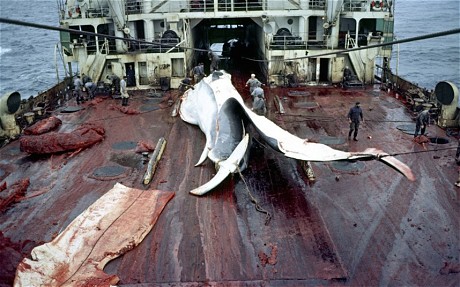 The untold story of Britain's whale hunters. The vast abandoned whaling station at Leith Harbour on the island of South Georgia was once home to hundreds. Now strident red signs on the rotting quays and on the beaches tell all comers to leave: the wind-smashed buildings are too dangerous, and the asbestos in the whale-processing machinery too toxic.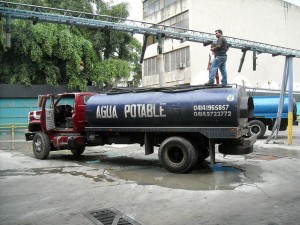 Venezuelans thirsty in a land of abundant water. Although Venezuela has 520 long rivers, taps often run dry, many poor neighborhoods depend on tanker trucks, water rationing remains a reality, and in some areas water quality is very poor.
High levels of nitrates turning up in Hastings drinking water. The amounts of nitrates leaching into groundwater beneath the city of Hastings are approaching levels that could result in serious health effects for very young infants, officials said, reviving calls to build a new water treatment facility.
Study finds snowfall crucial for river water flow. Scientists at the University of Bristol in southwest England have warned that a reduction in snowfall due to warmer climate would have a negative effect on the total amount of water flowing through rivers in areas that depend on snow as a major water source. (Does it really take a group of scientists to figure this out?)
Texas regulator clears gas company over alleged methane contamination, The amount of methane in many private water wells in North Texas has increased since 2011 but this rise cannot be linked to oil and gas drilling operations in the state.
Water contamination causes deadly diarrhea outbreak in South Africa, Water contamination in the northwest province of South Africa has led to a diarrhea outbreak that killed three infants and sent dozens more to hospital.
Major changes and $5 billion improved Milwaukee, Menomonee and Kinnickinnic rivers: special report. When Marsha Burzynski moved to the city in 1985, the Milwaukee River downstream of Locust St. through downtown looked gray and thick from stagnant water and an accumulation of dirt, trash and sewage. This is a success story in river cleanup.
Microcystin: The Toxin from Lake Algae
After heavy spring rain, scientists are expecting harmful algal blooms on Lake Erie again this summer.
And that means water treatment plant operators will once again be looking for ways to make sure the toxin the algae can produce, called microcystin, doesn't get into drinking water.
Microcystin can cause liver problems, gastrointestinal illness and irritated skin.
There are still no state or federal requirements for testing for algal toxins in water plants or set procedures for removing them from raw water, said Dina Pierce, Ohio Environmental Protection Agency spokeswoman.
"Generally, the state laws follow the federal regulations," she said. "So there hasn't been any change at the federal or state levels regarding algal toxin."
Although water plants are not required to test for microcystin, most water plants along Lake Erie's Western Basin and inland lakes affected by harmful algal blooms do, Pierce said. OEPA has reached out to plant operators on testing and to keep them updated on what kinds of treatments have been most effective, she said.
Harmful algal blooms have been a problem on Lake Erie since the early 2000s, and 2011 was the worst bloom on record. No blooms have been reported yet this year, and they generally do not become an issue until late summer.
Excerpted from The News-Messenger (OH). Read the rest here.
More information from the Pure Water Occasional.
Sewer rates may rise another 80%. In a related algae story, from Stockton, California, excessive nitrate runoff is creating algae that clogs pipes and canals and creates foul tastes and odors, and potentially increases water treatment costs for millions of Californians.
Craig Welch has resigned from Pure Water Products shipping department. See Craig in action in this Deep Ellum (Dallas) video.
Pure Water Products this week announced the resignation of veteran shipping clerk Craig Welch who is leaving to devote full time to his music career. Most will know Craig as lead singer of the celebrated 90's punk rock group Brutal Juice. Pure Water Products at the same time announced the hiring of a new employee, Kristen Lewis, to work in phone sales and order processing. Call to buy something and you'll get to talk to Kristen.
There are always water main breaks. This week in Huber Heights (Dayton), a home was flooded and car windows broken by a major water main break. And the Insurance News Net ran a story on compensation for water main break victims.
This week's water polo scores were 6-3, 2-1, 3-1, and 4-2.
In Cape May, NJ a Coast Guardsman spent 14 hours on a water tower before he was finally convinced to come down.
You'll surely want to know that there is a bill in the New Jersey legislature that would make salt-water taffy the state candy.
A Guide to Small Inline Water Filters
Small disposable inline water filters provide an easy way to add a water filter almost anywhere. They can be used as stand-alone filters or can be added to existing filters.
Typical uses:
Refrigerator filter, to remove chlorine or chloramine from city water.
Add-on filter, to raise the pH or add mineral content to water from an undersink reverse osmosis unit.
Add-on filter to protect an existing undersink filter or RO unit from sediment.
The final or "polishing" stage of an undersink reverse osmosis unit.
An inexpensive independent undersink filter to improve taste and odor of city tap water.
The most common format for small inlines today is with quick connect (a.k.a. John Guest) fittings, but they can still be installed with plastic compression fittings (Jaco style) or conventional copper compression fittings. They come in 6" length, 10", and larger. By far the most popular size is the 10". They can be installed with inexpensive clips, or they be laid on the floor, or even, because of their light weight, installed on a vertical tube like an undersink faucet line without additional support.
Here are the fitting styles available.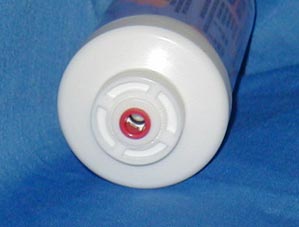 The filter above has what is currently the most popular connection method. The 1/4" quick connect above is used widely for refrigerator filters and reverse osmosis postfilters. Simply push in the tube until it "hits bottom" and the connection is made. This filter comes from the factory with quick connect fittings built in. These are virtually leak proof when used with plastic tubing because when the filter is replaced, the fitting is also replaced. To release, press in on the collet (the red ring) with your thumbnail or other release tool and pull the tube out. These fittings can be used with copper tubing, but they work much better with plastic. The fitting in the picture is a straight-in fitting, but you can make a 90 degree fitting easily by using a fitting called a plug-in elbow: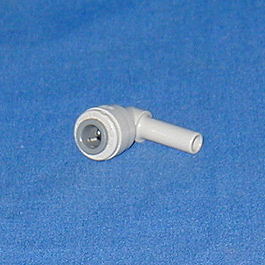 The same filters can be purchased with female threads. Below is a standard 1/4" threaded filter: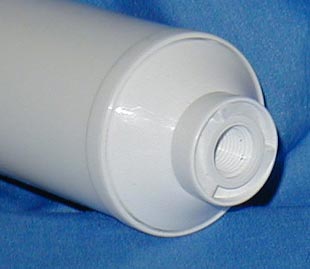 The threaded filter can be used either with quick connect fittings added, with "Jaco" plastic compression fittings, or with standard hardware-store grade metal compression fittings. Just telflon tape the threaded portion of the fitting and screw it into the filter.

Metal Compression Fitting
Quick Connect Elbow
Jaco Plastic Compression Fitting
Inline filters can serve as stand-alone taste/odor/chemical filters. They can raise the pH of acidic water. They can protect appliances like coffee makers and ice machines. They can remove lead and heavy metals. They can remove sediment. Carbon inline filters come with standard GAC, coconut shell GAC, and in several carbon block styles.
Inline filters available from Pure Water Products.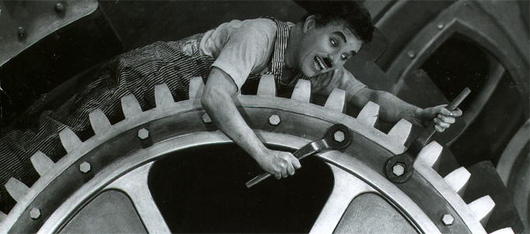 Please visit our RO Parts Page for tanks and accessories.
Thank you for reading. Please come back next week.
Places to Visit on Our Websites in the meantime.
Garden Hose Filters. Don't be the last on your block to own one.
Model 77: "The World's Greatest $77 Water Filter"
"Sprite Shower Filters: You'll Sing Better!"
An Alphabetical Index to Water Treatment Products
Our famous whole house Chloramine Catcher
Pure Water Occasional Archive: Sept. 2009-April 2013.
Pure Water Occasional Archive: April 2013 to present.
Write to the Gazette or the Occasional: pwp@purewaterproducts.com
Please Visit
The Pure Water Gazette – now in an easier to navigate format.