Support for our resisters in Canada
We hand delivered 6,000 of your signatures to consulate officials requesting that Kimberly Rivera be allow to stay in Canada. The judge in Kimberly's appeal has yet to rule.
GI outreach cards and stickers available
A new "GI Outreach Pack" of info cards and stickers is now available ($10 donation). For larger quantities, contact us--we'll provide them at or below cost in support of your efforts!
Iraq War resister Robin Long is finally free!
Meet Robin at SF Bay Area events tomorrow, Thursday in San Francisco and Friday in Marin. Also: Join us in Oakland, CA next Tuesday, July 21 for a mailing pizza party!
Court-martials set for resisters at Ft. Hood
Afghanistan War resister Army Sgt Travis Bishop's court-martial is scheduled for August 14, 9:00 am. Supporters are encouraged to attend. Army Spc Victor Agosto is tentatively set for a August 12 trial. Donate to Victor's defense. As of today, 34 supporters have donated $1,554. Est. need: $3,500
More info: "Afghanistan War Resister to Put the War on Trial"
by Dahr Jamail, Truthout. July 14, 2009 (link)
---
Support for resisters in Canada at SF Consulate
By Courage to Resist. Posted July 13, 2009
Courage to Resist and supporters delivered 6,000 signatures in support of Kimberly Rivera and all war resisters seeking refuge in Canada on July 8th. After a vigil in front of the Canadian Consulate in downtown San Francisco, the gathering made there way upstairs to make their case directly to a representative of the consulate. Watch Bill Carpenter's 6:30 min. video.
The following day in Toronto, Canada, the federal judge in Kimberly Rivera's appeal to remain in Canada "reserved his decision." Following the hearing, Kimberly stated, "I shouldn't have to destroy my family for deciding not to destroy somebody else's family."
It's not to late to add your voice. Sign the statement "Dear Canada: stop the deportation of Kimberly Rivera... [and] allow U.S. war resisters to stay in Canada," and we'll mail the letters to Canadian officials on your behalf.
---
GI outreach info cards and stickers now available
By Courage to Resist. July 14, 2009
Courage to Resist organizers and supporters have been reaching out to military personnel for a few years now. However, we have always had a last-minute scramble to figure out what materials to use when heading out to a nearby base, event, or going through an airport where GI's are likely to be.
To help solve that problem and make outreach efforts easier, we're now producing and distributing GI outreach info cards and stickers by the thousands that highlight contact information for Courage to Resist, Iraq Veterans Against the War, and the GI Rights Hotline. We're asking for your help in get these into the hands of military personnel!
We are offering the "GI Outreach Pack" of 100 info cards (tri-folding 3.5"x6") and 10 stickers (yellow vinyl, 3" sq.) for a $10 donation. For significantly larger quantities, please contact us--we'll provide whatever quantities you can use at near cost or less. Along with our recent PDF leaflet, "Questioning the war? You are not alone," the new GI Outreach Pack provides an easy way to start outreach efforts in your community.
Also: New GI resister buttons are available featuring recent objectors (set of four for a $10 donation), and we've updated the Courage to Resist info cards (4"x9") with new photos of resisters as well. GI Outreach packs, resister buttons, Courage to Resist cards, and more, are all available from our orders page.

---
San Francisco Bay Area receptions for Iraq War resister
Robin Long is Free!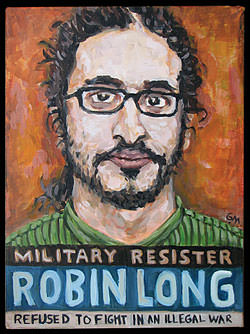 You are invited to meet this extraordinary American. US Army Spc Robin Long traveled to Canada in 2005 to resist deployment to Iraq. In July 2008 Canadian authorities deported him—the first such deportation since the Vietnam War. He has been imprisoned for the last year. Robin was released just last week on July 9, 2009.
Thursday, July 16 at 6:30 pm, San Francisco, CA
Veterans War Memorial Building, 401 Van Ness Ave, 2nd Floor
Co-sponsored by Courage to Resist, Iraq Veterans Against the War and Veterans for Peace #69. Endorsed by War Resisters League-West.
Friday, July 17 at 7:00 pm, Kentfield, CA
309 Kent Ave. near the College of Marin
Courage to Resist hosted dessert potluck party. Call 415-461-3662 for more info.
These free events are fundraisers for Courage to Resist's work in support of current Afghanistan GI resisters Travis Bishop and Victor Agosto (Ft. Hood, TX), and Dustin Stevens (Ft. Bragg, NC).
Robin Long portrait above-right by Gregory Moore. Additional painting of GI resisters, including Agustin Aguayo, Camilo Mejia, and Suzanne Swift, are available for viewing here.
Also: Mailing & Pizza Party, Oakland, CA
Tuesday, July 21 from 6:00 pm to 10:00pm
3945 Opal St. (at 40th St.) at the Courage to Resist workspace
Help Courage to Resist stuff, stamp and mail our national fundraising newsletter.
---