SHOP HOURS
Monday: CLOSED
Tuesday: 12 - 6
Wednesday: 12 - 6
Thursday: 12 - 7
Friday: 12 - 6
Saturday: 10 - 6
Sunday: 12 - 4

 

 

 

 

Be sure to let your sweetie know that you would rather have yarn than flowers this Valentine's Day.  They can even come in and we will help them make a special yarn bouquet or gift basket just for you!

 

 

 

 

 
We don't have any new yarns this month, but we do have new colors in some of your favorites!  First up is Jitterbug.  Colinette is moving to a direct-to-consumer onlymodel, meaning that we will no longer be able to carry Jitterbug in the shop, but we did get one last order of this terrific yarn.  Jitterbug is a sturdy 100% superwash merino wool with 400 yards per extra large 150g skein.  It's three plies are twisted pretty tightly, so this can still be considered a fingering weight yarn.  It's great for some nice warm socks, but Jitterbug is also popular for shawls and kid's clothing.  I think it would make a really nice
Little Sister Dress
.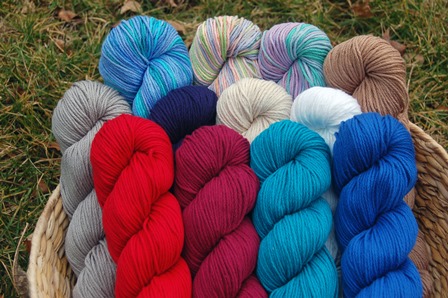 Next up is Avalon.  We added this yarn last year and you seemed to love it so much that we're adding 5 new solids and 3 new varigates for a total of 16 and 6 varigates to choose from.  Avalon is a worsted weight 50/50 blend of cotton and acrylic.  It's really nice for kid and baby items or for anyone allergic to wool.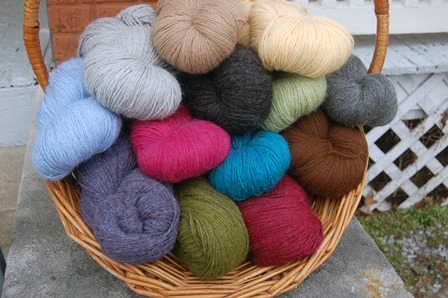 This yarn is one of Sarah's favorites.  She likes it so much she's currently working on her fourth sweater out of it.  It's Heather Prime Alpaca.  It's 100% prime alpaca that comes in big 8 oz skeins with 660 yards each.  It's a sport weight yarn and we have it in 6 natural and 14 heathery dyed colors.  It's wonderful for sweaters, shawls, hats, mitts, cowls and other acessories and we have it on good authority that it makes a nice blanket when held double.  Some great patterns for this yarn are
Manu
(cardigan),
BeauB
(cardigan),
Coraline
(cardigan) and
Easy Folded Poncho
. 
We were thrilled to get a huge box from Madeline Tosh!  We've got a dozen new colors in Tosh Merino Light, the popular single ply fingering weight 100% superwash merino wool.  We've also got 6 new colors of A.S.A.P., the bulky single-ply 100% superwash wool.  And we've got 4 new colors of Tosh sock, a plied fingering weight 100% superwash wool.  Just look at how delicious these colors are!
S
arah Has put together some kits for making the popular
Baable Hat
.  These kits include enough yarn for one adult hat including a nice big pompom.  The yarn is Cestari 2-ply, a woolen spun aran weight yarn made from Targhee sheep raised in Virginia.  Sarah took the natural grey and dyed it in colors especially for use with this pattern.  The Babble Hat is a fun and quick knit and the fair isle is not overly complicated for such a charming result!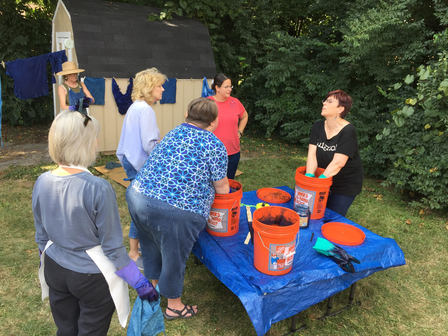 Mark your calendars for April 9 & 10, it's time for some Indigo dyeing!  The indigo plant has been used to create deep, beautiful blues for thousands of years.  We are offering two resist workshops, Batik and Shibori, the day before, and borth include the dye workshop in their price with an additional savings if you sign up for both resist workshops.  For those who only want to dye, you can sign up for the Indigo Workshop on its own.  You can reserve your spot and pay for the classes 
here
.  The facebook event is
here
.
Shibori Wrap
Saturday, April 9th, 10am-12pm $45
Batik
Saturday, April 9th, 1-4pm $55
Indigo Dyeing
Sunday, April 10th 1-5pm $35
Sign up for both Shibori Wrap and Batik for only $85!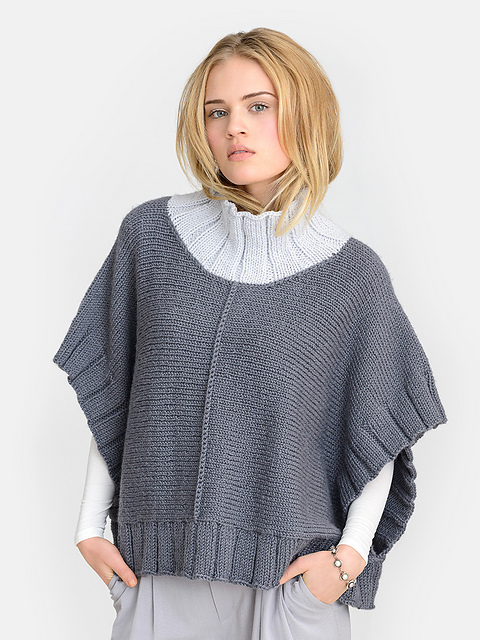 It's not too late to join us for the Two Harbors Poncho knit-a-long.  This poncho is simple to knit and uses 5 skeins of Blue Sky Alpacas Extra on size 10 needles.  This luscious yarn is 55% baby alpaca and 45% fine merino for a really lovely springy yarn that is wonderful to knit with.  
The knit-a-long will be every Thursday in February from 12-1:30 and is free and open to all levels of knitters.
If you are part of a knitting group that meets regularly and would welcome new members, please post about it on our community bulletin board in the shop.
The yarn of the month for February is actually two yarns: Pixie Dust and Cast Away by Knit Collage! These two yarns are similar because they are both thick and thin hand core spun yarns. Pixie Dust is a blend of 67% wool, 20% mohair, 12% silk and 1% polyester with 35 yards per 140 gram skein. Cast Away is 100% wool with 68 yards per 100 gram skein. Some patterns for Pixie Dust are the
Pixie Dust Earflap Hat
,
Cocoon Pixie Cowl
, and the always popular
Pixie Dust Lap Blanket
.  Some patterns for Cast Away are the
Cozy Cast Away Wrap
,
Snuggle Bear Mittens
,
Zig Zag Throw
,
Stranded Cowl
(shown above) and
Perfect Slouch Hat
. Or if you want to use both yarns together, there's the
Marled Cowl
(shown below) that uses one skein of each. Many of these patterns are available free in the shop with purchase of Knit Collage yarns.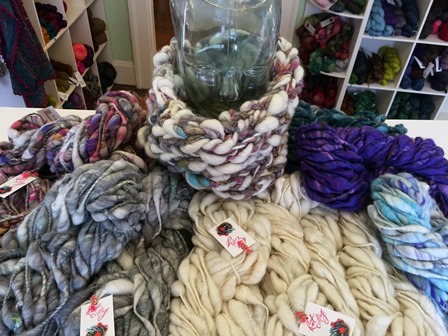 Featured Upcoming Classes
 

 

 

 

 

 

Magic Loop Knitting in the Round Without Double Pointed Needles $20

 

Come learn to knit a pair of arm warmers on one long circular needle using the magic loop method. You will need a set of 32-40" US6 needles, 50g of worsted weight yarn, and two stitch markers. This is an intermediate class so you will need to be comfortable knitting, purling, increasing and decreaing. Experience using dpns is not required, but recommended.

This class was rescheduled from February 6th and will now be February 13th!




Saturday, February 13th 2-4pm

 

 

 



This is an intermediate class so you will need to be comfortable knitting, purling, increasing, decreasing and using dpns. We will be making a small sock in class so you will need about 50yds of worsted weight yarn and a set of US5 dpns. You can also use circular needles for this class if you are already familiar with the magic loop.

Saturday, February 20th 12-2pm




 

 

 

 
 

 

 

Goat Milk Soapmaking Workshop ($25)

 

Join Sarah and learn about different kinds of soap making! Resources will be provided and active participation encouraged. During the workshop we will make two cold processed soaps, one with goat's milk and one without. We will also explore adding colorants, essential oils and exfolliants to further enhance our soaps. Participants will have some input on the scent. Each participant will get a bar of each soap made during the workshop.

 

Sunday, March 13th 4-6pm