Trump Rally a Huge Success
The Friday night visit by Presidential Candidate Donald Trump was a rousing success with crowd estimates running between 12,000 and 15,000 according to the Edmond Sun and the Oklahoma Police Department.
Of course the Oklahoman downplayed the size of the crowd, claiming only 5,000 attendees. Mainstream media has downplayed crowd sizes, taken pictures of empty seats after supporters rushed forward to greet Trump or to follow him to his vehicle, and the press got a sound boo-ing from the crowd after the majority of them refused to pan the crowd with their cameras after Trump called for them to do so. The crowd was quite hostile to the media sitting up on the raised platform and you could tell that they did not like the negative attention one bit. Contrary to the Oklahoman's estimates over 12,000 people RSVP'ed using the online Eventbrite system for the event and thousands more simply showed up as the area was open and no ticket was required for entry into the stage area.
Trump supporters started showing early that day and by 4:30 pm the seats were all filled, as was the front section back to the press booth, and both fences were crowded with families carrying Trump signs. By the time Trump began speaking around 6:30 pm the crowd had swelled, even behind the band shell stage where supporters had gathered to see Trump arrive and leave.
Trump spoke of his positions on the issues, his reluctance to fore warn on what he would do on foreign policy matters saying that negotiation required keeping some things close to the chest. Trump pulled no punches telling the crowd why the country was in the shape it is in and freely blaming those politicians that have and are letting the country down.
What came across was that Trump is no great public speaker but his speech rang with sincerity and honesty. The crowd was extremely diverse, old, young, white, black, Asian, some Hispanic, and all socio economic ranks were obviously present from the button down banker types to the blue collar workers and middle class families.
A handful of protesters gathered outside one of the State Fair gates spewing hate toward Trump's outspoken comments on illegal aliens, joined by Bernie Sanders and Hillary supporters. But compared to the thousands that actually paid for a ticket into the State Fair these protestors simply weren't that motivated nor was their message gaining any traction with the fair attendees. No doubt criminals will protest once good government begins to crack down on their crimes.
Trump has a very simple website with only two position statements, one on the 2nd Amendment and the other on illegal immigration. But those two issues coupled with the fresh, plain speaking campaigning has Trump winning all of the national polls and most of the state polls even where the state has candidates running like Jeb Bush and Rubio.
One very refreshing absence was GOP Vice Chairman Estela Hernandez and the Oklahoma County GOP officials, all of which are pro illegal immigration and currently reeking of public disdain after their despicable antics against the now resigned but popularly elected State GOP Chairman Randy Brogdon. No doubt Hernandez, Daren Ward, and Evelyn McCoy would have come across as whores in church had they dared to show up much less try to speak at the event. State Rep. Mike Christian and State Senator Ralph Shortey both spoke and endorsed Trump but you could tell that the crowd was a bit reserved having professional politicians speaking. Both did well though and the crowd remained open minded and polite.
Trump spoke for just over 45 minutes before heading back for the three hour flight. He had flown in from New York on his private jet, landing at Wiley Post Airport where he was greeted by the media and crowds of supporters.
One thing is rock solid evident, the mood of the country has turned against professional politicians and political hacks like Estela Hernandez, Tulsa County GOP Chairman Michael Ford, Oklahoma County GOP RINOs Evelyn McCoy and Daren Ward. The two front runners alone are carrying more polling results than all of the other fourteen candidates.
The message is loud and clear: Politicians have ruined this country and it is time to turn to real people that say what they mean and mean what they say. When Trump wins the presidency by a landslide, one that we believe will echo the Ronald Regan landslide, Trump will have a bully pulpit to get citizens behind his agenda and the moral authority to get things moving regardless of how much opposition is thrown in his way. The man is tough enough to prevail, is willing to throw the Washington elite under the bus, and he is going to trample anyone standing in his way thanks to a massive political base. Professional politicians will follow his lead as well, that is what they do, monkey see monkey do, and they will either surf the Trump revolution or get crushed in its path.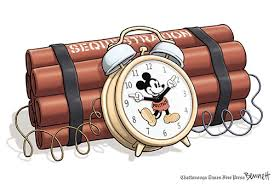 Tick Tock…Tick Tock…. Day of Reckoning Coming
for Tulsa County Sheriff Stanley Glanz?
More scandal for embattled Sheriff Glanz after it was found that over half of the reserve deputy's files were missing mandatory training hour records and annual firearm qualification documentation after an internal audit was conducted. Nine of the advanced reserves also failed to meet minimum service hour requirements. The 13 page audit report showed that 64 of the reserves out of 112 were lacking documentation or had failed to achieve the requirements between 2008 and 2014.
When problems like missing or outdated ID documents were figured into the results only 20 out of 112 had complete records. All but three had cleaned up their problems prior to the September 15th deadline and eight others were found to have resigned earlier this year. The Sheriff's office had to obtain records from CLEET in order to fix the deficiencies and the three that had not fixed their problems prior to the deadline were going to be asked to resign.
Reserves are required to maintain the same 23 hours of training needed by full time deputies and to qualify with their side arms annually
The Sheriff's Office stipulates that reserves must maintain the same level of annual training required of full-time, paid deputies, which is 23 hours of continuing training plus two hours of training specifically in mental health issues. The reserves continue to be shut down since the May 12th decision to close the reserve force pending an investigation after Tulsa reserve deputy Robert Bates shot a man being restrained by other officers, claiming that he mistook his gun for his Taser. The 74 year old was one of the "pay for play" reserves, donating huge amounts of money and equipment in return for getting to play police officer. Bates has plead not guilty to second degree manslaughter in the death and is set to go before a jury on February 8th 2016.
Sheriff Glanz has been fighting the Grand Jury probe into his office and reserve program since the petition began being circulated, racking up $23,000.00 so far in legal bills that will be paid by Tulsa County taxpayers. The current bill is not final as more billings for hearings and research have yet to be submitted by the private law firm representing Glanz.
Another statement was released showing and additional $12,839.00 in charges for work done in part of June, not counting the hearing at the end of June where Glanz asked the Court to dismiss the Grand Jury Petition. Glanz claims that seized assets and contract service fees will be used to pay the legal bills but as money is fungible tax dollars will be used to replace the expenditures.
The public prevailed at the late June hearing then Glanz appealed to the Oklahoma Supreme Court on July 14th where he would have attempted to have the Grand Jury Petition struck down. The Supreme Court refused to hear the case and by July 21st Grand Jurors were sworn in and began investigating Glanz and his department.
Glanz generated a lot of ill will and controversy when he used public dollars to pay the private attorneys when he had his own inside counsel and the District Attorney's office available. Glanz was forced to testify last Wednesday before the Grand Jury, spending three hours answering questions about the 2009 internal investigation that found massive problems in his reserve deputy program including allegations of falsified records, special treatment of pay to play deputies, and intimidation of subordinates over their refusal to cover up problems with the deputies or the program.
Glanz exacerbated the issues after the Bates shooting by refusing to accept accountability for not addressing the problems in 2009 and for some ill considered statements attempting to defend his friend Robert Bates. The Grand Jury lists five grounds for removing Glanz from office:
habitual or willful neglect of duty, gross partiality in office, oppression in office, corruption in office and willful maladministration.
The Grand Jury began meeting on August 4th and has worked 17 days so far and has interrogated 24 current and former Sheriff Department employees.