Cover Photo: Khalif El-Salaam (Washington Sundodgers) makes the grab past Tyler Crouse (Utah Zion Curtain) at President's Day Invite 2017. Photo by Stephen Chiang. 
Dear ,
Ahh, spring. Longer days and warmer weather signal the beginning of outdoor practices, local pickup games, club tryouts, and college postseason. We hope the season's been treating you well! We have a few exciting announcements, as well as a note on our website's pricing updates, plus lots of recent and upcoming coverage.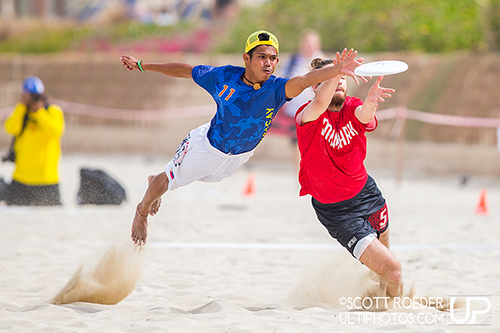 We are so excited to announce that we'll be providing
Official Event Photography
for this year's World Championships of Beach Ultimate in Royan, France in association with BULA! Photographers Taylor Nguyen, Brian Canniff, and Robert Engelbrecht will capture all of the sand-flinging action, which will be available on UltiPhotos.com. Be sure to follow all the action at the
live WCBU website
during the tournament, June 18th-24th.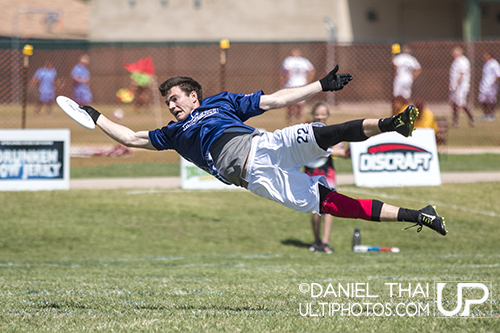 The AUDL season has kicked off, and we're happy to be partnered with the Dallas Roughnecks again! Daniel Thai will be the Roughnecks' Official Team Photographer throughout the season, covering every Dallas home game. You can check out his coverage so far on our
Roughnecks page
. 
Over the past 9 years, your support has helped UltiPhotos grow from just a few passionate photographers to a company with over 40 active photographers providing professional photo coverage of nearly 100 events per year ranging from local tourneys to the highest levels of national and world competition. 
We have held pricing increases back for several years to keep licensing our photos as accessible as possible for players and parents.  However, as an inevitable result of growth and increases in our own product and operations costs, we need to make modest price increases to many of our digital and print website products. 
The biggest change to note is our new product categories for digital downloads for personal use licensing.  As a result of the significant investments by our photographers in advance pro camera technology, both the quality and image size have increased substantially since 1998, yet our pricing for digital products has remained largely unchanged (and in some cases has become significantly underpriced compared to the larger market). Our new digital personal use licensing line-up helps better match pricing to the expected usage while keeping prices affordable: 
| | | |
| --- | --- | --- |
| | | |
| Web-size Download (800px personal use license) | 800 pixels on the long edge | Standard resolution image for personal web page, social media, and phone use |
| Low-res Download (1600px personal use license) | 1600 pixels on the long edge | 4"x6" printing; higher resolution image for digital use above |
| High-res Download (5MP personal use license) | 5 megapixels | Up to 8"x10" printing; larger image size when cropping needed for digital use above |
| Full-size Download (personal use license) | Full image size (up to 36 megapixels) | Large format / highest resolution printing possible as a function of the actual image size |
Pro Tip: If you want to "tip" an UltiPhotos photographer in appreciation of their great work, please consider "upgrading" one of their photos to the next largest product size for purchase.
As we strive to make great ultimate photography accessible, our prices will still remain far below industry averages while sustaining our company. As always, we are happy to offer volume discounts to anyone who inquires.  
Without the support of our great customers, UltiPhotos would not be possible.  Thank you so much for your support in the past and in the future!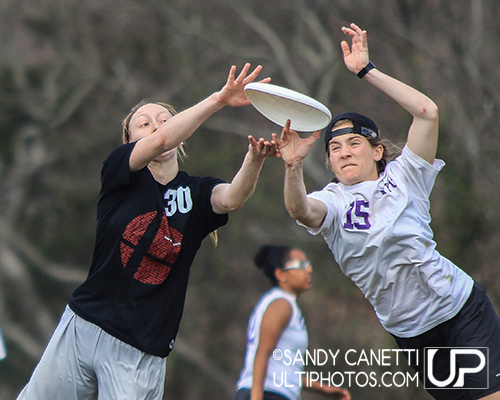 The college postseason is well underway, with conference championships all wrapped up and regionals beginning this weekend. There's still time to contact us about covering your team at a postseason tournament! Reach out at events@ultiphotos.com for details. 
Check out what we've covered so far and what we have lined up for the postseason: 
Conference Championships
Regional Championships
Metro East DI
Atlantic Coast DI
Great Lakes DI
South Central DI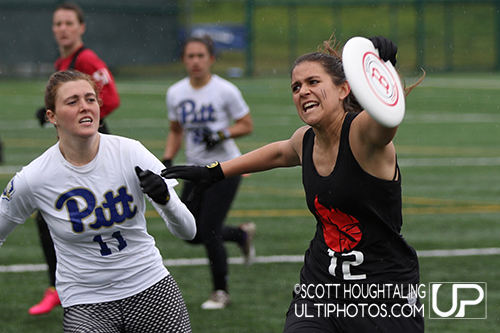 Prior to the postseason, we officially covered a record number of college tournaments this year! Thanks to all of our supporters for helping us reach more tourneys every year. Check out our coverage of those and more below. 
We have even more official youth tournament coverage (and more) to look forward to! If you don't see your team's next tourney below, check out the next section on bringing UltiPhotos to your tournament!
Indiana Girls' HS State Championship Showcase Game: 4/29 in Indianapolis, IN - Naomi Slaughter
Colorado HS State Championships: 5/6-5/7 in Commerce City, CO - Ken Forman (select Sunday coverage)
South Region HS: 5/13-5/14 in Fayetteville, NC - Christina Schmidt
Texas HS State Championships: 5/13-5/14 in Round Rock, TX - Conrad Stoll
Wisconsin HS State Championships: 5/27-5/28 in Madison, WI - Mark Olsen 
NY Warm Up: 6/3-6/4 in Middletown, NY - Sandy Canetti & Jolie J Lang
Bringing an UltiPhotos photographer to your event is as much an amenity to the tournament as it is to the players. Increase your tourney's visibility and reputation with an elite photographer - g
et in touch at 
events@ultiphotos.com
!
As always, tell your TD if you'd like to see UltiPhotos at your next tournament! 
Sincerely,
The UltiPhotos Team