September 2017 Newsletter
 

SHOP HOURS
Monday: CLOSED
Tuesday: 12 - 6
Wednesday: 12 - 6
Thursday: 12 - 7
Friday: 12 - 6
Saturday: 10 - 6
Sunday: 12 - 4

 

 

 

 

 

September means it's time for...




ReBelle's Anniversary Sale!

Saturday, September 9th from 10am-6pm




If you've been to our anniversary sale before, you know you don't want to miss it. ReBelle is turning 11 and we are celebrating as usual with 10% off your entire purchase (that means even more savings on the clearance shelf and the yarn of the month), treats, prizes, and custom dyed yarn.  The Facebook event is

here

.

 

 

 

This year, w

e've selected a chunky 100% baby alpaca with 105 yards per 100g skein. You can almost see how soft and silky it is in the picture. We have dyed up a limited number of skeins which will be available on Saturday, they are $11 each with a limit of one per crafter. If you are looking to put your precious hand dyed skein with a solid color, the Baby Alpaca Chunky from Cascade will pair with it nicely.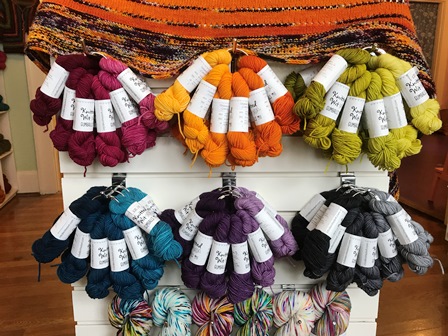 Check out these great gradient packs from Knitted Wit! They are made with their Victory fingering yarn (of which we also have six colorways). This yarn is 100% superwash wool with 380 yards/115g per full size skein and 45yds/13g per gumball skein.
The main pattern we love with this yarn is the
FLOTUS shawl
. It uses one full skein of the Victory sock (or other sock yarn) and one gumball pack.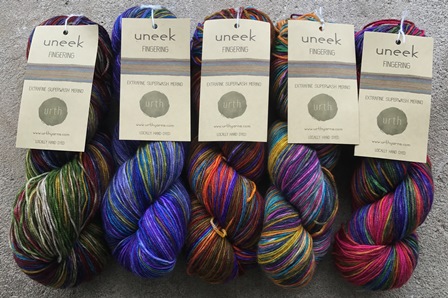 Next up we have Uneek Fingering. It's a nice supersoft 100% superwash merino with 435 yards per 100g skein. What makes it truly enchanting is the way it knits up, it's hand dyed self striping and if you use it to knit a plain pair of socks you won't regret it.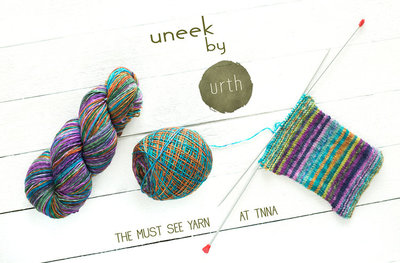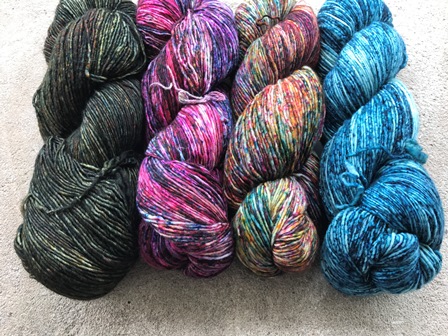 Malabrigo has added several colorways of speckles in Mechita. This yarn is a single ply of 100% superwash merino with 420 yards per 100g skein.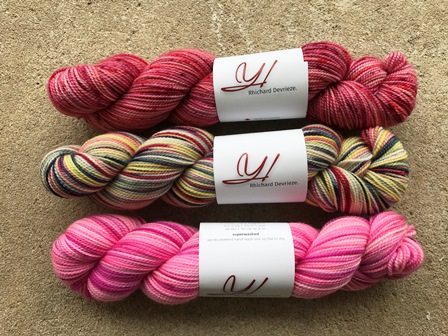 We have a few new colors in Peppino by Rhichard Devrieze. Peppino is very similar to Koigu KPPPM, with 225 yards per 65g skein of 100% superwash merino. We also have a fresh batch of Peppino mini-skeins.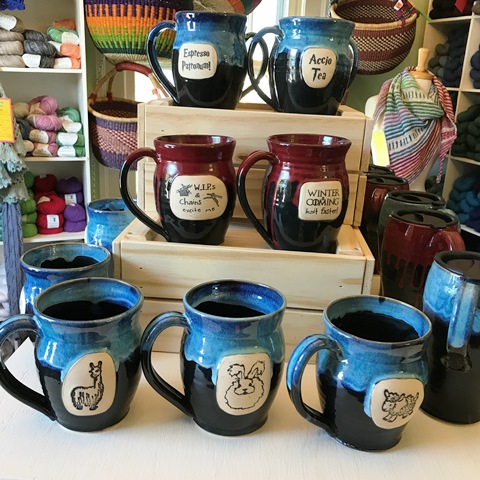 From Pawley Studios, right here in Kentucky, we have a fantastic collection of mugs and yarn bowls featuring cute and clever yarn-related designs.
Come pick out your favorite one to take home!
The yarn of the month for September is Eco Wool and it's a whopping 20% off for the month of September (and yes, you can put the anniversary sale discount on top of that for a total of 28% off at the sale!)
.  Eco Wool is a lofty Aran weight 100% wool that comes in a giant 478 yard/250 gram skein. It looks nice on anything from a US size 8 to 10.5 and even looks great doubled and knit on an 11-15. We've used it for sweaters, blankets, diaper covers, felted bags and stockings. Here are some patterns that are perfect for this yarn: Fireside Sweater, Fireside Pullover, Carson Throw, Hemlock Ring Blanket, Umaro (blanket, yarn held double), Kanoko Pants (baby), Ramona Cardigan, Idlewood (pullover) and Pet Love Christmas Stocking (pictured above).
Featured Upcoming Classes
 

Robyn is teaching a class in Fiber Street Art at the KYuke festival. No experience necessary! Robyn will be discussing the use of knitting machines and recycled materials. At the end of the class participants will be installing street art in downtown Lexington. This class is a part of the KYuke festival, but participation in the rest of the festival is not required. To sign up, go here.

 

Saturday, September 16th 3:30-6:30pm






 

 




In the first class you will learn to cast-on, knit, and bind off so you can start on a basic scarf or hand mitts. The second class will cover purling, increasing, decreasing and pattern reading. The price includes two classes, yarn and needles.

Wednesdays, September 13 & 20, 6-8pm
 

 

 

Granny Square Class ($15)

 

Come learn to crochet 3 different styles of granny squares with Raellyn. You will need to bring a size H or I crochet hook and worsted weight yarn. Beginners welcomed, but basic crochet experience is needed.




Sunday, September 17, 4-6pm