Good Morning CSA Members,
  Today, Wednesday July 20th is a CSA pick up.  Your share will be available for pick up from 4-7pm at your chosen pick-up location. 
    To the victors the spoils, or so it has been said, yet nothing spoiling around here just the victory that July is nearing its' completion.  A beautiful rainbow capped the evening last night and the full moon was almost bright enough to harvest by, though we thought better and slept instead.  
Tally Ho!

Lettuce
Zucchini
Rainbow Carrots
Dragon Tongue Heirloom Beans
Parsley or Chives
Kale
Garlic
Fruit share: cherries & apricots
Egg Share: pick-up every week
Flower Share: sunflower mix bouquet
Bread Share: this week
Coffee Share: this week
Wine & Cheese share: this week
Babette's Share: this week
Coming next week: beets, head lettuce, zucchini, beans,  and more.....
    The fires are out, the air breatheable again, the memory of planes filled with slurry now distant and in newsprint, while the baby pigs search Matilda for fresh milk.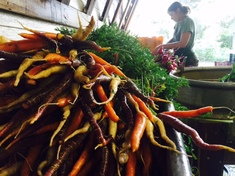 We are almost at the summit of the season.  The part where you are finally done planting for three months ahead and you can now concentrate on the task at hand.  The mowing of spring and early summer greens has ended and the cover crop of winter is finally in the ground.
    The Mangalitsa hogs at the farm store are nearing  the end of the cycle and the chickens are picking away at the grasses next door.  All the while the ducks quack and greet farm store customers with diligent disdain for entering into their habitat and the sunflowers are taller than humans which brings wonder to the Kids campers that it all started with a seed the size of your pinky nail.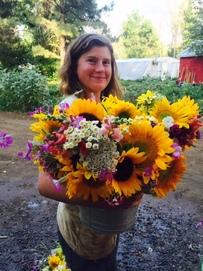 Enjoy!
Kale Chips

(

how to convince your children to eat Kale)


 

 



Carrot Soup with Fennel

(what to do with those fennel bulbs and carrots still in the cooler drawer)
Tabbouleh

(a wonderul salad which pairs wonderfully with the wine and cheese)

Zucchini and Carrot Muffins

(when in doubt, muffin it)



-fresh kale, washed and roughly chopped
1. Preheat oven to 200 degrees F.
2. Drizzle kale with olive oil until coated.
3. Bake for 1 hour or until lightly browned and crispy. Season with sea salt.
Carrot Soup with Fennel

-1 medium fennel bulb coarsely chopped
-2 tablespoons coconut oil
-1 1/2 pounds carrots, sliced
-1 garlic clove
-1 teaspoon kosher salt
-1/3 cup orange juice
-2 tablespoons grated fresh ginger
-3/4 cup natural cashews
-6 cups water, divided
1. Combine all ingredients plus 3 cups of water in a blender or food processor and blend until smooth.
2. Transfer to a large pot, add remaining water, and mix well.
3. Simmer over low heat for 30 minutes, stirring occasionally.
Tabbouleh

-1 cup bulghur wheat
-1 1/2 cups boiling water
-1/4 cup freshly squeezed lemon juice (2 lemons)
-1/4 cup good olive oil
-3 1/2 teaspoons kosher salt
-1 cup minced scallions, white and green parts (1 bunch)
-1 cup chopped fresh mint leaves (1 bunch)
-1 cup chopped flat-leaf parsley (1 bunch)
-1 cucumber, unpeeled, seeded, and medium-diced
-2 cups cherry tomatoes, cut in half
-1 teaspoon freshly ground black pepper
 

     Place the bulghur in a large bowl, pour in the boiling water, and add the lemon juice, olive oil, and 1 1/2 teaspoons salt. Stir, then allow to stand at room temperature for about 1 hour.

     Add the scallions, mint, parsley, cucumber, tomatoes, 2 teaspoons salt, and the pepper; mix well. Season, to taste, and serve or cover and refrigerate. The flavor will improve if the tabbouleh sits for a few hours.


    Dragon Tongue beans, AKA Dragon Langerie, and Merveille de Piemente, are botanically a part of Phaseolus vulgaris and a member of the Fabaceae family. Dragon Tongue beans are a Dutch wax type bush bean. They are also a dual purpose bean, qualifying as a fresh snap bean when young and as a shelled bean when fully mature.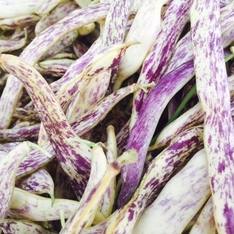 Dragon Tongue beans are an open pollinated heirloom variety originally cultivated in the late eighteenth, early nineteenth century in the Netherlands. From there it spread to France and England then eventually to the New World. Dragon Tongue beans have been naturalized in a wide range of climates throughout the Americas, having the ability to adapt to heat and humidity. Like many beans of Phaseolus vulgaris Dragon Tongue beans are not tolerant of frost and seeds should be planted well after the ground has thawed for the season. Fresh snap beans will be ready for harvest sixty days after planting and shelling beans by one hundred days. Dragon Tongue beans are a great bean variety for home gardeners, known for their productive, high yields and incredible flavor.
    We hope that the first installment of Pain Natural was sufficient for your taste buds and that you have enough room for another loaf!
    The assortment of breads (porridge, baguette, rye) as well as the confessional reminding pastries (butter cakes, brownies, cookies) are always available at the Farm Store on Wednesday evenings.  For those of you that jumped onto the gluten train and purchased a bread share we have your loaf ready.  If you are curious about the share and would like to try before you buy, please stop into the farm store and see what all the hubub is about.
IBY Rose
:  Grown and produced in Burgenland, Austria, the IBY Rose is made from the local varietal Blaufrankisch, a red varietal known for dark berry notes, rich tannins and a characteristically- Austrian spice component.  This is a great summer evening rose, made to enjoy with food or alone!
Pawlet:  Located in the hills of Vermont's Champlain Valley, Consider Bardwell is a 300 acre farm and the first cheesemaking co-op in Vermont, founded in 1864.  A century later, Angela Miller and Russell Glover revitalized the tradition with their herd of goats and the milk from neighboring farms cows.  The pasture is rotationally grazed and produces the sweetest milk for cheesemaking.
    A raw Jersey cow milk cheese made in the style of an Italian toma, aged for 4-6 months.  Creamy and tangy in flavor and an extremely versatile cheese that highlights the delicious milk.
-via your resident cheesemonger and all things delicious Jessica Beer
p.s.  if you have any additional questions or comments about the wine and cheese please stop in to Cured (1825 Pearl Street in Boulder) and their knowledgeable staff will assist you.

Cheers!

    Courage is grace under pressure.
-Ernest Hemingway
Zuccini and Carrot Muffins
-1/4 cup walnut or vegetable oil
-3 tablespoons agave syrup (we prefer dark)
-1 egg (shell rinsed)
-3/4 cup unsweetened applesauce
-1 cup grated carrots
-1 cup grated zucchini (we did 1 1/2 cups instead)
-1 cup Bob's Red Mill Gluten Free Biscuit and Baking Mix
-3/4 cup sorghum or Bob's Red Mill Gluten Free Biscuit and Baking Mix
-2 teaspoons baking powder
-1 teaspoon cinnamon
-1/2 teaspoon iodized salt
-1/3 cup chopped, toasted walnuts
1. Preheat oven to 400°F.
2. In a large bowl, combine oil and agave. Beat in the egg, then add apple sauce and whisk to combine. Fold in carrots and zucchini.
3. Meanwhile, combine flours, baking powder, cinnamon, garam masla (if using), and salt in a medium bowl.
4. Add dry ingredients to wet and stir until just combined. Fold in toasted walnuts, if using.
5. Divide the batter evenly among 12 paper-lined muffin pan cups.
6. Bake 12-16 minutes, or until a toothpick stuck into the middle of 1 muffin comes out clean.



Cure Organic Farm

7416 Valmont Rd.
Boulder, CO 80301
cureorganicfarm@yahoo.com
www.cureorganicfarm.com