The Pure Water Occasional for July 21, 2014
In this full-summer (but rainy in Texas) Occasional, you'll hear about the predicted rise to prominence of professional water polo, the drought vs. code enforcement dilemma, the causes of beach contamination, food allergies, drug-resistant bacteria, and the fate of lost shipping containers. Water towers with pictures and water towers infested by buzzards. China's engineer-created water problems and the US military's ongoing war on water. Learn why two water softeners are more efficient than one, why the wealthy at Palm Springs are pissed at the Indians, and, as always, there is much, much more.
The Pure Water Occasional is a project of Pure Water Products and the Pure Water Gazette. To read this issue on the Gazette's website, please go here.
Editor's Note: Recent water news has been filled with stories about polluted beaches in the US and around the world. Most sources report the bad news but do little to explain the causes. We've excerpted some information from an excellent article by Andrea Gelfuso Goetz from the Denver Post that gives a good explanation of the reasons for the nation's dirty beaches. --Hardly Waite.
A study conducted by the environmental organization NRDS found that as many as 10 percent of U.S. beaches are unsafe for swimming, contaminated with storm-water runoff and sewage overflow that cause illnesses like "stomach flu, skin rashes, pinkeye, respiratory infections, meningitis, and hepatitis."
How does raw sewage end up on U.S. beaches? Every time it rains, water running over lawns picks up fertilizer, pesticides and animal waste. Water running over streets and parking lots picks up oil, gas and spilled chemicals. In cities, storm runoff is channeled into sewers that discharge polluted water directly into water bodies, including the river your dog likes to splash in. While some municipal storm water is pumped into sewage treatment plants, they are overwhelmed by heavy storms, so storm water is discharged, untreated, into rivers and lakes. On the coast, storm water is discharged into the ocean, polluting U.S. beaches, sometimes making swimmers sick.
Doesn't environmental regulation protect us from water pollution? The Environmental Protection Agency sets water quality standards for U.S. waters based on the intended use of each water body. For example, water used for drinking has to meet the toughest standard. Water used for swimming and fishing has to be clean enough so people don't get sick. The Clean Water Act regulates "point sources" of pollution (water pollution that comes out of pipes), but only weakly regulates "non-point" sources, pollution that is created when water runs over the ground. So we end up with polluted beaches.
But untreated storm water affects more than beaches. The EPA tracks water-quality data for all types of water bodies, including rivers and streams, lakes and reservoirs. Compared to other water bodies, beach water quality is just ducky. While 90 percent of U.S. beaches meet EPA standards, less than half of U.S. rivers and streams are safe for swimming and fishing. What's worse, only 28 percent of U.S. rivers and streams have been assessed — so we don't know whether 70 percent of U.S. rivers and streams meet the standards. How about lakes and ponds? Nationally, only 43 percent have been assessed. Of those, 67 percent are "impaired" and don't meet public health standards. Most disturbing, of the U.S. lakes, reservoirs and ponds used to raise fish for food, 74 percent are impaired.
To see water quality information for all U.S. water bodies, go to the EPA's website, click on the science and technology menu, and the waters tab.
Source : Denver Post.
Pure Water Gazette Fair Use Statement
Fifteen Million Americans Now Suffer From Food Allergies: Pesticides in Tap Water May Be the Cause
Editor's Note: The following is excerpted from an excellent article by Sarah Glynn published in Medical News Today. We would add that the persistent presence of dichlorophenols in tap water provide a strong argument that every home should have an effective carbon drinking water filter. — Hardly Waite.
This information was published in Annals of Allergy, Asthma and Immunology, the scientific journal of the American College of Allergy, Asthma and Immunology (ACAAI), and came from a team of experts led by Elina Jerschow, M.D., M.Sc., ACAAI fellow and allergist. According to the researchers, high levels of dichlorophenols, a chemical used to chlorinate water and also used in pesticides, is linked to food allergies when it is found in a person's body. Dr. Jerschow explained:
Our research shows that high levels of dichlorophenol-containing pesticides can possibly weaken food tolerance in some people, causing food allergy. This chemical is commonly found in pesticides used by farmers and consumer insect and weed control products, as well as tap water.
Data of 10,438 people from the United States National Health and Nutrition Examination Survey 2005-2006 was analyzed for purpose of the study. Dichlorophenols was found in the urine of 2,548 subjects, but 2,211 were further observed. Results showed that 411 of the 2,211 analyzed had a food allergy, and 1,016 had an environmental allergy. Dr. Jerschow said:
Previous studies have shown that both food allergies and environmental pollution are increasing in the United States. The results of our study suggest these two trends might be linked, and that increased use of pesticides and other chemicals is associated with a higher prevalence of food allergies.
Although drinking bottled water may seem less risky for developing an allergy than drinking water from the tap, the results from this research indicate that making the switch to bottled water may not be effective in preventing allergies. "Other dichlorophenol sources, such as pesticide-treated fruits and vegetables, may play a greater role in causing food allergy," added Dr. Jerschow. Between 1997 and 2007, food allergy increased by 18%, according to the CDC (Centers for Disease Control and Prevention). A previous report, published in Journal of Allergy and Clinical Immunology, found that 7.5 million Americans have at least one food allergy, and young black children seem to be at the highest risk. The most frequently reported food allergens are:
peanuts
tree nuts
wheat
milk
eggs
soy
shellfish
fish
Full Article. Gazette Fair Use Statement
Water News for the Week of July 21, 2014
Starting this summer students from the city's public schools will participate in the Water Tank Project. The aim of the project is not only to raise the attractiveness of city rooftops, but also to raise awareness of global water issues. In addition to the artwork, the program will include education programs, tours and the Water Tank Project will cover the tanks that top New York City's buildings with artwork by both professional artists and social media campaigns to help the public learn more about water.
Sewage-treatment plants described as giant 'mixing vessels' after scientists discover drug-resistant bacteria in British river. Superbugs resistant to some of the most powerful antibiotics in the medical arsenal have been found for the first time in a British river-- with scientists pinpointing a local sewage-treatment plant as the most likely source.
In Dayton, Ohio, an economic comeback is in the water. U.S. census numbers reveal that in recent years the population has been virtually flat or shrinking in places like Ohio, Illinois and Michigan, where there's tons of water. The biggest areas of growth are in the west and southwest, where water scarcity is a growing emergency.
Flattened mountains, poisoned rivers: China's engineers face off against engineer-created problems. China's rapid industrialisation has not been accompanied by a respect for the natural environment - but, as pollution problems become so severe that they can no longer be ignored, engineers are beginning to dream up ambitious solutions to problems created by ambitious modernity.
Mussels: Unlocking secrets to what's in the water. An unusual research study is helping to find many of the underlying causes for contaminated beaches and toxic fish; the very issues making headlines again this month and prompting Gov. Jay Inslee to unveil big new policy initiatives.
Lost Shipping Containers
There are about 5 to 6 million shipping containers crossing the sea at any time. The United States imports more stuff this way than any other country. That's nearly 20 million rectangular metal boxes a year that include anything from toxic chemicals to Cheetos.
And, since the blustery sea is indifferent to our humanly possessions, it is estimated that thousands of containers are lost every year along international shipping routes due to big waves or wind gusts. Sometimes they wash up on shore, but what happens to the containers that land at the bottom of the sea? No one really knew. Until now.
To find out what happens to lost containers, read the rest of the article and view a Huffington Post video.
Drought in California's Palm Springs Area Draws Attention to Nestlé Plant on Morongo Reservation
As California's drought worsens, some residents living near the Morongo Band of Mission Indians in the Coachella Valley west of Palm Springs are directing their ire at the tribe for its leasing of land to a Nestlé plant.
The plant draws water from the tribe's springs in Millard Canyon. As water woes increase in a desert region where all aquifers are declining, tensions are rising among some residents who live near the reservation. They question the Morongo Nation's right to sell water to Nestlé Waters North America.
"Why is it possible to take water from a drought area, bottle it and sell it?" asked Linda Ivey, a real estate appraiser from the nearby city of Palm Desert, in a story that appeared in the Desert Sun on July 15. "We've got to protect what little water supply we have."
It's important to note that the Coachella Valley maintains 124 golf courses, one of the largest concentrations of courses in the nation, according to the Desert Sun. And homes in nearby Palm Springs use twice the amount of water as the average home, Agence France-Presse reported in 2012.
Read the full story from the Indian Media Today website.
Occasional Predicts: Professional Water Polo Will Rise to the Top as a Spectator Sport
Unfortunately, professional water polo has been shunned for so long that the sport's leaders now fear for its survival. That is not the conclusion one might come to at the Margaret Island Aquatics Complex, which has been outfitted with 8,000 seats and fills to capacity on most nights, especially when hosts and world champions Hungary play.
It is quite unfair that water polo gets so little attention. Most Americans, a recent poll indicated, are hard pressed to name more than half a dozen current water polo stars. The Occasional predicts that this will all change—that water polo is the sport of the future. For doubters, we remind you of the rapid rise to prominence of the garden hose pull, a sporting event that was hardly known outside Minnesota just a few short years ago.
Budapest's Six-Story Swimming Complex, a hotbed of Water Polo activity.
In other water sports activity this week, in spite of their lack of experience at the sport, the Southern Tree Service LimbWalkers, "screaming with each downward chop," won by half a paddle length over the Beaufort Water and Sewer Authority Sewer Ratz in Saturday's Annual 59th Beaufort Water Festival Raft Race. See details.
In spite of persistent efforts to get rid of them, black vultures have taken the water tower of the city of Lake Alford, Florida as their home.
According to the RightWingNews website, a Southern California couple who scaled back watering due to drought received a letter from the city of Glendora warning that they could face fines if they don't get their brown lawn green again. The San Gabriel Valley Tribune reports the letter from the code enforcement bureau says the dry grass could be a 'potential public nuisance problem.' Michael Korte and his wife Laura Whitney were told if they don't revive the lawn they could be hit with up to $500 in fines and possible criminal action.
Military Water Pollution--A National Disgrace
"Almost every military site in this country is seriously contaminated," said John D. Dingell, a soon-to-retire Michigan congressman who served in World War II. "Lejeune is one of many."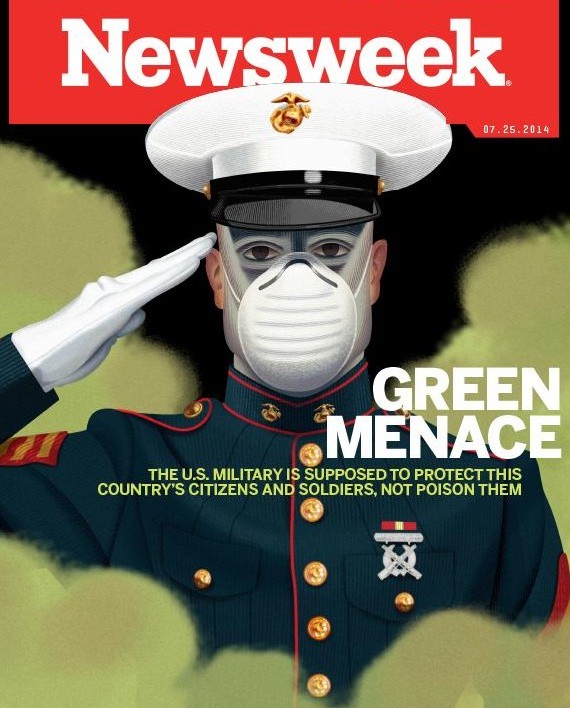 Over the years, the US military has been the unquestioned leader in water pollution. Newsweek for 7-25-14, cover pictured above, features an excellent study by Alexander Nazaryan of the military's environmental crimes over recent decades, concentrating on Camp Lejeune in North Carolina. As the article points out, however, Camp Lejeune is only a small part of the ugly picture of the US military's war on the environment.
These military sites form a sort of toxic archipelago across the land: Kelly Air Force Base in Texas, where the Air Force allegedly dumped trichloroethylene (TCE) into the soil, part of what some residents call a "toxic triangle" in south-central Texas; McClellan Air Force Base near Sacramento, California, which includes not only fuel plumes and industrial solvents but also radioactive waste; Umatilla Chemical Depot in the plains of northern Oregon, where mustard gas and VX nerve gas were stored; Rocky Mountain Arsenal, a onetime sarin stockpile just north of Denver; the Massachusetts Military Reservation on Cape Cod, poisoned by explosives and perchlorate, a rocket fuel component that is emerging as a major Pentagon pollutant. But because Camp Lejeune's abuses and betrayals are more flagrant, it has become a test case for whether the military can defend our soil without ruining it.
Here is a cut from Newsweek's detailed study, which we urge you to read in its entirety. It focuses on one of many health problems, male breast cancer, caused by the military's lack of environmental concern.
Men With Mastectomy Scars
Camp Lejeune, built in 1941, is 240 square miles in area, making it the largest Marine base east of the Mississippi River, and the second largest in the nation after Camp Pendleton, near San Diego. Situated at the swampy mouth of the New River, it is an ideal training ground for the sorts of amphibious assaults that are the Marines' favored means of arriving at the war dance. From here, leathernecks shipped out to the Pacific theater of World War II, Korea and Vietnam. The Marines killed in the 1983 terrorist bombings of a barracks in Beirut had also come from Lejeune; a memorial to them sits in a wooded glade at the camp's edge.
In the decade before Camp Lejeune was built, the chemical industry saw the advent of the "safety solvents" TCE and tetrachloroethylene (PCE). These were chemical cleaning agents of the organochlorine group: TCE was a degreaser for machine parts; PCE was used in dry cleaning.
A military base is rife with machines. This sounds obvious, but it's quite striking when you see all those tanks and airplanes and amphibious vehicles that seem perfectly poised for battle, even on a humid North Carolina afternoon when overseas wars might as well be waged in another galaxy. Part of that readiness is cleanliness, which your average military mechanic would have achieved, until very recently, by washing grease-covered parts in TCE.In 2004, a former Marine named Joseph Paliotti decided to clear his conscience. He was on the verge of perishing from cancer, and he suspected that Camp Lejeune had something to do with it. He had spent 16 years working on the base. "We'd come down there, we used to dump it: DDT, cleaning fluid, batteries, transformers, vehicles," he told his local television station. "I knew sooner or later something was gonna happen." Several days later, Paliotti died.
The cleaning of clothes might seem like a more innocuous matter, but that's only because most people don't have much of a notion of how a dry cleaning enterprise works. You surrender your clothes; they return immaculate. Magic! As it happens, the chemicals that cleanse a shirt are about as carcinogenic as those that cleanse an airplane engine.
One of the places at Camp Lejeune that could care for your uniform was ABC One Hour Cleaners, which sits just a few yards from the edge of the base. The dry cleaners, which started operation in 1964 and ended on-site cleaning service in 2005, did nothing different from what thousands of other dry cleaners did around the United States: It used PCE as a cleaning solvent. Some of the PCE sludge was used to fill potholes, while much of the liquid waste ended up in the ground, just like the TCE used to clean machines across the road, behind the barbed wire.
The TCE and PCE percolated through the sandy soil of Camp Lejeune and into the shallow Castle Hayne aquifer, from which the base drew its water. Also flowing into the soil was benzene from the Hadnot Point fuel farm. A component of gasoline, benzene is an aromatic hydrocarbon. Its name does not mean that it is pleasantly pungent. Instead, the deceptively alluring adjective refers to the strong carbon-hydrogen latticework of the compound. Like other aromatic hydrocarbons, benzene is a carcinogen that readily enters the body.
An Associated Press report found that as "late as spring 1988, the underground tanks at Hadnot Point were leaking about 1,500 gallons of fuel a month—a total of more than 1.1 million gallons, by some estimates." Eventually, the leaked fuel would form an underground layer 15 feet deep, a carcinogenic band essentially covering the aquifer from which the drinking water was drawn.
Among those who drank that water was Mike Partain, who was born on base. His father was a Marine, as was his grandfather. He lived in the same housing complex where the Ensmingers conceived their daughter Janey. He joined the Navy but was discharged because of a debilitating rash that would overtake his body without explanation. Eventually, Partain ended up in Tallahassee, Florida, where he was a teacher and, later, an insurance adjuster.
Then married with four children, Partain was in good health until the age of 39. (He has since divorced; "my marriage didn't survive Lejeune," he told me.) Toxins, like terrorist sleeper cells, are patient. As he would later write for the website of Semper Fi, a documentary about Camp Lejeune, in April 2007 "my wife gave me a hug before bed one night. As she did, her hand came across a curious bump situated above my right nipple. There was no pain, but it felt very odd." Partain went for tests, which revealed an almost incredible diagnosis: breast cancer.
Male breast cancer is rare enough in the general population, especially for someone like Partain who has no history of the disease in his family. According to the Agency for Toxic Substances and Disease Registry, only about 7 breast cancer victims out of 1,000 are men. Yet it turned out that many other men who'd lived on Camp Lejeune had developed breast cancer: Partain told me that he knows of 85 victims. Several of these aging men, showing mastectomy scars, posed for a 2011 calendar.
Coincidences do happen, even in cancer epidemiology. What looks like obvious causation to some may be just cruel fate, but the overall infrequency of the disease, combined with its relatively high frequency among the men of Camp Lejeune, as well as the other ailments plaguing those who lived on the base, made clear that there was a connection. "This has all the characteristics of a male breast cancer cluster," the noted epidemiologist Richard Clapp said at the time. Camp Lejeune is, in fact, now widely believed to be the largest known cluster of the male variant of the disease.
Source: Newsweek.
Pure Water Gazette Fair Use Statement
Twin Tank Water Softeners Are the Most Efficient Softeners Made
One of the most underrated "green" products available is the twin tank water softener.
Although the initial cost is more, twin softeners can pay for themselves in water and salt savings. They also offer the satisfaction of being the most environmentally friendly of conventional water softeners. A twin softener is essentially two identically-sized water softener resin tanks joined and controlled by a single softener valve. The control valve can be either a timer or a metered regeneration style, with metered being strongly preferred for this type softener.
To dispel a common misconception about twin softening units, the two tanks work one at a time. That is, you don't get double softening. A single softener tank is more than adequate to reduce the hardness of most residential water to virtual zero. The twin unit operates by keeping one of its tanks in reserve. When the capacity of tank one is reached, the control valve immediately puts tank two into service, so that there can never be a time when hard water is being sent to the home, as can happen with single tank softeners. Even when a tank is being regenerated, soft water is being delivered to the home. And, unlike the single tank unit, twin units use soft water for regeneration. This, too, makes the softener more efficient and adds to the life of its treatment resin.
Since the switch from one tank to the other can be made at any time of the day or night, no "reserve" needs to be programmed into the softener. With conventional one-tank units, a certain amount of the tank's capacity--usually about one day's expected usage--is always held in reserve. This is accomplished by simply programming the softener to regenerate a day early. By conservative estimate, this "reserve" requirement is responsible for about 15% of the salt and water used by a single-tank softener. Simple arithmetic tells you that if a softener that regenerates once a week always regenerates one day early, in a year it will simply throw away 48 days worth of its softening capacity. And what is really being tossed away is water and salt.
And money.
Applications Twin tank units are especially good for applications that require a long, uninterrupted supply of soft water. For example, if a softener is used to pretreat hard water for a large reverse osmosis unit, it is difficult to assure that the reverse osmosis unit will not demand water when the softener is regenerating. A twin tank unit solves this problem by providing a never ending supply of soft water. One of our local customers is a yogurt store that needs to protect its expensive yogurt machines from scaling. Yogurt machines run around the clock and it would be very impractical to turn them off so that a conventional water softener can regenerate its resin bed. A twin softener is a perfect solution. It provides an endless supply of treated water with fully automatic operation with no need to maintain a "reserve." Twin softeners are the most water and salt efficient softeners made. They regenerate less frequently because no "reserve" capacity has to be calculated. They have the added advantage of performing the regeneration with softened water, assuring a cleaner and more complete regeneration. Twin softeners are especially useful for applications requiring long service cycles that need an uninterrupted supply of soft water.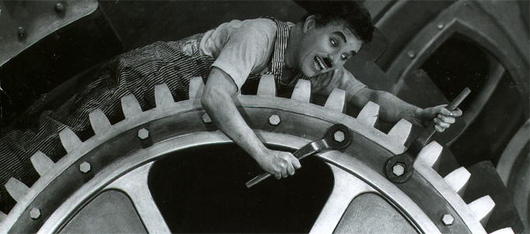 Please visit our RO Parts Page for tanks and accessories.
Thank you for reading. Please come back next week.
Places to Visit on Our Websites in the meantime.
Garden Hose Filters. Don't be the last on your block to own one.
Model 77: "The World's Greatest $77 Water Filter"
"Sprite Shower Filters: You'll Sing Better!"
An Alphabetical Index to Water Treatment Products
Our famous whole house Chloramine Catcher
Pure Water Occasional Archive: Sept. 2009-April 2013.
Pure Water Occasional Archive: April 2013 to present.
Write to the Gazette or the Occasional: pwp@purewaterproducts.com
Please Visit
The Pure Water Gazette – now now with an up-to-the-minute feed of the latest water news.