FREE BRADLEY MANNING!

Rally for Bradley! Sunday at Quantico
Join Courage to Resist and friends to rally in support of accused WikiLeaks whistle-blower Bradley Manning this Sunday, March 20 near the Marine Corps brig at Quantico, VA, where Bradley is being held in pre-trial confinement. Meet at 2pm, Rt.1 and Anderson Rd., Triangle VA (map). Reserve your bus seat from Washington DC (only $10 round trip).

Global days of action, March 19-20
Events in over 20 cities (and counting) around the world to protest the inhumane conditions Bradley has been kept in for nearly 300 days. Free Bradley Manning now!

Bradley facing death with new charge of "aiding the enemy"

Recent campaign highlights

 
---
Rally in Support of Bradley Manning
This Sunday, March 20, 2pm at the Quantico Marine Corps Base in Virginia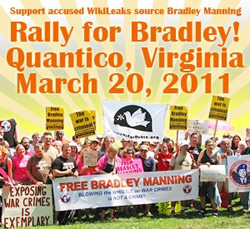 Supporters will gather for a 2pm rally at the town of Triangle (intersection of Anderson Road and Route 1/Jefferson Davis Hwy), then march to the gates of Quantico. Bradley has been held at the Quantico brig in solitary-like conditions for eight months without any meaningful exercise. We stand for truth, government transparency, and an end to our occupation wars… we stand with Bradley! Event endorsed by the Bradley Manning Support Network, Veterans for Peace, Courage to Resist, CodePink, and many other groups.
We will meet at 2pm immediately adjacent to Rt. 1 and Anderson Road. Parking can be found at the Marines Corps Museum. They have HUGE parking lot, there. About 1/4 mile walk. There might also be some parking behind church adjacent to Inn Rd and Rt. 1, behind the rally location.
The day before, on Saturday, March 19th, in Washington DC, supporters of Bradley's will be joining the noon rally at Lafayette Park and march on the White House to "Resist the War Machine!"
Reserve your seat (only $10 round trip) on our chartered bus from Washington DC at couragetoresist.org/bus. Buses will leave from in front of Union Station, Washington DC, at 12:30pm.
Download, view, print and share the event leaflet (PDF)
---
Bradley Manning global days of action, March 19-20
On March 19-20, 2011, thousands will take to the streets to protest the U.S. government's treatment of accused WikiLeaks whistleblower Army PFC Bradley Manning. Bradley has been held in isolation for nearly 300 days.
Last week, US State Dept. spokesperson P.J. Crowley, declaimed Bradley's treatment by the Army as "ridiculous and counterproductive and stupid." He has since resigned.
View details here for the following events:
Atlanta, Budapest, Finland, Fort Snelling, The Hague, Kansas City, London, Montreal, Natchez, New York, Oklahoma City, Phoenix, Portland, Quantico Marine Base/Triangle, San Diego, San Francisco, Sydney, Toronto, Vancouver, Vienna, Washington DC
---
Bradley Manning Faces Death Under New Charge of "Aiding Enemy"
March 2, 2010
"I'm shocked that the military opted to charge Pfc. Bradley Manning today with the capital offense of "aiding the enemy". While the military is down playing the fact, the option to execute Bradley has been placed on the table. It's beyond ironic that leaked US State Department cables have contributed to revolution and revolt in dictatorships across the Middle East and North Africa, yet an American may be executed, or at best face life in prison, for being the primary whistleblower. Millions of Americans, and even more internationally, clearly understand the contribution of Pfc. Manning towards not only freedom of information, but literally freedom itself. It's hard for me to reconcile that with the US Army's additional criminal charges against Pfc. Manning today."
– Jeff Paterson, Courage to Resist / Bradley Manning Support Network