It's been an amazing season at The Old Church and we want to thank those of you who have come to our shows and given us your time; w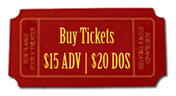 e know how precious it is. As someone who loves our work, we know you'll appreciate this season's finale. It promises to be an evening well worth the effort to put on your pants and come downtown. Featuring some of your favorite storytellers: Lynn Fitch, Lawrence Howard, Lynne Duddy, Warren McPherson, Penny Walter and Frank Engel. Plus,
Roger Paulson and Laurent Nickel will be playing some phenomenal jazz during our Social Hour 7-8 pm. Come, give us a great send off!
May The Narrative Be With You!®