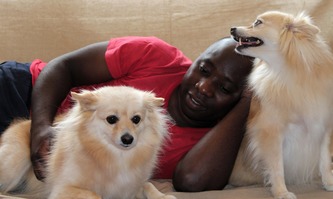 "Dogs do know how comfortable you are with
yourself, how happy you are, how fearful you
are, and what is missing inside of you."
-Cesar Millan, Dog Behavioral Expert

==========================

============
HAPPY ♥ SEPTEMBER

 

♥ BIRTHDAYS
TO EACH OF YOU PRECIOUS
SOULS BORN THIS MONTH!
Thanks to you all for subscribing!
==============

========================
==============

========================
My mom says she only saw my dad weep twice:
when his father died and when his dog died.
Our family's miniature Schnauzer shared a deep

connection with my father. When my dad was
overcome with kidney stone pain, he'd have to
lay on his side the floor. His dog would lay right
Eventually, our dog was diagnosed with kidney
failure and died at six years young.
I wished I'd known about meridian clearing and
the mind-body-emotions connection then.
Perhaps I could have helped my dad or our dog
and extended their quality of life.

All animals instinctively sense the harmonious and
discordant energies in us and other animals. Over
the past months, I've received many pet reading
requests. In all cases, the animals were negatively
affected at least in part by their humans' energies.

You cannot PRETEND joy around your pets.
They know when something is wrong with their
human family. You CAN clear non-beneficial
energies from your animals in TWO minutes,
then recharge their energy systems.
I created
this month's animal-related
extending your animal's quality of life and
well being. Pets deserve emotional health, too!

THANK YOU for SHARING this info with other
folks into holistic well being methods!