Mundelein Community Connection (MCC) is a not for profit organization dedicated to the economic development, historic preservation and healthy community spirit of Mundelein's central business district. Working together we provide an atmosphere where new and established businesses can grow and where families find the hometown they always wanted.
A Message from the Executive Director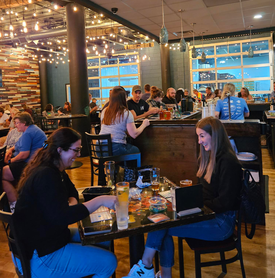 The 2023 MCC Event season has been very successful. Thank you for your support! Starting with the Craft Beer festival in June, which attracted over 1500 visitors, and extending through the last Farmers Market on September 30
th
, we estimate that our core summer events—Beerfest, Park-on-Park, Farmers Market and the Fine Arts Festival have attracted over 15,000 visitors.  In addition, other events that we have facilitated through partnerships with other organizations such as, the Mexican Heritage Festival (Don Paco Productions), the Tighthead Grand Prix Bike Race (Village of Mundelein and Tighthead Brewery), Bingo at the Brewery (GLMV Chamber and Tighthead Brewery), and Saturday Night Boxing on the Plaza (Conquer Fight Club), have collectively attracted thousands more.   And, we are not done yet.   There are two winter events still ahead—Winterfest and Santa's Cottage.
 Favorable weather in the Summer has helped, but it is clear that MCC events are growing.  We are getting positive feedback from or sponsors, vendors, partners and visitors.  We are extremely proud of the quality of these events and the spirit they add to our community.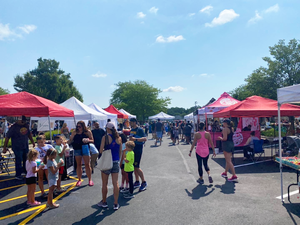 An unexpected bright spot in this year's event lineup has been the Farmers Market.  The move to Saturday mornings proved to be overwhelmingly popular with the community.  The Market averaged 35 vendors per day over the 16 market dates and over 300 customers each day.  The Market has turned into "the place to be" on Saturday mornings. Market Manager, Becca Merkau, has transformed the Market into a family-friendly outing with something for everyone.  The market is over for this year, but we will be back in 2024, once again on Saturday mornings, at the corner of Park and Seymour Streets, from 8 am to noon, June-September.  A special thanks to the farmers market visitors who donated $275.00 towards the All-Inclusive Playground at Kracklauer Park.
Thanks to our faithful business sponsors, members, and everyone who visited an MCC event this summer.
Thank You to Our Summer Event Sponsors
Please support the businesses that have made our 2023 MCC events possible.  This year, 80 different businesses have provided monetary and/or product donations to our summer events.
MCC Winterfest December 2nd

The second annual MCC Winterfest returns on Saturday, December 2nd from noon to 4 pm in the Village Hall Plaza, with an energized line-up of family activities.  Returning again in 2023 are the Frozen Princesses—Elsa and Anna, along with Olaf; Santa's Letter Writing Station; Santa's Cottage; Kiddy Train Rides; Shoot-the-Puck; Fremont Library Story Time; and stage entertainment.  New additions include:  An Opening Ceremony featuring Santa Claus, Food Trucks, Christmas Karaoke, "Kids-Activity" tents sponsored by local businesses—Tonality Brewery, Just Bee You, Action Martial Arts--- and a "Kris Kringle" Market!
Business Sponsorships are needed:  Main Stage - $500; Train Rides -  $400; Princesses - $300;  Shoot-the-Puck - $200; Santa's Writing Station - $200.  Sponsors receive Recognition on MCC Website, Social Media, On-Site Signage; Event Flyers, MCC Newsletter, and Signage at all Santa Cottage dates.
Mark your calendar for Saturday, December 2nd, noon to 4 pm, the day after the Village Tree Lighting and Fireworks ceremony on Friday, December 1st.
Santa's Cottage Opens December 1st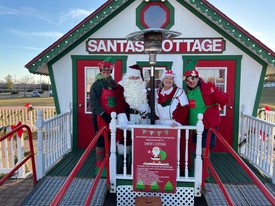 Santa's Cottage will open after the Tree Lighting Ceremony on December 1
st
from 6:30 pm to 8:00 pm.  There is no charge.  Each child receives a "goodie bag" courtesy of the Mundelein business community.  The Mundelein Queens, Mrs. Claus and Santa's Elves are on-hand to greet all visitors.  Cookies and hot chocolate are provided at no charge. 
Santa and company return for Winterfest on December 2nd from noon to 3 pm; and on December 9th and 16th, also from noon to 3 pm. 
Santa's cottage is located under the flag poles at the Village Hall.  Letters to Santa can be placed in the red mailbox in front of the Cottage any time.  All letters with a return address will receive a postcard from Santa. 
Membership Grant Program Sponsored by the Village

Mundelein Businesses DO YOU KNOW:  The Mundelein Economic Development Commission has a grant program to help local businesses pay for the cost of membership to local business chamber organizations like the Lake County Chamber of Commerce, the GLMV Chamber, Mundelein Community Connection (MCC) and other similar business networks.  Local chambers provide a great opportunity to collaborate with business peers, promote business services and receive valuable education to enhance business operations. The intent of this program is to encourage membership by local businesses.  
Applications must be received before March 1st.
Grants of up to $350 are available on a first-come-first-served basis.
Funding is limited on an annual basis.
Registered businesses physically located and operating in Mundelein are eligible.
Priority is given to new applicants.  All applicants must wait for approval of their grant application before purchasing a membership.
MCC is a membership-based organization.  Membership provides networking and advertising opportunities, business exposure at MCC events; link to the MCC website and satisfaction in supporting the growth and excitement in the Central Business District.  Business Membership is $200.00 per year.   (Sar: Please Link to MCC Business Membership Application on the Village website under "Resources and Incentives".)  Use the Village Grant program to pay for your initial Membership.  For further information contact
Taylor Wegrzyn
,
twegrzyn@mundelein.org.
Lure of the Local Art Exhibition - 2nd Annual

The Mundelein Arts Commission's Lure of the Local art exhibition is returning this fall! The exhibition will be open to the public on Saturdays and Sundays from October 14th through November 12th.  The opening reception on October 14th from 6 pm to 9 pm will feature live music and refreshments provided by local restaurants.   The exhibition is located at 420 N. Lake Street (Hawley Lake Plaza), also known as the "Old Walgreens". Lure of the Local is a community-focused exhibition that features local artists from a wide variety of careers and stages of life. This year's theme is "Drawing You In".
"Lure of the Local" refers to our connectedness to a sense of place, the relationship of our interior and exterior environments, and the community in which we have chosen to live, work, serve, and create art. This group art exhibition brings together local artists from Mundelein and Lake County who are in various stages of their careers.
The exhibition space has been generously donated by Hawley Lakes Plaza LLC.
October 23rd – Bingo at the Brewery, 5 pm to 8 pm
October 25th – All Hallows Evening at the Heritage Museum, 4 pm to 7 pm.  Old Time Radio show at 6:30:  Suspense Mystery Theater:  "Sorry Wrong Number" starring Agnes Moorehead.
October 28th – All Hallows Evening at the Heritage Museum, 1 pm to 4 pm.  Old Time Radio show at 3:30, Suspense Mystery Theater: "The Hitchhiker" starring Orson Welles.
November 27th – Bingo at the Brewery, 5 pm to 8 pm
December 1st – Holiday Tree Lighting and Fireworks, 4:45 to 6:30 pm, Village Hall Plaza
December 1st, 2nd, 3rd, 8th, 9th and 10th – A Christmas Carol Musical, Village Hall
December 2nd – Mundelein Winterfest, noon to 4 pm
December 18th – Bingo at the Brewery, 5 pm to 8 pm