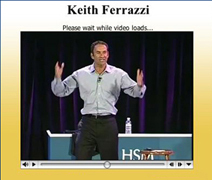 One of the most important tools you can have for promoting your speaking career is a professional, informational online demo video. Even well-known personalties benefit from having a professional video. Here are some tips for making your demo video compelling and helpful for event planners.
Be sure to have at least 2 consecutive minutes of you speaking before an audience.
Introduce your expertise, testimonials, books and media clips but do not make this the bulk of your video. At the most, feature this information for 30 - 60 seconds. Your written marketing materials should spotlight this information. Event planners are viewing your demo video to see your presentation style.
Use professionally video taped presentation clips. Make sure the sound is clear and that the video quality is light (err on the light side - many video clips are too dark for computer viewing), sharp and color corrected.
A Free Communication Skills
Marcia Wieder, America's Dream Coach, is hosting a special free live web-based coaching session where you'll learn:
* How to communicate for success.
* The #1 skill you need to achieve massive success.
* How to deal with the "doubter" within you.
* ... and more!
Join this interactive live web event on:

Marcia is also leading a five day program on how to become a more inspiring and influential speaker. Held in San Francisco from September 21st to 25th, 2011. Learn to speak powerfully about your dreams, ideas or services.
What Do Event Planners Want?
More event planners are requesting complimentary "add-ons" from the speakers they are booking. Popular extras that can help secure a booking include:
• Book signing
• Pre- and/or post-event media interviews
• Onsite press conference
• Pre-event invitation/introduction video recording
• Break-out session
• Attending a VIP event (meal or cocktail reception)
• Pre-event evaluations / data gathering
• Specific industry research
• White paper / articles
• Helping promote the event via social media