Eric Jasinski trial underway
Donate to Eric's defense. Supporters will rally outside Ft. Hood, Texas at 7pm today. "What I saw and what I did in Iraq caused my PTSD," explained Eric as to why he went AWOL in order to get real treatment.
City calls for war resister amnesty
Berkeley, California, City Council recommends universal and unconditional amnesty for Iraq, Afghanistan, and Pakistan war military resisters and veterans (link only)
Marc Hall pre-trial finding overruled
Last week the officer assigned to Marc's pre-trial hearing ruled that 5 of 11 charges be dismissed, and a lesser type of trial be convened, if any. However, the Army has simply overruled this important finding in order to press forward with the far more serious "General" Court Martial. (link only)
Afghanistan war resister free
Former Army Sgt Travis Bishop was celebrated by Seattle-area supporters at Coffee Strong last Sunday after being released from the stockade. Photos below.
---
Army court martial of Eric Jasinski underway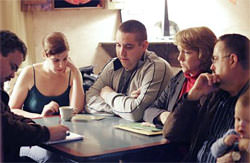 Please donate to Eric's defense at www.couragetoresist.org/eric
This one-time ask will help alleviate the cost of legal representation for Eric and his family. Current outstanding bills are $1,200.
Protest today, March 31, 7pm outside at Fort Hood in support of Eric! East Gate corner of Rancier and Fort Hood St
Courage to Resist. March 31, 2010
The Summary Court Martial of Army Spc Eric Jasinski is currently underway on Ft. Hood, Texas. After months of negotiations with the command, the Army opted to put Eric on trial after all. The outcome of today's court martial is expected to result in 30 days in the stockade without medication or counseling. Supports are gathering this evening outside of Ft. Hood to protest in this court martial and to declare, "Our Soldiers need help, not jail!"
With a military health care system over-stretched by two ongoing wars in Afghanistan and Iraq, more soldiers are deciding to go absent without leave (AWOL) in order to find treatment for post-traumatic stress disorder (PTSD).
Eric Jasinski enlisted in the military in 2005, and deployed to Iraq in October 2006 as an intelligence analyst with the U.S. Army.  He collected intelligence in order to put together strike packets—where air strikes would take place.
Upon his return to the U.S. after his tour, Jasinski was suffering from severe PTSD from what he did and saw in Iraq, and from remorse and guilt for the work he did that he knows contributed to the loss of life in Iraq.
"What I saw and what I did in Iraq caused my PTSD," Jasinski, 23-years-old, explained, "Also, I went through a divorce—she left right before I deployed—and my grandmother passed away when I was over there, so it was all super rough."
In addition, he lost a friend in Iraq, and another of his friends lost his leg due to a roadside bomb attack. Upon returning home in Dec. 2007, Jasinski tried to get treatment via the military.  He was self-medicating by drinking heavily, and an over-burdened military mental health counselor sent him to see a civilian doctor, who diagnosed him with PTSD.
"In late 2008 they stop-lossed me, and that pushed me over the edge.  They were going to send me back to Iraq the next month." When Jasinski went on his short pre-deployment leave, he went AWOL, where he remained out until Dec. 11, when he turned himself in to authorities at Fort Hood, in Killeen, Texas.
With background information previously published by independent journalist Dahr Jamail.
---
Photos of Travis at Coffee Strong cafe following his release last week. Travis intends to return to Texas and kick-start a career in country music.
Courage to Resist. March 31, 2010
Afghanistan war resister Travis Bishop was finally released from the brig at Fort Lewis last week. Travis originally was sentenced to 12 months in prison in a court-martial at Fort Hood, Texas for refusing to deploy to Afghanistan for reasons of conscience. He later received a 3 month reduction in sentence due to a successful clemency application to the Commanding General at Fort Hood, as well as receiving extra time off for good behavior. He served a total of 7 months and 12 days of confinement, as well as a reduction of rank from Sergeant to Private and a pending Bad Conduct Discharge.
While in the brig, Travis Bishop was recognized by Amnesty International as a prisoner of conscience and wrote a blog from jail.
He also received support from hundreds of people from around the world who wrote both letters of encouragement to him but also to military authorities calling for his release. Bishop also spoke out about the bad conditions at the Fort Lewis brig, which resulted in some reforms at the facility as well as Travis being placed on the facility's "most difficult" prisoners list.
---
Please click here to forward this to a friend who might also be interested in supporting GI resisters.