We will be closed on Saturday August 30 and Monday September 1 for Labor Day.
September
Friday September 5 – Open sew, 5 – 9, we provide supper and dessert.

Saturday September 6 Diamond Star – 9 – 3.  This is a repeat class, so if you were unable to take it the first time, here is your chance.  Two part class September 6 & 20.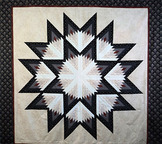 Diamond Star
Saturday September 6 Double Wedding Ring – 9 – 3.  Mary will teach you a unique way to make a double wedding ring quilt.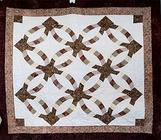 Double Wedding Ring
Monday September 8 1 – 4 or 6 – 9.  I begin teaching an Advanced Beginners Piecing Class.  If you have taken the beginners and are ready for half square triangles, flying geese, mitered corners, and smaller pieces this is the class for you.  You will be making a wall hanging in this class.  This is a 4 part class, September 8, 15, 29, and October 13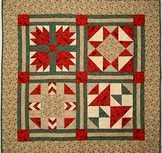 Advanced Beginner
Piecing Academy
 
Thursday September 11 – TT Club

Saturday September 13 – 9 – 3 – Stained Glass Christmas Tree.  Mary will show you how to make this striking tree and sew on bias tape around the edges.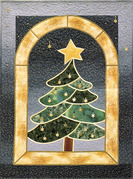 Stained Glass
Christmas Tree
Tuesday September 16 – 1 – 4 or 6 – 9 – Migration – I did manage to get this quilt done and I have decided this needs to be a 6 part class.  September 16, October 7, 14, 28, November 4 & 18. 
Thursday September 18 – 1 – 4 or 6 – 9 – Butterfly Quilt, a sew along. Sew along with Mary while making this attractive multi part quilt. September 18, October 6, 20, November 3, 17, December 1, 15, 29, January 5 and 9.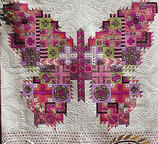 Butterfly
Friday September 19 – Open Sew – 5 – 9 – Brown bag
Saturday September 20 – 9 – 3, Iron Caddy.  You know how when you go to class and class is over and you then realize you should have unplugged your iron ½ hour ago, so now you need to wait for it to cool? This class solves your problem. Lucy will show you how to make an carry bag for your iron that you can actually put your hot iron into.
Iron Caddy
Saturday September 27 – Jelly Roll Race – This is a day to just relax and have fun and make a quilt at the same time.  We will be awarding prizes!!!!  The fun begins at 10:30.  We will go over the instructions and you will begin to sew, these quilts go together fast and easy.  We have ordered jelly rolls for you to choose from, they should be here by the end of the week.  This event is pot luck so bring a dish to share.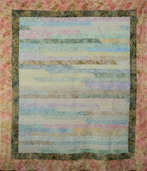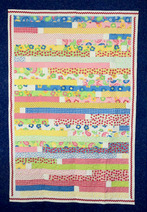 Jelly Roll Quilts
Tuesday September 30 – 10 – 1 – Rockstar – this is a two part class the second class is on Tuesday October 28.  This quilt would be striking in any color wave.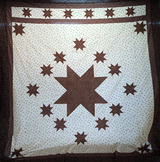 Rock Star
Believe it or not we need to start talking about Strip Night, which is on Saturday November 1 this year. Mary is working on the quilt so that you will have a sample to see.  We have 3 of the fabric choices and are waiting on the 4th to come in.  We should have all 4 choices and cost of kits ready for you within the next couple of weeks.  We already have 16 people signed up and are only taking 22, so if you put off letting us know you are coming, now is the time to give us a shout. Your $25.00 registration fee has to be paid to hold your spot, if we don't have someone's registration fee and we have someone that wants to sign up and pay their fee, you will be bumped. 
On Saturday, September 27 Mary is having an instruction class at 9:30. This will give you plenty of time to get your cutting done. We ask that you pay for your quilt kit at that time. For those of you who don't know, Strip Night is a yearly event here at the Quilter's Nest. It begins at 2:00 and ends at 8:00. We have demonstrations, food, door prizes, and a strip poker tournament!!!