Greetings & Blessings to all
Welcome to our mid-November, pre-feast of gluttony Thanksgiving edition. Quite a few of our readers are in the US where the media is already in a feeding frenzy over which stores will be open
before
the traditional Black Friday get -mauled- at- the mall madness. We don't know about you, but our good selves will NOT be a party to it. Besides, we don't even understand what many of the the door busters are all about: Tab 3 7.0 Tablet with 8GB Memory - huh? One local warehouse store, God bless them, does have a deal on a set of Rubbermaid storage containers. We might go for that - but not before dawn, not before the last Friday of the month - and certainly not before Thanksgiving Thursday!
Onwards...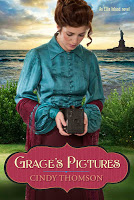 BOOK DRAWING - AND THE WINNERS ARE...
Congratulations to Mary B in NYC, Mary C in Connecticut, Lorraine Scollan in Georgia, Nancy K in Colorado and Rita in Maryland. By now you should have received a personal message from the author Cindy Thompson and you might tave already received your copy of Grace's Pictures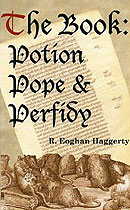 AND ANOTHER GIVEAWAY...
This time around, we are offering a signed copy of Russ' novel 'The Book: Potion, Pope & Perfidy.' Learn more about it here: http://www.irishcultureandcustoms.com/ITheBook.html
If you would like to enter the drawing, please send an email to Bridget with The Book in the subject line:
bhaggerty@irishcultureandcustoms.com
MILESTONES
Last month, we celebrated our 50th wedding anniversary. Thank you so much to everyone who took the time to send us greetings and a special thank you to our daughter Catherine who set a brilliant surprise trap for us. We had announced that we were going to be at our son's pub for a celebratory drink and invited family and friends to join us. Not only did she arrange for a night at a romantic B & B and a limo, SHE flew in from Boston; she then sprang a vow renewal on us when we arrived at the bar, including the minister, ring exchange, flowers, wedding cake - the whole nine yards. It was amazing. And what was also a total surprise was meeting our subscribers the Turleys who drove all the way from South Bend, Indiana to join in the celebration. Herself was moved to tears more than once that evening.
But wait. there's more...
This Friday evening, November 22, we will be at the B-List arpund 7:30 pm to celebrate Russ' 70th birthday - just so hard to comprhend. Once again, we're asking family and friends to stop by and toast this momentous occasion. Herself is still trying to get used to the idea that she'a married to an old man!
.
Enough of the blather...
Is this your first edition? Many thanks for joining us and if you like our musings and meanderings. please feel free to share them with ypur family and friends. And do encourage them to sign up. The more of us, the merrier! And for all of our readers, we hope this issue finds you in good health, good spirits and good company.
On with the update...

IN THIS ISSUE:
Links
Quips, Quotes, Proverbs & Toasts
A Bit of the Wit
Joke of The Week
Did You Know
Riddle
The week That Is
Leave 'em Laughing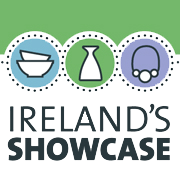 SPONSOR: We are delighted to feature a new sponsor: Ireland's Showcase...
...
a family owned company based in Co Kilkenny. Dedicated to the world-wide promotion of Irish craft and design, they work with well-known names and yet to be famous artisans and crafts people throughout the country. Their collection includes Irish designed and Irish made jewelry, pottery, ceramics, art, sculpture and more - all unique to the hands of an Irish artist, and all unique to the island of Ireland.
http://www.irelandsshowcase.com/

LINKS
JFK's Visit to Ireland
In June, 1963, President Kennedy was welcomed with great love and affection to the home of his ancestors. This documentary follows that historic journey.
http://www.youtube.com/watch?v=M5Hk_EI0Poc
Thanksgiving in Ireland
Created by Ukele Seamus, who says
Happy Thanksgiving to all Irish people - even though you don't celebrate it, you should!
http://www.youtube.com/watch?v=ehRkjFuM_j4
A Thanksgiving gift for our American readers
In appreciation for being loyal members of our Irish Culture & Customs newsletter group, here is a special song by the Irish Tenors. Enjoy!
http://www.youtube.com/watch?v=x3dXCL34aEA
TV Commercial for Tullamore Dew
We must have watched this a dozen times or more. Hope you like it as much as we do - the surprise twist at the end is awesome:
http://www.huffingtonpost.com/2013/11/15/tullamore-dew-ad_n_4283033.html
Shop small - Saturday , November 30
With the exception of major corporations such as amazon, the majority of our sponsors are like us - mom and pop outfits struggling to survive in a very tough economy. Which is why Saturday, November 30 has been designated as the day to to skip the mall and shop small - in your neighborhood or online. So, we hope you might consider visiting our main shops page and explore what's on offer from merchants who will be very thankful for your patronage! http://www.irishcultureandcustoms.com/Shop/1Shop2.html
The Irish Page - Transportation
This time around, the Hennessy's give us words and translations related to various modes of travel;
http://www.irishpage.com/talk/talk(29).htm
ED. NOTE: We couldn't help but notice that they left out "Shanks's Pony (or mare) - a euphemism for walking which Herself learned from her Galway-born dad. Anyone out there know how to write/say it in the Irish?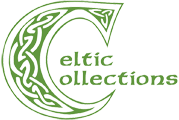 SPONSOR: Please visit our friends at Celtic Collections
Celtic Collections is just what the name implies…a collection of beautiful Celtic themed giftware and delectable delights presented to you via their online showcase. And just in time for the holidays, they
have over one hudered items on sale now and through all of December. In addition when ordering online, you need only type in the coupon code NOEL13 during check out to receive an additional ten percent off your order.
http://www.celticcollections.net/.

QUOTES, TOASTS , CURSES AND BLESSINGS
A quote that could be appropriate for the Thanksgiving feast:
"After a good dinner one can forgive anybody, even one's own relations."
Oscar Wilde
A BIT OF THE WIT
Herself who is rather fond of the Chardonnay loves this one:
If a big turkey is called a gobbler, what do you call a little turkey?
A goblet
JOKE OF THE WEEK
There have been many times when this could have been one of our children!
The wife had invited a houseful to Thanksgiving dinner. At the table, she turned to her six-year-old daughter and said, "Would you like to say the blessing?" "I wouldn't know what to say," the girl replied. "Just say what you hear your mother say," the father suggested. The daughter bowed her head and said, "Dear Lord, why on earth did I invite all these people to dinner?"

DID YOU KNOW
1.
The fastest time to pluck a turkey is held by an Irishman? According to the Guinness Book of Records, Vincent Pilkington from Cootehill in Co. Cavan, plucked a turkey in 1 minute 30 seconds live on RTÉ. His record still stands.
2. In Ireland, the farmer's wife would take her turkey hens in a basket to a neighbour's turkeycock to have them 'tramped'. All eggs were fertilised at the one mating and a turkey hen would, on average, lay 10-12 eggs. *
3. Turkeys are susceptible to the 'pip' or the 'roup', that is, worms in the windpipe. The old remedy was to feed them chopped nettles in their oatmeal, *
*Source: Georgina Campbell's Talking Turkey
http://www.ireland-guide.com/article/talking-turkey.8213.html
SPONSOR: Please visit our friends at Lollysmith
Cold weather is just around the corner. To help make the winter months a little more manageable, the Lollysmith family has selected comfort gifts like Irish Soda Bread Dishes and Pub Ware to keep the warmth inside, Blackthorn walking sticks for navigating outdoors , and Tree of Life Tokens to remind us of the warm gift of Family. Whatever the time of year and whatever the occasion, you are sure to find what you are looking for at Lollysmith.And tell them Bridget & Russ sent you!
http://www.lollysmith.com/

RIDDLE
First off, the answer to our last bit of skullduggery:
You can find me in darkness but never in light.
I am present in daytime but absent at night.
In the deepest of shadows, I hide in plain sight.
Q. What am I?
A. The letter D or the letter A
As always, our Riddle People were right on top of this one with a veritable landslide of answers, but first in with the latter D was Maureen S and first in with the letter A was Tom Mc - well done to both of you and many thanks to everyone who took the time to send in a solution.
And now , in keeping with the up-coming holiday, here's a poser that's a bit of a turkey!
Q. Where does Thanksgiving come after Christmas?
Please send your answers to Bridget and put Riddle in the subject line. Thanks!
bhaggerty@irishcultureandcustoms.com

THE WEEK THAT IS
1. County News: The bits and bobs that used to come by mail are now on line here:
http://www.irishcultureandcustoms.com/01News/HomeCounty.html
2. National News: We keep two week's worth of headlines and links here:
http://www.irishcultureandcustoms.com/01News/Home.html
3. Shops: It's beginning to look a lot like Christmas!
http://www.irishcultureandcustoms.com/Shop/1Shop2.html
4. Article: A Gathering of Christmas Gifts 2013
http://www.irishcultureandcustoms.com/ACalend/XmasGiftguide.html
5. Article: Irish Superstitions for the Christmas Season
http://www.irishcultureandcustoms.com/ACustom/XmasSprtitions.html
6. Article: Many Years Ago - a Christmas story by John B. Keane
http://www.irishcultureandcustoms.com/AWriters/JohnBKeane.html
7. Poetry Corner: William Allingham
http://www.irishcultureandcustoms.com/Poetry/TheFairies.html
8. Article: In My Father's Time - a Trbute to Eamon Kelly
http://www.irishcultureandcustoms.com/AWriters/EamonKelly.html
9. The Irish Kitchen: Preparing the Puddings
http://www.irishcultureandcustoms.com/AWriters/EamonKelly.html
10. Basic Irish: Holiday Shopping
http://www.irishcultureandcustoms.com/3Focloir/HolidayShopping.html
11. Kids' Ireland: The Selfish Giant by Oscar Wilde
http://www.irishcultureandcustoms.com/1Kids/SelfishGiant.html
12. Music Review: Our resident music man William Ramoutar does a review of the recording 'On Christmas Night' by Cherish the Ladies music
SPONSOR: The Irish Lottery:
In operation since 1988, it's one of the oldest online sites in the world. With subscribers in 89 countries it is also among the most reliable. Jackpots are never lower than US $1,500,000 and are frequently worth in excess of US $5,000,000 Here's the best part - you don't have to live in Ireland to play and all winnings are Tax Free! It's always been a fantasy of ours that one of readers would scoop the big prize, but you can't win it if you're not in it. Play from the comfort of home here:
http://www.irishlotto.net/
So there you have it until we write again - probably about the beginning of December.
If you are planning on getting married between now and then or tied the knot in the month of November, here is your special verse:
If you wed in bleak November
Only joy will come, remember.
And, if you are celebrating a birthday, anniversary or other special event between now and our next edition, we hope it's an occasion filled with joy and happiness. We'll take our leave with this old Irish blessing which is especially for those of you who will be travelling over the Thanksgiving holiday:
A blessing for those taking a journey
The love and affection of the angels be to you,
The love and affection of the saints be to you,
The love and affection of heaven be to you,
To guard and to cherish you.
May God shield you on every step,
May He aid you on every path,
And may He hold you safe on every slope,
On every hill and on every plain;
On earth and on sea until you are home again.
And as they say in Ireland, mind yourself!
And, as they say in Ireland, mind yourself.
All the best & God Bless,
Bridget & Russ
Get down on your knees and thank God you're still on your feet.
Téigh ar do ghlúine is bí buíoch le Dia go bhfuil tú fós ar do chosa.

DID SOMEONE FORWARD THIS ISSUE TO YOU
?
Subscribe for FREE!
Send an email to: bhaggerty@irishcultureandcustoms.com
OR click on this link:
http://www.irishcultureandcustoms.com/Newsletter.html
LEAVE 'EM LAUGHING
This is a reprise of what we ran a few years back - and we think it's worth running again. We hope you agree!
Why was the United Nations worried when a waiter dropped a platter of turkey? It meant the fall of Turkey, the ruin of Greece, and the break-up of China.
What does a turkey say?
Gobble, gobble, gobble . Not always! Here are some alternatives:
A jewelry-lovin' turkey: Bauble bauble bauble
A dyslexic turkey: Boggle Boggle Boggle
A turkey in the shoe repair shop: Cobble cobble cobble
A turkey who was an old-time movie fan: Gable, Gable, Gable
A turkey with a sore throat : Gargle Gargle Gargle
A turkey with a sore leg : Hobble hobble hobble
A football turkey: Huddle, huddle, huddle
A dieting turkey: Nibble, nibble nibble
A one-legged Cockney turkey 'Obble 'Obble 'Obble
A turkey who argues a lot: Squabble squabble squabble.
Then there was the Turkey who drank too much Wild Turkey and went: Wobble Wobble Wobble!
T'was The Night Of Thanksgiving
T'was the night of Thanksgiving, but I just couldn't sleep.
I tried counting backwards, I tried counting sheep.
The leftovers beckoned,the dark meat and white,
But I fought the temptation with all of my might.
Tossing and turning with anticipation,
The thought of a snack became infatuation.
So I raced to the kitchen, flung open the door,
And gazed at the fridge full of goodies galore.
I gobbled up turkey and buttered potatoes,
Pickles and carrots, beans and tomatoes.
I felt myself swelling so plump and so round,
Till all of a sudden, I rose off the ground!
I crashed through the ceiling. Floating into the sky,
With a mouthful of pudding and a handful of pie.
But I managed to yell as I soared past the trees...
Happy eating to all! Pass the cranberries, please!