RESERVATION
Elie       03-081620 or SMS
Serge    03-214989 or SMS
Kindly avoid late cancellation.


Coming Up...
                            (Advanced level)
15 May : Cultural outing - Bekaa
       Rayak train station - Turbol Museum
22 May : Moukhtara-Haret Jandal
                          (Medium level)
29 May : Barouk - Aammik
                          (Medium level)
Chers Amis,
Pour ce dimanche, le village pittoresque de Serhel, Liban Nord, constituera notre point de départ pour une marche aux couleurs de printemps. Nous pourrons admirer le long du sentier ici et là, habitations rurales lovées en pleine nature, un pressoir oublié… Ponts et aqueducs, vestiges de notre patrimoine bâti, se laisseront emprunter et livreront qui sait, quelques secrets,  parcelles de notre mémoire ancestrale. Tout au loin, Kousba se dessinera comme destination finale derrières ses collines revêtues de pinèdes.
Durée  totale de la rando : 3h30
Distance : 9.5 km
Difficulté : Niveau moyen
A prévoir

:
chaussures de marche, sac à dos, chapeau, gourde (pleine), casse croûte,  lunettes de soleil, crème solaire.
Frais de participation:
Le prix par personne est de 33$ (ou 50,000 L.L.) incluant le transport en bus, l'assurance et les guides.(Apportez la monnaie exacte) 
Il faut être au minimum 15 inscrits pour que la sortie ait lieu.
En général, nous n'annulons pas la rando en cas de mauvais temps, sauf s'il y a tempête.
Le rendez-vous
est à 7:30 am précise au parking qui est près de l'urgence de l'hôpital du Sacré Cœur à Hazmieh. Pour y arriver prendre la bifurcation à droite juste apres Pain d'Or. C'est le 1er parking a votre gauche. Soyez Ponctuels !
Reservation :

appelez

Elie 03-081620, Serge 03-214989 ou

par  sms.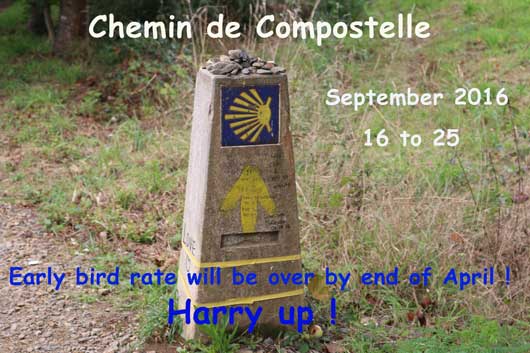 Dear friends
For this Sunday the picturesque village of Serhel in north Lebanon will be our starting point for a spring coloured hike. Rural old houses surrounded by beautiful nature, forgotten  old mill, bridge and aqueducts, remains of our built heritage will witness our passage and who knows will deliver some hidden secrets.
Kousba  will appear gradually behind the pine trees to be our final destination .
Hike duration: 3h30
Distance: 9.5 km
Moderate level
What to bring: 
Waterproof walking shoes, sunglasses, sun screen, hat + cap, meal (sandwiches, chocolate, dried fruits), lot of water, back pack, wind breaker (K-way)  fleece jacket.
Cost:
33$ (or 50 000 LBP) covering guides, transportationand insurance. (Kindly bring the exact change).
Feasibility: 
A minimum of 15 persons is required. 
In case of a bad weather, we usually don't cancel the journey unless there is a thunderstorm.
Meeting:
is at 7:30 am at the parking next to the Emergency Entrance of the Sacré Cœur hospital Hazmieh. To reach it, turn right towards Pain d'Or. The Parking is the 1st one on you left. Please, be on time! 
For reservations:

please call  Elie 03-081620, Serge 03-214989 or by sms.