SHOP HOURS
Monday: CLOSED
Tuesday: 12 - 6
Wednesday: 12 - 6
Thursday: 12 - 7
Friday: 12 - 6
Saturday: 10 - 6
Sunday: 12 - 4

 

 

 

 

 

 

 

We have two great knit-a-longs coming up!

 

In February, we will be having a Knit-a-Long for the fantastcally warm and adorable Wolfpup by Tiny Owl Knits.  Join us on Sundays, February 12, 19 & 26 from 2pm - 3:30pm to knit-a-long and for tips and help with this charming pattern.  Facebook event here.

 

 

And in March, we will be knitting Crosshatch Shawl by Benjamin Matthews. For this one we will be knitting-a-long on Thursdays March 9, 16, 23 & 30 from 12-1:30pm.

 

Welcome our new intern, River.  She will be working closely with us over the next 5 months.  Her current focus is product testing.

 
We've got a lot of Rastita in stock recently along with two sample cowls,
Greyshot
and
Ramblestone
 (pictured).  Both cowls use the mosaic knitting technique, a way of doing colorwork where only one color is carried at a time and slipped stitches are used to create the pattern.  They are great patterns even if you have never done colorwork before.  If you aren't familiar with this yarn, Rastita is a 100% wool lightly felted single ply sport weight with 310 yards/100g.
We got a new shipment of Madeline Tosh we haven't shown off to you yet.  We receved several new colors of Tosh Merino Light (above) as well as a couple new colors of A.S.A.P. and Vintage (below).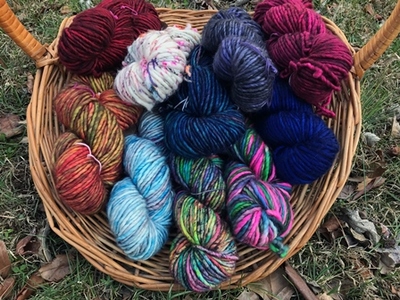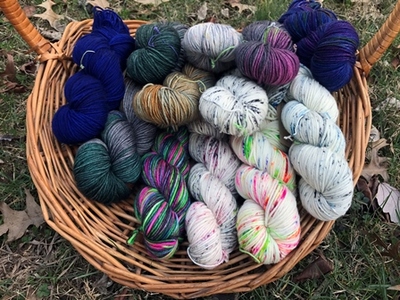 We also have 2 new colors of Arranmore,
St. Claire (natural white) and Glenveagh Castle (grey).
Featured Upcoming Classes
 

 

Spinning Art Yarn

Corespinning and Add-Ins ($20)

 

Corespinning is a great way to show off the colors and textures of a batt. In this class you will learn to spin fiber around a yarn core. You will learn proper technique as well as a few tricks for creating a balanced yarn. After the corespinning we will spend a little time learning different techniques for adding flowers, beads, and other items to your handspun yarns. This is an intermediate spinning class so you will need to come to class with a working knowledge of your wheel and basic spinning techniques.




Saturday, March 11th 1-3pm

 



Learn to knit with two colors doing the fair isle technique. In this class we will make a two color fair isle coffee cup sleeve with one solid and one variegate. For this class you will need a set of US7 dpns, 50g solid worsted weight wool, and 50g variegated worsted weight wool. This is an intermediate class, you will need to be comfortable knitting, purling and working on dpns before you take this class.

Saturday, February 18th 2-4pm




 
 

 

Introduction to Vessel Felting ($35)

 

In this class we will learn the basics of three dimensional vessel felting while creating multi-textural felt bowls. We will get a little wet so wear clothes that can get a bit messy. Class kits will be available for $10 and include enough fiber for two bowls, take home forms and a felting mat.

 

Saturday, March 11th, 3:30-6:30pm