Just In! Knee-Hi Alpaca Socks
 
Many of our retailers have asked us for years to carry these in volume. We *FINALLY* have them! Available for immediate shipping.
These Knee-Hi Alpaca Socks are great for:
 
 A soothing therapeutic feel
 
A good sock for diabetics
 
Fits larger calves
 
Soft, reliable grip
 
Fits too the knee or OVER the knee
 
Amazingly comfortable alpaca warmth!
Paula says, "I like these for a bunch of reasons... 

1) 
they fit my larger calves without falling down and don't do it by gripping tightly (they'd work on a skinny leg without falling either),

 2)

they're REALLY comfortable for lying around the house or even in bed, 

3)

 I can put them my boots, put them in my tennis shoes, camping... they're like an all around perfect comfy thing... like a warm comfy blanket, 

4)

 when I can't find my pair of Therapeutic Knee-Hi Alpaca Socks I get annoyed!"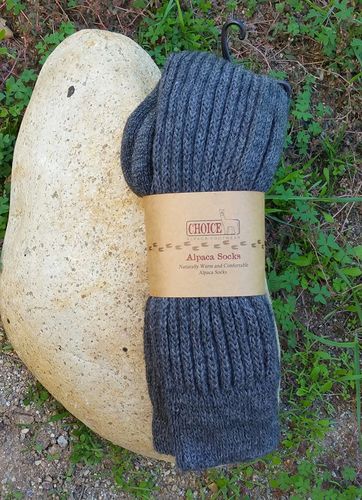 Only $10 each with minimum 16 pr wholesale order
See lot's of other alpaca store product ideas at
---