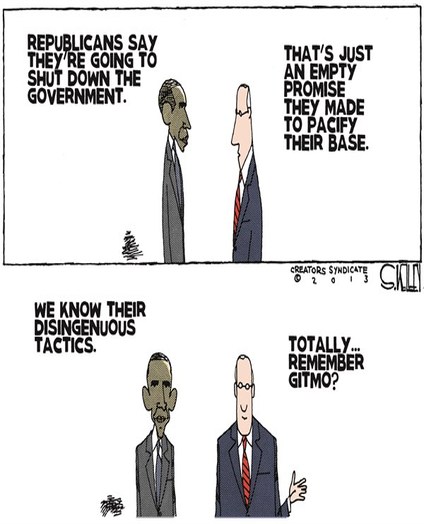 Who Actually Shut the Government Down?
Reading the Wall Street Journal and the online reports will leave the impression that the House of Representatives is responsible for the current federal government shutdown. Of course one should always question what you read in the news or in editorials but what are the basic facts of the shutdown?
First it is really simple. The Republican controlled House of Representatives voted and passed the entire budget that had been requested except for one item; Obama Care. The Constitution gives them the responsibility to originate spending bills, to control the spending of the government and it is a fact not a matter of opinion. If the House decides not to spend money on a particular government operation then it can choose to defund that operation. That is the beauty of our three branches of the government; they can exercise their rights and hold the other two branches in check if needed.
When this budget bill was presented to the Senate they refused to pass the bill, a bill that wouldn't have laid off a single government worker except those that were working for Obama Care. Quite simply, it was the Senate that choose not to fund normal government operations, as they have every right to choose to do so but the responsibility also comes with the right to reject the spending bill.
The dooms day charlatans claim that the government will not be able to pay interest on the national debt, leading to massive disruptions in our economy but they neglect to mention that the federal tax money continues to flow into the Treasury, more than enough to pay for essential services and interest on the national debt. Even refusing to lift the debt ceiling won't prevent the feds from paying interest payments on bonds; all it will mean is that they can't borrow more money to spend beyond what is coming into the Treasury as tax revenues.
We all should be calling our federal reps and senators and demand that they not cave in.
House Members:
D.C. Office 202-225-2211
Tulsa office 918-935-3222
D.C office 202-225-2701
Claremore office (918) 341-9336
Durant office 580-931-0333
McAlester Office (918) 423-5951
Muskogee offices 918-687-2533
D.C. office (202) 225-5565
Yukon office (405) 373-1958
D.C. office (202) 225-6165
Ada office (580) 357-2131
Lawton office (580) 357-2131
Norman office (405) 329-6500
D.C. office (202) 225-2132
Oklahoma City office (405) 234-9900
Senators:
D.C. office (202) 224-4721
Tulsa office (918) 748-5111
Oklahoma City office (405) 608-4381
McAlester office (918) 426-0933
Enid office (580) 234-5105
D.C. office 202-224-5754
Tulsa office 918-581-7651
Oklahoma City office 405-231-4941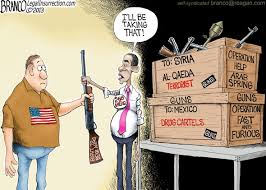 Shining a Light on Terrorism and Drug Cartels Connections
The Oklahoma's Counterterrorism Caucus will be holding a press conference on Monday to announce their latest training seminar for law enforcement officers. We are especially proud of Oklahoma's Counterterrorism Caucus not only because we helped recruit quite a few of the legislators that were the founding members but also because of the national attention they have garnered while making Oklahoma a little less hospitable for Muslim extremists. The length of their reach is apparent in the list of speakers at their upcoming CLEET Seminar on November 1st
The beauty of this group is that they are not only passing laws like the ALAC bill, American Law for American Courts, but they are also training law enforcement officers to detect infiltration efforts of Muslim Brotherhood, CAIR, and other organizations that either directly support terrorism or provide money or support to terror groups. The November 1st event will be held at the State Capitol in the House Chambers and is open to certified law enforcement officers and those members of the public that have been invited. Below is the flyer for the event:
CLEET SEMINAR
"IRAN, HEZBOLLAH and the DRUG CARTELS: COUNTERTERRORISM CONSIDERATIONS"
Sponsored by the Counterterrorism Caucus of the Oklahoma State Legislature
Date: Friday, November 1, 2013 from 8:30 am to 5:00 pm. Registration begins at 8:00.
Location: Floor of the House of Representatives in the State Capitol, Oklahoma City (Parking available in Capitol parking lots)
With the growing threat of Iran developing nuclear weapons, the likelihood of conflict between Israel and Iran is increasing by the day. How does this threat affect the United States? Learn about the the current threats posed to America and Oklahoma by Iran and the terrorist group Hezbollah, working in conjunction with Mexican Drug Cartels, who have infiltrated the U.S., as well as what can be done to confront these threats.
Speakers include:
§ Lt. Gen. (Ret.) William G. "Jerry" Boykin, Executive VP Family Research Council, Former Deputy Undersecretary of Defense for Intelligence & former Commanding General of U.S. Army's Delta Force
§ Frank Gaffney, President and CEO, Center for Security Policy & Former Asst Secretary of Defense for International Security Policy
§ Clare M. Lopez, Senior Fellow Center for Security Policy & Former Career Operations Officer, CIA
Topics include:
- The Iranian Threat - An Overview
- The Hezbollah Threat – An Overview
- Hezbollah: The Nature of the Threat
- The Financial Sector and Terrorism Support: Venezuela, Hezbollah, cartels, narco-trafficking and money-laundering into the U.S.
- The Hezbollah Threat to North America
- The Threat of Electro-Magnetic Pulse Attack : Counterterrorism Considerations and Responses
Attendees will receive password-protected access to a website featuring regular updates on a variety of related topics. A total of 7 hours of CLEET Credit is available.
There is a Registration/Materials Fee of $25, payable at the door. A box lunch is available for $8 or there are local restaurants within walking distance. Please order box lunches when registering.
Space is limited. Event is open to invited members of the public as well as law enforcement officials.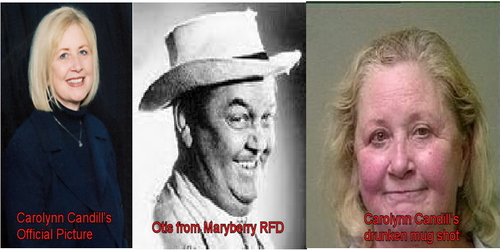 Oh How Public Service Takes a Toll on a Person
No, we didn't miss the story, but there were too many other important stories to cover in the last month since Oklahoma County Clerk Carolynn Caudill was arrested on complaints of driving under the influence and leaving the scene of an accident. But now that we have the time, is it just me or does this woman resemble Otis, the affable drunk on Mayberry RFD? On the left is her official campaign/county website photo, Otis is in the center, and Carolynn Caudill's arrest mug shot is on the right.
Those of you that read the Sooner Tea Party newsletter are well aware of the cultural of booze that the Oklahoma Court House gang wallows in. The majority of the elected county officials are rumored to be alcoholics; something that Caudill's flushed, drunken, quite happy mug shot bears witness to.
The drama of Caudill's arrest was covered very well by the local media and the comment sections will have you howling with laughter or cringing in disgust. It all started at 10:30 pm on a Tuesday night where Caudill was spotted weaving around several blocks, ramming park cars, even accelerating in an attempt to evade police after a Nichols Hills police car was vectored in by the 911 operator with the help of a concerned citizen on a cell phone. The trail of destruction and car parts was in the 79
th
and Western/Brittan Road, and listening to the 911 call will raise the hair on the back of your neck. TV station KFOR has a copy of the call on
their article
.
But Caudill was bonded out of the Oklahoma County Jail after only 2.5 hours, despite a jail rule that requires a four hour sober up stay, followed by waiting for the police to process the paperwork, according to sources. But this Court House Gang has way too much corruption going on between the players so no doubt Sheriff Whetsel received a phone call and expedited the release of the drunken Caudill. Bond was set at a mere $1,270.00
Caudill's public statement and her attorney's statements act like this is a onetime incident but the Oklahoman ran a story on a previous encounter with the law in which she ducked the police by hiding in her house after being caught weaving in and out of lanes on the Lake Hefner Parkway and driving on the shoulder of the road near Britton Road on May 6th of 2011. The news report stated that Caudill struck another car before fleeing to her home and parking the car in the garage. Despite being followed home by witnesses who called the police, Caudill refused to speak to police officers. Caudill was charged with one count of leaving the scene of an accident in Oklahoma City Municipal Court but plead no contest to a speeding ticket and given unsupervised probation according to court administrators.
This time Caudill was found in the heavily damaged car that had crashed in a yard after Nichols Hills Police Department gave chase. She refused a breath test, and according to the arresting officer she was too drunk to take the field sobriety test. There was a strong odor of booze and Caudill's eyes were bloodshot and watery. She was arrested on one count of leaving the scene of an accident and one count of DUI.
Caudill's attorney Shawn Jefferson claims that "Obviously she made a mistake," and that "It's a tragic situation. It's a sad deal."
Here is a clue Shawn. Trying to unlock the wrong car in a mall parking lot is a mistake. Missing your turn while driving is a mistake. Drinking till you can't walk and getting into a Mercedes isn't a mistake, it is a deliberate act by an alcoholic. It isn't tragic, it is a wonder that she got caught before she killed a family or killed herself.
Caudill also had two previous accidents on her record according to the Oklahoman article, one in 1995 and another in 2000 although neither indicates erratic driving at the time. One thing is for certain; with powerful allies controlling the other county offices including the Court Clerk and Sheriffs office, cover-ups are easily done.